Top 10 Landmarks of Ipoh Heritage Trail
At first glance, Ipoh may look like a quiet, sleepy town with nothing much to see except rows of shophouses, old buildings, and maybe even a few shopping centers. But, the town offers many sights to see for those who love sightseeing and are history lovers, especially in the Old Town area where much of Ipoh's history can be found there. If you want a bit of history and fun in your urban adventure, you can take the Ipoh Heritage Trail where you can visit some of Old Town's famous landmarks.
In this article, we recommend 10 of the best historical spots of the Ipoh Heritage Trail that tourists, outdoor explorers, and even history lovers can visit to experience a bit of old-timey Ipoh.
Historical spots of Ipoh Heritage Trail:
Birch Memorial Clock Tower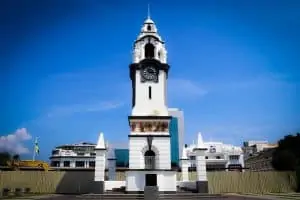 Located in front of the Ipoh State Mosque, the Birch Memorial Clock Tower was built by the British in honour of the first Resident of Perak, James Wheeler Woodford Birch. A controversial figure among the Malay rulers for his lack of respect for the local customs, Birch is like the guy who enters peoples' homes and treats them like his own. While not as tall as London's Big Ben, this white-colour memorial does have one unique feature that you may not have noticed. Each of the tower's four panels depicts various historical figures as well as the growth of human civilization. Surprising isn't it. Maybe they should change the memorial's name to Human Civilization Memorial Clock Tower. What do you think? Are there better names for the clock tower you can think of?
Han Chin Pet Soo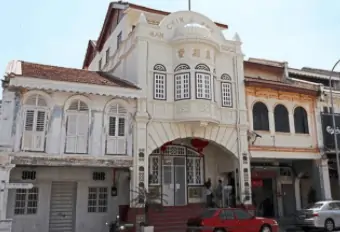 For those who want to get a glimpse of Ipoh's tin-mining history, this is the place to be. The museum, which was formerly a miner's club (go figure), houses various exhibits depicting the activities of Hakka miners of yesteryears, such as the extraction of tin ore and the illicit activities committed by the miner's club members such as gambling and opium smoking. Just know that you will need to make a booking online or in-person to visit the museum.
Padang Ipoh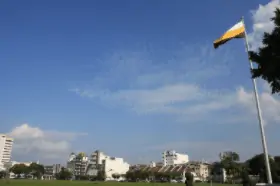 This may seem like an ordinary playing field but the Ipoh Padang is another landmark in Ipoh Old Town that has seen its fair share of events. The field was built in commemoration of Queen Victoria's Diamond Jubilee. Adjacent to the field is the Ipoh Royal Club which was also established by the British and whose club members often played cricket there (For those who don't know what cricket is, it's like baseball but with a paddle instead of a bat). During the Japanese occupation, the Padang was used by the Japanese for ceremonies of allegiance. Today, Ipoh Padang is accessible for everyone who wants to stay active or just enjoy some time off of their daily routine.
Old Town Murals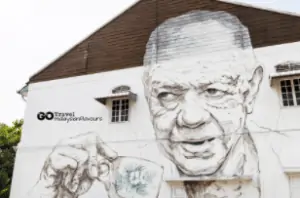 For art lovers, you can find some of the most creative murals scattered throughout Old Town. One of these murals is titled "Old Man Drinking Coffee" and is, for lack of a better word, an old man drinking coffee. The artist behind the mural is Ernest Zacharevic. His name may not sound familiar but if you do a quick Google search, you will find that he also created another famous mural in Penang entitled "Little Children on a Bicycle". Another mural that can be found in the Old Town Area is a Chinese-style painting of a tin-mining town. Although the town in question is not named specifically, we could theorize that it may have been Ipoh during its early humble beginnings. Do you think so?
Kong Heng Square
Kong Heng Square offers something for every visitor. For tourists and art lovers, this is the place where visitors can find vendors selling hand-crafted items such as clothes, accessories, and souvenirs. For food lovers, they can sample some of Ipoh's delicious cuisine such as chicken kway teow noodles, white coffee, and popiah in the nearby Kong Heng Coffee Shop. Kong Heng Square also provides avid photographers with interesting and attractive snapshots for their social media pages. And if you're looking to spend a night or two in the city, there is also a boutique hotel called Sekeping Kong Heng which is a home away from home for tourists.
Funtasy Trick Art House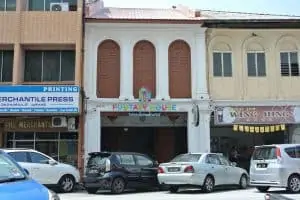 Who says that Old Town doesn't have something fun? In Funtasy House Trick Art, visitors can take trick photographs that are sure to wow or shock friends and relatives alike. Whether you are portrayed as being decapitated by a cleaver or sticking to the wall like Spider-Man, Funtasy House Trick Art provides a unique and mesmerizing experience unlike the old, colonial-era museums and galleries that dot the Old Town area.
Arlene House (Kapitan Chung Thye Phin Building)
Built by the "Last Kapitan China of Perak and Malaya", Chung Thye Phin, the neoclassical-style Arlene House was once the headquarters of Kapitan's vast business empire that included tin mines, plantations and opium farms (quite the resume!). Today, the Arlene House has been converted into a museum/heritage gallery that showcases the life of the "Last Kapitan" and the history of Ipoh. It's a treat for those who want to experience the splendid days of yesteryears through preserved antiques and retro posters displayed all around the museum. You'll feel like you just stepped out of a time machine.
Ipoh Railway Station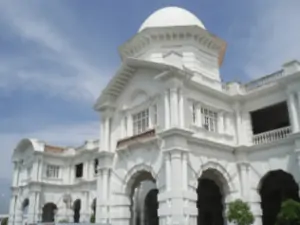 Designed by Arthur Benison Hubback who was also responsible for commissioning the Jamek Mosque and the National Textile Museum in Kuala Lumpur as well as the Ubudiah Mosque in Kuala Kangsar, the Ipoh Railway Station continues to cater to tourists traveling in or out of Ipoh via railway for more than 100 years. The Ipoh Railway Station is similar to its Kuala Lumpur counterpart in terms of its Indian-derived architecture (Fun fact: Hubback also built the KL railway station). Because of this, the Ipoh Railway station has been dubbed the "Taj Mahal of Ipoh" by its residents. There used to be a hotel in the station that has since been closed down but the sign leading to the hotel is still visible. In front of the station is a monument honouring fallen soldiers from Perak who gave their lives during the two world wars.
Ipoh Padang Mosque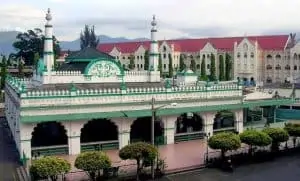 The first thing you might notice about this mosque is its Indian-style architecture. That's because the architect was an Indian-Muslim by the name of Sheikh Adam. A businessman who worked in the tin-mining industry, Sheikh Adam built the mosque specifically for the Indian-Muslim community living in Ipoh. It was built by Indian labourers using building techniques that they learnt from their home country. The result is a Mughal-style mosque similar to that of Delhi's Red Fort.
Concubine Lane (Lorong Panglima)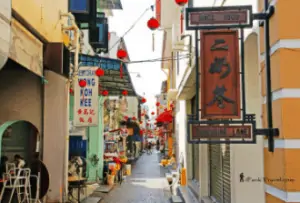 No visit to Old Town is ever complete without visiting the area's most famous spot, Concubine Lane (Fun fact: there are actually three 'Concubine Lanes' in Old Town, known as Wife Lane, Concubine Lane, and Second Concubine Lane. It is said that Chinese tycoon Yau Tet Shin gifted the lanes to his three wives who would collect rent from vendors and shopkeepers from their respective lanes). While originally an abandoned alleyway with little to no shops, Concubine Lane has since transformed into a bustling commercial area with restaurants and snack vendors that are sure to please people's taste buds from biscuits to ice balls to rainbow-coloured cheese toast (yes, you heard me right. Rainbow. Coloured. Cheese. Toast).
=========================
And there you have it, these are the 10 best spots in the Ipoh Heritage Trail that you have to see the next time you come to Ipoh. Check out our other article if you are looking for more Ipoh spots to visit: 10 Insta-worthy Spots in Ipoh You Should Check Out
Have you visited any of these places or are there any spots we missed out here? Let us know in our Facebook Group, where we share a lot of good, valuable information for free: Malaysia Outdoor Community