Judging from our most recent and controversial "8 Reasons Why You Do Not Want To Visit Penang" article, we would not be surprised if the number of tourists in Penang spiked. I mean, we really did Penang a favour by writing about their "bad points".
In this article, we will show people how CHEAP Penang can be. No, seriously, we're serious this time. We have compiled a list of SEVEN accommodations in Penang that you can stay for as low as USD8 per night! And this is not your run-down motel. These are actually certified clean hostels with good amenities and most importantly, strategically located!
1. Dreamcatcher Traveler's Refuge – $8 per night
Website: http://www.dreamcatcherpenang.com/
Facebook: https://www.facebook.com/dreamcatchertravelersrefuge
The dorm room starts from as low as USD8 (RM30) per day at DTR and that includes a clean towel and breakfast as well. A dorm room would fit 5, so overcrowding rarely happens. Of course, they have bigger rooms to cater to those who have a little bit extra to spend as well.
DTR is located in the city centre itself and the bus stop is just 3 minutes away on foot. Everything is within walking distance. One of the famous wall art is just next door. The camera museum and Cat Cafe are 2 minutes away by foot. Chocolate Museum is another 5 minutes away by foot. I repeat: everything is within reach!
The owners refer to the place as a "humble home". Guests who stayed here would feel like they actually stayed in a friend's place instead of another hostel.
We have got the best rates for you! Click here!
2. Ryokan Muntri Boutique Hostel – $9 per night
Website: http://www.ryokanmuntri.com/
Facebook: Ryokan Muntri Facebook Page

Ryokan has been in operation since 2011 but there was new ownership since February 2015. Since then, they have face-lifted the facility to what it is today. Contemporary, elegant with a touch of modernism, Ryokan sets a high bar for hostels around Penang.

Dorms starts from as low as USD9 (RM34) per day at with clean towels and lockers provided as well. Oh, and the room is air-conditioned!
Ryokan is situated in Muntri Street, which is basically at the heart of Georgetown UNESCO Heritage zone and one minute away from Chulia Street and also Penang Road, where the main bus station is. The place is only about a 10-15 minutes walk to Komtar, which houses the main bus depot and the tallest building in Georgetown. From the bus depot, you can basically go anywhere in Penang that you wish.
Here's a plus point as well. The hostel place is surrounded by good old Penang food. You will NEVER go hungry!
3. Wassup Youth Hostel – $9 per night
Website: http://www.wassupyouthhostel.com/
Facebook: https://www.facebook.com/wassupyouthhostel
It's been 7 months since Wassup Youth Hostel opened its door for guests from around the world and business is booming! For a mere USD9, guests will enjoy 4-bed dorm rooms with shared bathrooms and lockers.
What makes the place so different is how it presents itself. Regardless of how tired or spent you are, the place just seems so lifely the moment you walk in. The positive energy is contagious!

The place is located in Georgetown, so the main bus station which connects you to basically anywhere in Penang is only 3 minutes away. Main attractions are usually 10 – 15 minutes away.
If you would like to check out the rates on your check-in date, we have some great deals for you here!
4. Roomies Penang – $9 per night
Website: http://roomiespenang.com/
Facebook: https://www.facebook.com/roomiespenang
Roomies Penang has been operating for 2 years now, being one of the old chaps among the hostels in Penang. 
A 10 beds dorm room, which they call the "Perfect 10", goes for as low as USD9 per night, about RM35. The funny thing is they have shake-proof metal beds (no creaking sound during risque business), personal lockers and a wide range of amenities. They even have earplugs!
The place is located at Batu Feringghi stretch. You are basically 40 large steps away from the beach and 15 hops away from McDonald's and other local food. Butterfly farm, Escape Theme Park, Spice Garden and Penang National Park are all 8 – 10 minutes away by bus.
P/S: They pride themselves on their "Happy Juice". If you are curious, ask them the next time you are there.
5. Chulia Racks Penang – $8 per night
Website: None, but bookings can be done HERE
Facebook: https://www.facebook.com/chuliaracks
Chulia Racks is the so-called new kid in town. The normal going rate is USD8 (RM30) for a mixed dorm and USD10 (RM38) for a female-only dorm. There are slight premiums of course on public holidays and weekends.
You would be surprised that the bus stop is right in front of the hostel! The hostel is located within the UNESCO Heritage Core zone which in simple words means that attractions are just 5 minutes away by foot.
6. Magpie Residence – $10 per night
Website: In the process so in the meantime, kindly book here.
Facebook: https://www.facebook.com/magpieresidence
Started 3 months ago, Magpie Resident is a great competitor for hostels out there in Penang. Dorm rates start from as low as USD10 (RM38) for an air-conditioned room with a shared bathroom. There are only 8 beds in the dorm for each floor, so privacy is ensured.
The place is located 5 to 10mins walk away from almost all the attractions. Food court, street arts, museum, throw a stone from this place and it might hit one of those.  The bus stop is just 200m away from the Guesthouse or 15mins walk towards the ferry jetty.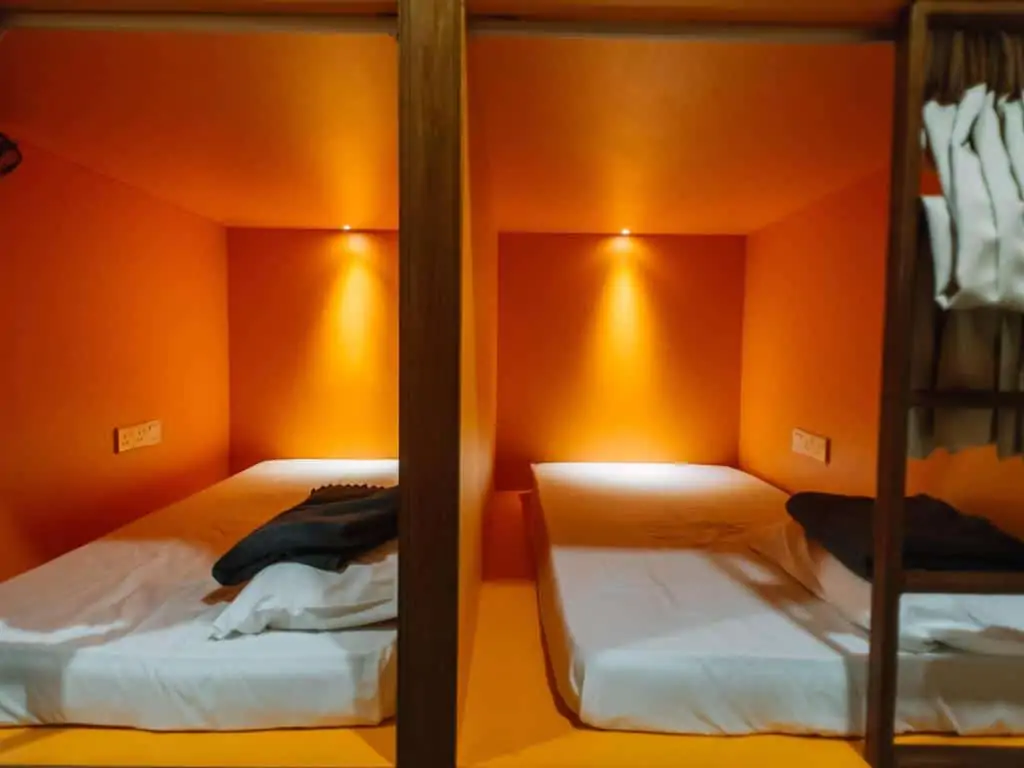 Being away from the hustle and bustle of busy streets, Magpie Residence serves as a perfect place for those who would want some peace of mind during their travel.
"Guests that stay with us will feel like a Magpie bird who returns to its home, thus our name actually." – The Owner
7. On Journey Inn – $8 per night
Website: On Journey Inn, Georgetown
Facebook: https://www.facebook.com/onjourney.inn
Basic but homey, On Journey Inn has been operating for a little over 18 months now and offers accommodation for as low as USD8 per night. Strategically located within minutes away from popular attractions, On Journey Inn has since catered more than thousands of guests from around the world.
——————————————————
So, if you think expensive accommodations are a reason NOT to visit Penang, think again. These beautiful places to stay offer you not only a roof above your head, but they are also strategically located so you even save on transportation!
Have you visited any of these places or are there any spots we missed out here? Let us know in our PTT Outdoor Facebook Group, where we share a lot of good, valuable information for free: Malaysia Outdoor Community