Top Camping Equipments for 2023: Our Expert Guide
Ah, camping! The fresh air, the crackling campfire, and the great outdoors – who wouldn't be excited? But before we head out into the wilderness, it's essential to be prepared with the right camping equipment. That's where our expert guide comes in! We'll take you through the top camping equipment for 2023 before you jump to the outdoor equipment shop so you can have an unforgettable experience, without any hiccups or discomfort. Are you ready to embark on this adventure? Let's dive in!
Short Summary
Explore the best camping equipments of 2023 to make your outdoor adventure exciting and worry-free!
Get ready for a cozy experience with tents, cooking essentials, sleep solutions, lighting options & more.
Pack essential safety gear like first aid kits and insect repellents plus emergency preparedness supplies.
Choosing the Right Tent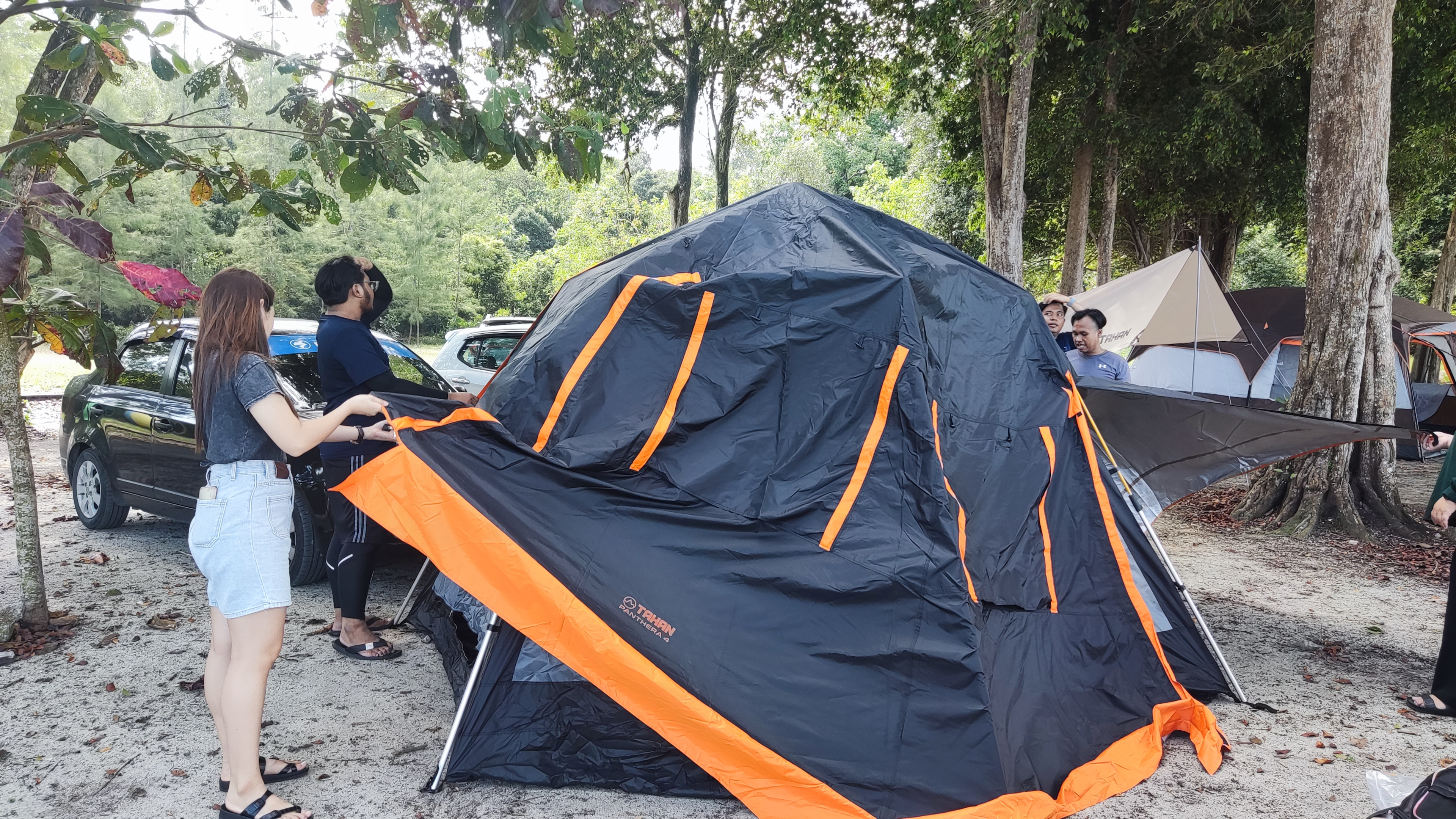 Selecting the perfect tent is a crucial decision that can make or break your outdoor experience. After all, a well-chosen tent keeps you dry, warm, and ensures a good night's sleep in the heart of nature. With so many options available, you may feel overwhelmed. Fear not! We've got you covered.
In this section, we'll explore three popular types of tents: family tents, backpacking tents, and instant set-up tents. Let's help you choose the ideal shelter for your next adventure!
Family Camping Tents
Family tents are designed to bring the comforts of home to the great outdoors. They're spacious and cozy, featuring multiple rooms, windows, and doors for added convenience. One exceptional family tent is The North Face's Wawona 6, which boasts a tunnel-like interior for up to six people and a massive front vestibule that doubles as a covered seating area.
However, keep in mind that setting up this tent can be time-consuming and tedious, and its all-mesh door may lead to heat loss and drafts. But if comfort and space are your top priorities, family tents are the way to go!
If you are looking for a more affordable option that can fit your family, our Cabin Tent is a family favourite and is light on your walletas well.
Backpacking Tents
For the more adventurous souls, backpacking tents are your best bet! These tents are lightweight, compact, and designed to fit in your backpack, making them perfect for extended hikes and backpacking trips. Some of the best backpacking tents for 2023 include the Big Agnes Copper Spur HV UL2 & UL3, ZPacks Duplex, Nemo Hornet Elite Osmo, and SlingFin Portal 2.
When selecting a backpacking tent, consider its weight, packability, and ease of setup to ensure you have a hassle-free adventure!
Instant Set-Up Tents
If you're a fan of car camping or simply want a fuss-free setup, instant set-up tents are your go-to option. These tents are designed for quick and easy assembly and disassembling, making them ideal for stress-free camping experiences.
Our bestseller, and flagship product is a good example. The TAHAN Panthera 4 Tent. It comes with its pre-assembled structure that pops up and breaks down in no time. Weighing only 2kg, it's family friendly and you will have your tent up within seconds, giving you more time to relax and enjoy the best of nature. Just remember to pack essential utensils for car camping, and you're all set for a relaxing getaway.
We also wrote a more in depth article on how to choose a proper tent, you can find it here: How To Shop For The Right Tent | PTT Outdoor
Cooking Essentials for Camping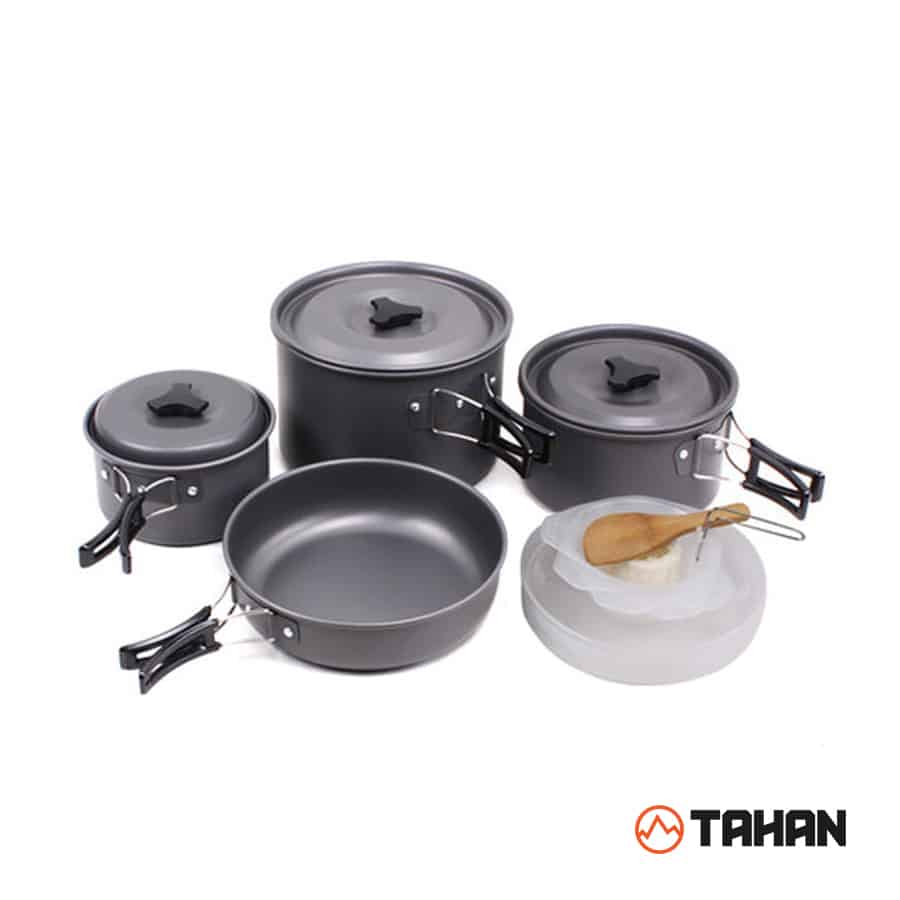 Nothing beats the aroma of sizzling food wafting through the campsite after a long day of outdoor fun. But to whip up a scrumptious meal, you'll need the right cooking gear. In this section, we'll explore portable stoves, campfire cookware, and handy utensils and accessories that will elevate your campsite cooking game.
Say goodbye to bland, uninspired meals and hello to drool-worthy dishes that will leave you wanting seconds!
Portable Stoves
Portable stoves are the heart of any campsite kitchen, providing you with the means to cook your favorite meals in the great outdoors. They come in various types, such as wood-burning, propane, and butane stoves, each with their unique advantages. When choosing a portable stove, consider factors like size, weight, fuel type, and cooking surface.
Some of the best portable stoves for 2023 include the FoldnGo Portable Stove, Camp Chef Everest 2X, Coleman Classic Propane Camping Stove, Gas One GS-1000, GSI Outdoors Selkirk 540, and Jetboil Genesis Basecamp. Whichever option you choose, make sure it aligns with your camping style and cooking needs.
Campfire Cookware
Great campfire cookware is essential for whipping up delicious meals under the stars. The best materials for campfire cookware include hard-anodized aluminum, cast iron, and stainless steel, which are designed to withstand high temperatures and provide even heat distribution.
Some outstanding campfire cookware brands include Stanley, MSR, TAHAN, and GSI. Don't forget the ever-popular cast iron skillet, which is perfect for cooking over a campfire due to its durability and heat retention.
With the right cookware, you'll be a campsite culinary master in no time!
Utensils and Accessories
To complete your campsite kitchen setup, don't forget to pack essential utensils and accessories. Items like spatulas, tongs, and griddles can make outdoor cooking easier and more enjoyable. When choosing cookware, opt for materials like hard-anodized aluminum for durability and performance.
And don't forget a water filtration system to ensure safe, contaminant-free drinking water during your camping trip. With the right utensils and accessories, you're all set to cook up a storm and impress your fellow campers!
Comfortable Sleep Solutions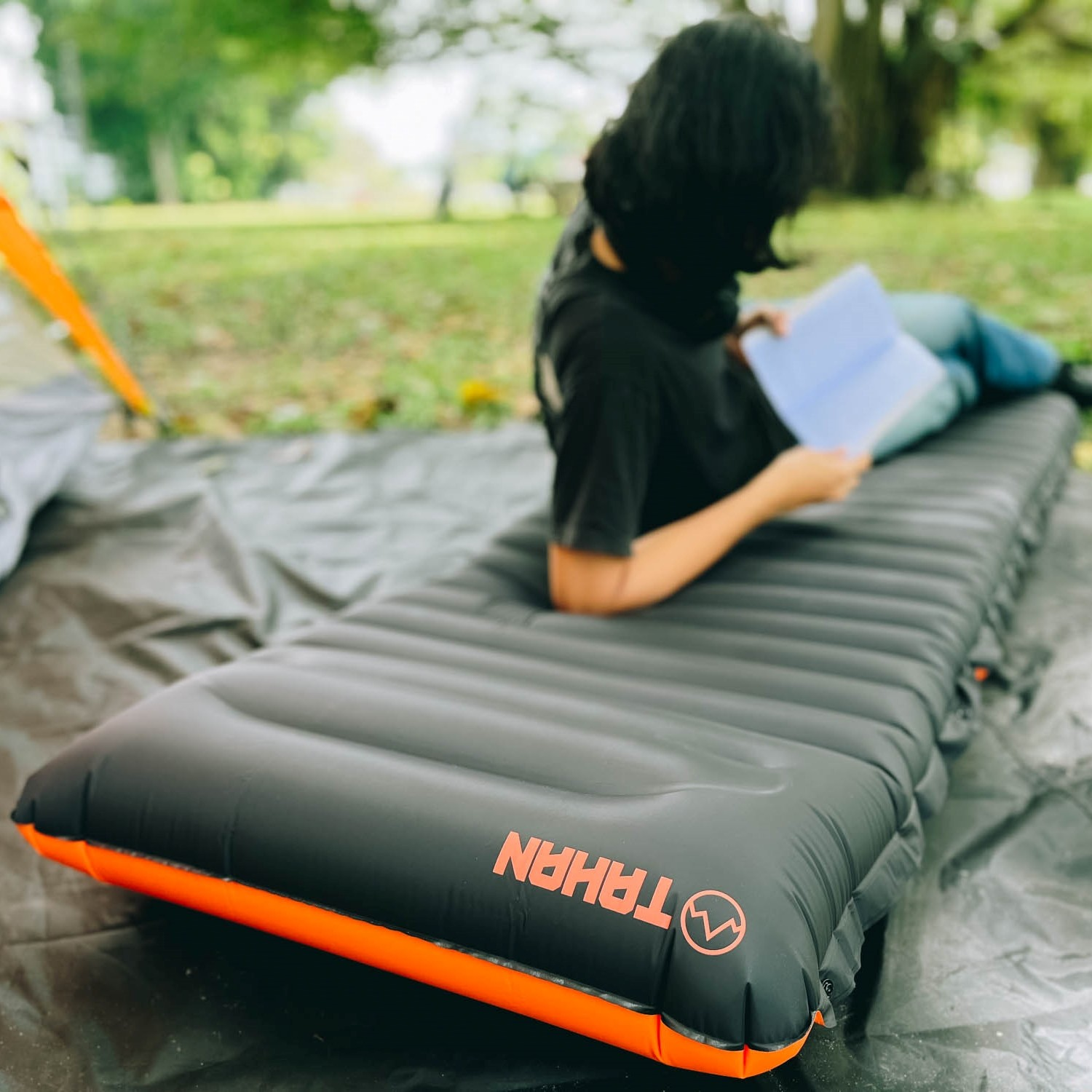 A good night's sleep is essential for a successful camping trip. After a long day of hiking, exploring, and having fun, you'll want to rest your head on a comfortable sleeping surface.
In this section, we'll discuss sleeping pads, air mattresses, and sleep systems that will ensure you get the rest you need to tackle another day of adventure. So let's dive into the world of comfortable sleep solutions and find the perfect fit for you!
Sleeping Pads
Sleeping pads provide insulation and cushioning, helping you stay warm and cozy as you sleep under the stars. The Sea to Summit Comfort Plus Self-Inflating sleeping pad is an excellent option, with its 3.1-inch thickness, triangle-shaped chambers, and non-slip grip pattern.
When comparing sleeping pads to air mattresses, the former tends to be lighter and more compact, making them perfect for backpacking trips. Consider factors like weight, packability, and insulation when selecting a sleeping pad for your camping adventure.
Air Mattresses
For those who prefer a touch of luxury during their camping excursion, air mattresses offer comfort and convenience. They come in various sizes and styles, providing a plush sleeping surface that rivals your bed at home. While air mattresses may be bulkier and heavier than sleeping pads, they're perfect for car camping and family outings.
Some of the best air mattresses for camping include the TAHAN Panthera Inflatable Sleeping Pad, Coleman SupportRest Elite, SoundAsleep Camping Series, and King Koil Luxury Raised Air Mattress. TAHAN is a growing camping brand Malaysia that is getting a lot of new attention now because of their quality within the market for such a young brand,
Sleep Systems
Sleep systems combine the best of both worlds, offering a perfect blend of sleeping pads and air mattresses for maximum comfort and support. These innovative solutions ensure you're well-rested and ready to tackle another day of outdoor adventures.
Some highly recommended products in this category include the Therm-a-Rest LuxuryMap Sleeping Pad, REI Co-op Siesta Hooded 20 Sleeping Bag, and Klymit Static V2 Sleeping Pad. Choose the right sleep system for your needs, and you'll never have to worry about tossing and turning during your camping trip.
Illuminating Your Campsite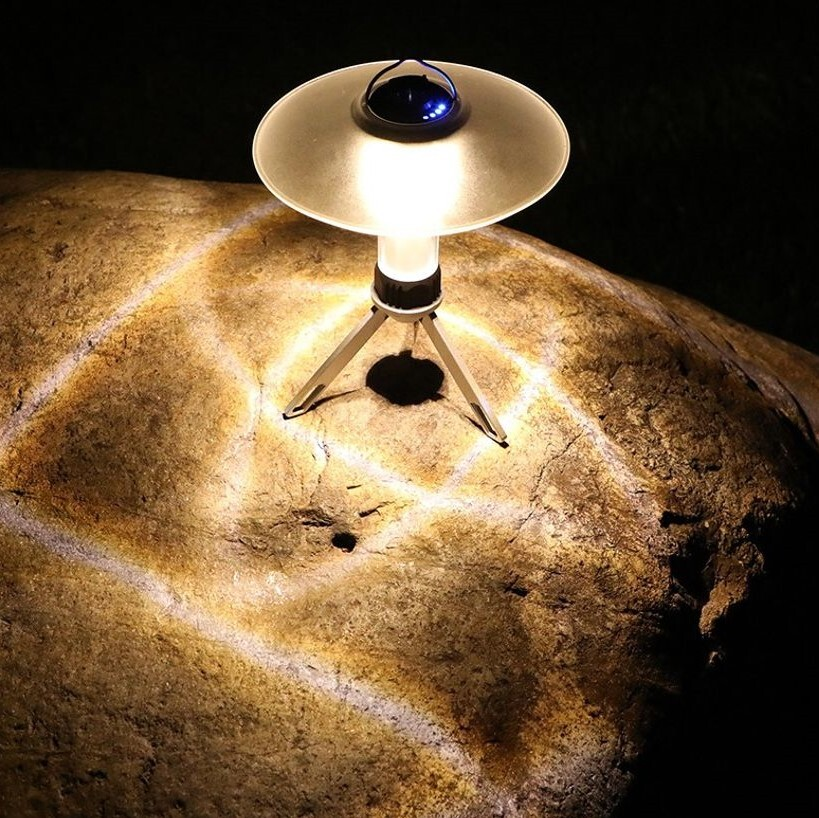 A well-lit campsite is essential for safety, convenience, and overall enjoyment of your outdoor experience. In this section, we'll explore various lighting options such as lanterns, headlamps, and solar-powered lights that will brighten up your campsite and make nighttime activities a breeze.
So, are you ready to shed some light on the subject?
Lanterns
Lanterns are a classic and reliable source of bright light for any campsite. They come in various sizes and styles, including gas lanterns, battery-powered lanterns, solar-powered lanterns, and LED lanterns. When selecting a lantern, consider factors like size, weight, brightness, battery life, and durability.
Some of the best lanterns for 2023 are the Luminary LED Lighthouse Lantern, BioLite AlpenGlow, Goal Zero Lighthouse 600, Black Diamond Apollo, and MPOWERD Luci. Illuminate your campsite with a reliable lantern and enjoy the cozy ambiance it creates.
Headlamps
Headlamps are a fantastic hands-free lighting solution for nighttime activities like hiking, cooking, or reading in your tent. They provide directional light, allowing you to focus on specific tasks without the need for a handheld flashlight.
Some of the best headlamps for camping include the Petzl Actik CORE, ESEN 120 Lumens Headlamp, Black Diamond Spot 400, and Ledlenser MH5. Look for models with adjustable brightness settings, long battery life, and a comfortable headband to ensure an enjoyable camping experience.
Solar-Powered Lights
Embrace the power of the sun with eco-friendly and energy-efficient solar-powered lights! These lights harness sunlight during the day and provide illumination at night without the need for batteries. Some top-rated solar-powered lights for camping include the MPOWERD Luci Pro Outdoor 2.0, LuminAID solar camping lanterns, and Revel Gear's Trail Hound.
Not only do solar-powered lights save energy, but they also help reduce your environmental impact during your camping adventure.
Must-Have Camping Accessories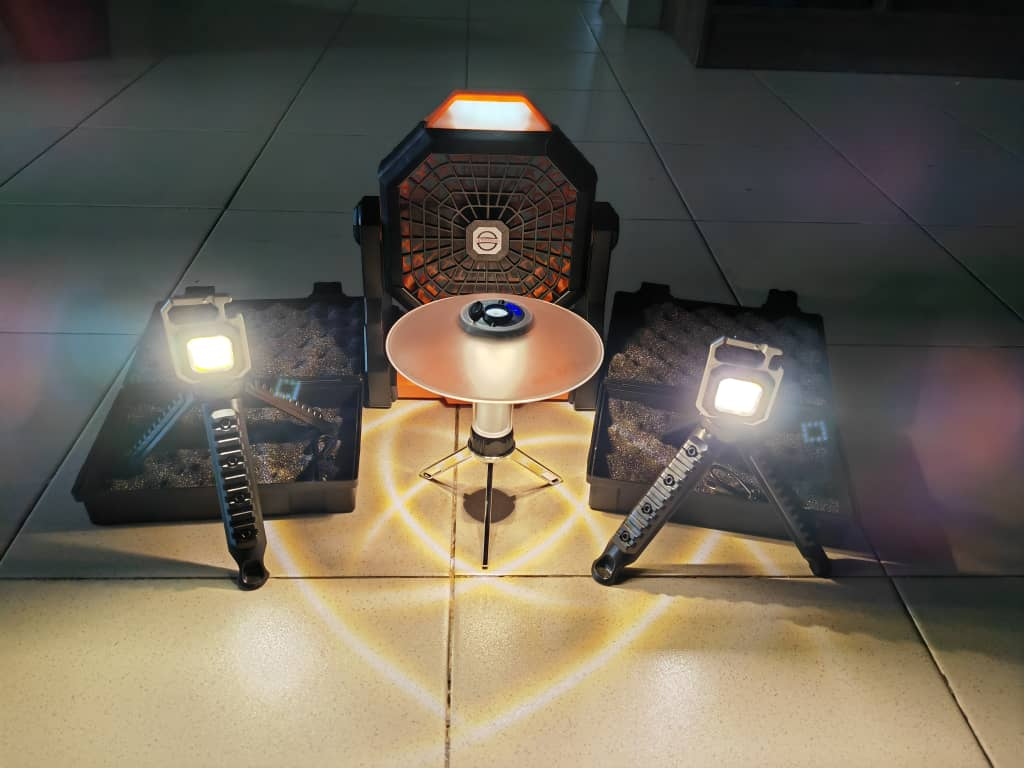 Besides the essentials like tents, cooking gear, and sleeping solutions, there are a plethora of must-have camping accessories to enhance your outdoor experience. In this section, we'll dive into multi-tools, portable chargers, and hydration solutions that will make your camping trip more enjoyable and hassle-free.
Let's gear up and explore these fantastic additions to your camping arsenal!
Multi-Tools
A multi-tool is an incredibly versatile piece of gear that can accomplish a wide range of tasks in a compact, portable form. They're perfect for fixing equipment, preparing food, or dealing with unexpected situations during your camping trip.
Some popular brands for multi-tools include Leatherman and Gerber, with top models like the Leatherman Charge Plus TTi Titanium and the Gerber Center Drive.
Always have a multi-tool on hand, and you'll be ready for anything the great outdoors throws your way!
Portable Chargers
Keeping your devices charged during your camping trip can be a challenge, which is where portable chargers come in handy. These compact power sources can recharge your phone, camera, or other gadgets, ensuring you never miss a moment or lose contact with the outside world.
Some of the best portable chargers for camping in 2023 include the Enertzy 90000mAH Power Station, EcoFlow Delta Pro, Mophie Powerstation XXL, PowerAdd Slim 2, Zendure SuperMini X3 and Anker PowerCore Slim. Stay connected and powered up with a trusty portable charger!
Hydration Solutions
Staying hydrated during your outdoor adventure is crucial for maintaining energy levels and overall well-being. Hydration solutions like water bottles, hydration packs, and water filters can help you quench your thirst while on the go. Some popular hydration packs include UltrAspire, CamelBak, and Osprey, while the Platypus GravityWorks and GSI Outdoors Folding Water Cube are excellent water containers and filters.
Don't forget to pack your hydration gear, and keep yourself fueled for all your camping activities!
By the way, cleaning hydration bladders is a task that a lot of people don't like, thus, we created a guide so that it's easier for you: How To Clean Hydration Bladder | PTT Outdoor
Outdoor Activity Gear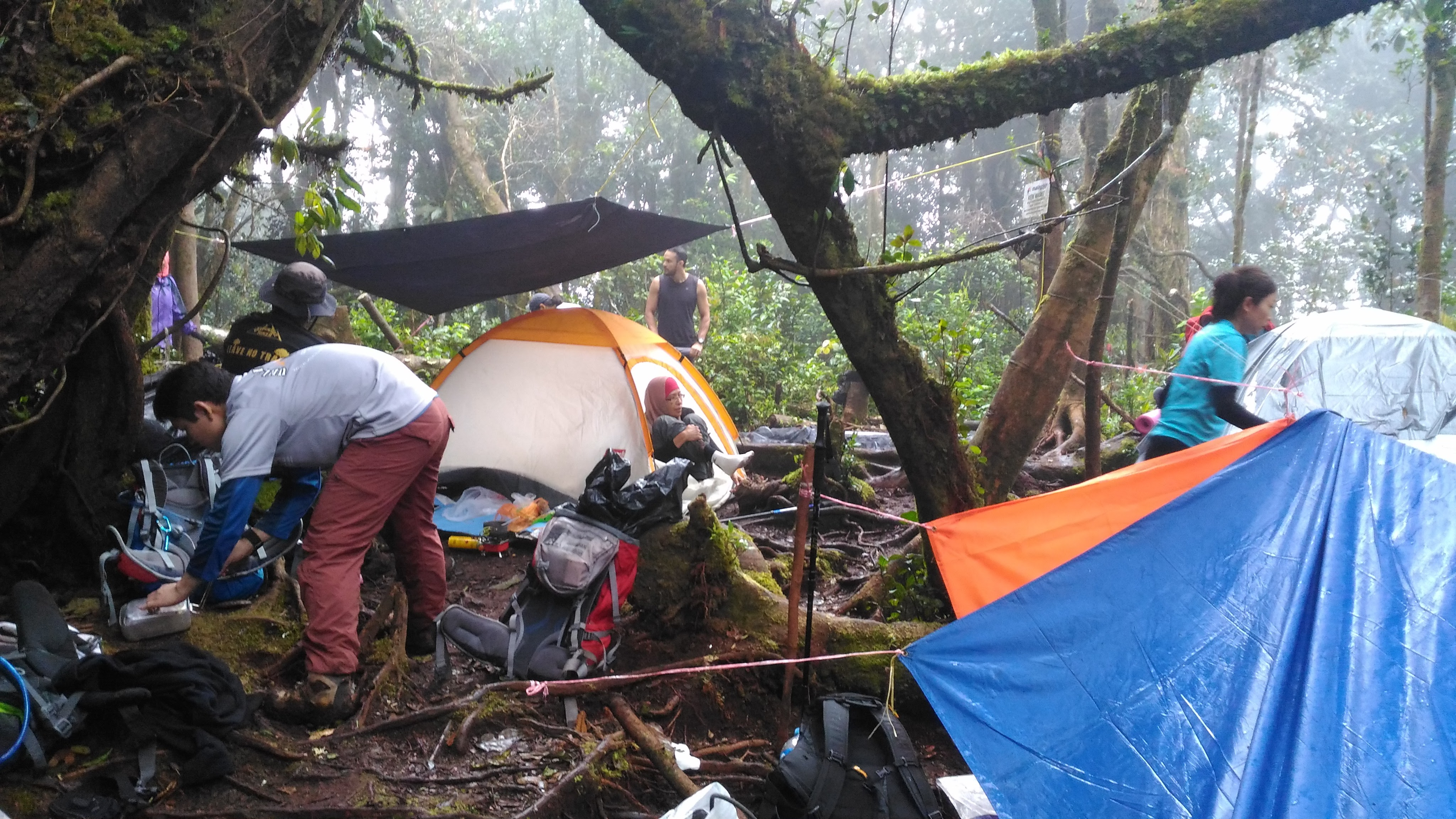 Camping is all about immersing yourself in nature and engaging in exciting outdoor activities. To fully enjoy these experiences, you'll need the right gear for your chosen pursuits.
In this section, we'll discuss some essential equipment for outdoor activities, such as hiking boots, backpacks, and navigation tools. So gear up and get ready to embrace the great outdoors!
Hiking Boots
The foundation of any successful hiking adventure lies in a comfortable, supportive pair of hiking boots. They provide much-needed traction and stability on various terrains, ensuring your safety and enjoyment on the trail. When choosing hiking boots, consider factors like terrain, climate, weight, and cushioning.
Some of the best hiking boots for 2023 include the Salomon Quest 4 Gore-Tex, Lowa Renegade GTX Mid, Scarpa Maverick Mid GTX, and Hoka Anacapa Mid GORE-TEX. With the right hiking boots, you'll be ready to conquer any trail with confidence!
Backpacks
A reliable backpack is essential for carrying all your supplies and equipment during your camping trip. The right backpack should be comfortable, spacious, and durable to withstand the rigors of outdoor adventures.
Some of the best backpacks for camping in 2023 are the Osprey Atmos AG 65, Gregory Baltoro 75, Hyperlite Mountain Gear Southwest 2400/3400, and REI Flash 55 Men's/Women's. When selecting a backpack, consider factors like trip length and the size of your tent and other gear. With a solid backpack, you'll have everything you need right at your fingertips.
Navigation Tools
Navigating the great outdoors can be tricky, especially if you're venturing off the beaten path. That's where navigation tools like compasses, handheld GPS devices, and altimeter watches come in handy.
Some of the best handheld GPS devices for hiking and camping include the Garmin Montana 700, Garmin GPSMAP 66i, and Garmin inReach Explorer+. Don't forget to pack a compass and an altimeter watch to help you stay on track and determine your elevation.
With these navigation tools, you'll never lose your way in the wilderness.
Campsite Safety Essentials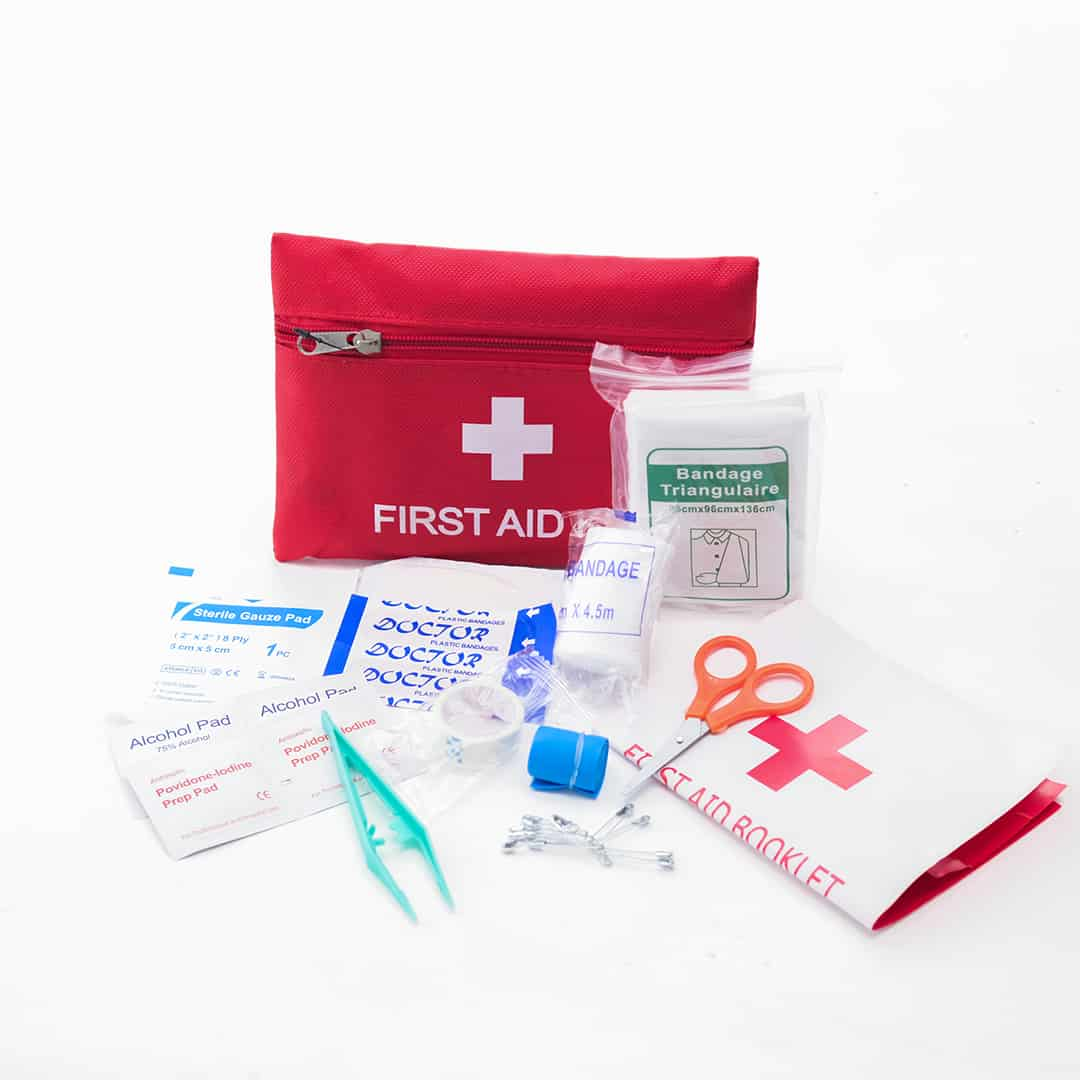 Safety should always be a top priority when camping. In this section, we'll explore essential campsite safety gear, including first aid kits, insect repellents, and emergency preparedness items.
Equipping yourself with these safety essentials will ensure you're prepared for any situation that may arise, allowing you to fully enjoy your camping experience with peace of mind.
First Aid Kits
A well-stocked first aid kit is crucial for treating minor injuries and illnesses while camping. Look for kits that include bandages, gauze, antiseptic wipes, tweezers, scissors, and other items that can help you respond to medical emergencies.
Some of the best first aid kits for camping include MyMedic MyFAK, AMK Ultralight/Watertight, and the Adventure Medical Kits Mountain Series. Be prepared for the unexpected by keeping a comprehensive first aid kit on hand.
Insect Repellents
Insect repellents are essential for keeping bugs at bay and protecting against bites and stings. The most effective repellents are DEET-based, but alternatives such as Picaridin and oil of lemon eucalyptus are also excellent choices.
Some of the best insect repellents for camping include Coleman Insect Repellent SkinSmart, Repel 100, and Sawyer Products 20% Picaridin Insect Repellent. Keep those pesky bugs away and enjoy your camping trip without the annoyance of insect bites!
Emergency Preparedness
Being prepared for emergencies is crucial when camping. Items like fire starters, flashlights, and whistles can help you stay safe and signal for help if needed. A basic emergency supply kit should include water, food, a radio, local maps, a flashlight, a first aid kit, and a whistle.
Some of the best emergency preparedness kits for camping include the Yegrueb Outdoor Survival Gear Emergency and Vital 72 Hour Emergency Survival Kit for Family. Equip yourself with these safety essentials and enjoy peace of mind during your outdoor adventure.
Summary
In conclusion, being well-prepared for your camping trip is the key to a successful and enjoyable outdoor experience. Equipping yourself with the right gear, such as tents, cooking essentials, sleeping solutions, lighting options, and safety items, will ensure you have a fantastic time in the great outdoors. Remember, the best camping gear is an investment in unforgettable memories and adventures. So gear up, head out, and embrace the wonders of nature!
Frequently Asked Questions
What are camping equipment?
Camping equipment includes tents, sleeping bags, pads, pillows, headlamps, flashlights, camp chairs, tables, lanterns, mantles and fuel or batteries. These items will ensure you have a safe and enjoyable camping trip.
How to prepare for camping?
Camping can be a fun and exciting way to explore the great outdoors, and with a few preparations it can be an enjoyable experience. Be sure to make a reservation, check the amenities at your campsite, research the area, plan your meals, organize your equipment and properly pack a cooler before you hit the road for an unforgettable journey.
It is important to be prepared for your camping trip. Make sure to research the area, plan your meals, organize your equipment, and pack a cooler with the necessary items. Additionally, be sure to make a reservation.
What safety equipment do you need for camping?
If you're planning to go camping, you'll need the right safety equipment. Make sure you have a first-aid kit, fire extinguisher, flashlights with extra batteries, flares, reflective gear, whistle and a compass to ensure your camping trip is as safe and enjoyable as possible!
These items are essential for any camping trip, and will help you stay safe and have a great time.
What are camping equipment?
Camping equipment is the essentials for an enjoyable outdoor camping trip, from a tent to sleeping bags, coolers, stoves, and even chairs and tables! All of these items will come in handy during your adventure in the outdoors.
What is a must have for camping?
Planning a camping trip? Make sure you have a tent, sleeping bags, sleeping pads, camp chairs, headlamps or flashlights, and other essential items to keep your camping experience enjoyable.
Don't forget to check the campground amenities beforehand so you can bring everything you need for a successful outdoor adventure!
Disclaimer: At PTT Outdoor, we are an independent outdoor equipment supplier that gives our own opinion on product range. If you love our content, make sure you follow us on social media as well. Also, if you are in Malaysia and you are looking for "outdoor gear shop near me", you might chance upon us. Say hi!