"Super cute cookware set, no complaint at alll!" – Zalina
Get ready to take your camping experience to the next level with our incredible Camping Cookware Mess Kit, for Group Adventures! Because let's face it, what's a camping trip without some mouthwatering food?
Imagine this: you've just finished setting up your cozy tent, the campfire is crackling, and the excitement is in the air. It's time to satisfy those growling tummies! That's where our Camping Cookware Mess Kit comes in. With this kit by your side, you'll have a delicious meal ready for you and your camping buddies in no time.
Crafted with quality aluminum alloy, our cookware set is built to withstand the ruggedness of the great outdoors. Our kit ensures durability and efficient heat distribution.
But that's not all! We know that convenience is key when you're out adventuring. That's why we've designed our cookware with foldable handles. Say goodbye to bulky pots and pans taking up precious space in your backpack. Our kit is super easy to store and bring around anywhere, ensuring you have a quick and hassle-free meal right by your campsites.
Camping Cookware Mess Kit Features:
Foldable handles for easy storage

Made of high-quality aluminum alloy

Easy cleaning

Food grade PP spoon, rice scoop, and bowl

Environmentally friendly
Camping Cookware Accessories Size:
Plastic Ladle (Size: 8.5cm x 5.5cm)
Wooden Spatula (Size: 13cm x 5cm)
Plastic Bowls (Size: 11cm x 4cm)
Dishwashing Sponge (Size: 5.5cm x 2.5cm)
Plastic Plates (Size: 17.2cm x 2cm)
Camping Cookware (2-3 persons) features:
Suitable for: 2-3 people
Packed size: 19 x 14.5 x 19cm
Product weight: 1.2kg
Volumetric weight: 1.5kg
1 x Frying Pan (Size: 17.5 x 4cm)
1 x Medium Pot (Size: 17 x 9cm)
1 x Teapot (Size: 14 x 7.5cm)
Accessories includes: 1 x Wooden Spatula, 3 x Plastic Bowls, 1 x Dishwashing Sponge
Camping Cookware (5-6 persons) features:
Suitable for: 5-6 people
Packed size: 21 x 15.5 x 21cm
Product weight: 1.2kg
Volumetric weight: 1.5kg
1 x Large Frying Pan (Size: 19.5 x 5.5cm)
1 x Large Pot (Size: 19.3 x 12cm)
1 x Small Pot (Size: 17.3 x 9cm)
Accessories includes: 1 x Plastic Ladle, 1 x Wooden Spatula, 3 x Plastic Plates, 5 x Plastic Bowls, 1 x Dishwashing Sponge
Camping Cookware (5-6 persons) with Kettle features:
Suitable for: 5-6 people
Packed size: 21 x 15.5 x 21cm
Product weight: 1.3kg
Volumetric weight: 1.6kg
1 x Large Frying Pan (Size: 19.5 x 5.5cm)
1 x Large Pot (Size: 19.3 x 12cm)
1 x Small Pot (Size: 17.3 x 9cm)
1 x Kettle 1.1L (Size: 15cm x 8cm)
Accessories includes: 1 x Plastic Ladle, 1 x Wooden Spatula, 3 x Plastic Plates, 5 x Plastic Bowls, 1 x Dishwashing Sponge
Camping Kettle 1.1L features:
1 x Kettle 1.1L (Size: 15cm x 8cm)
Product weight: 0.3kg
Volumetric weight: 0.5kg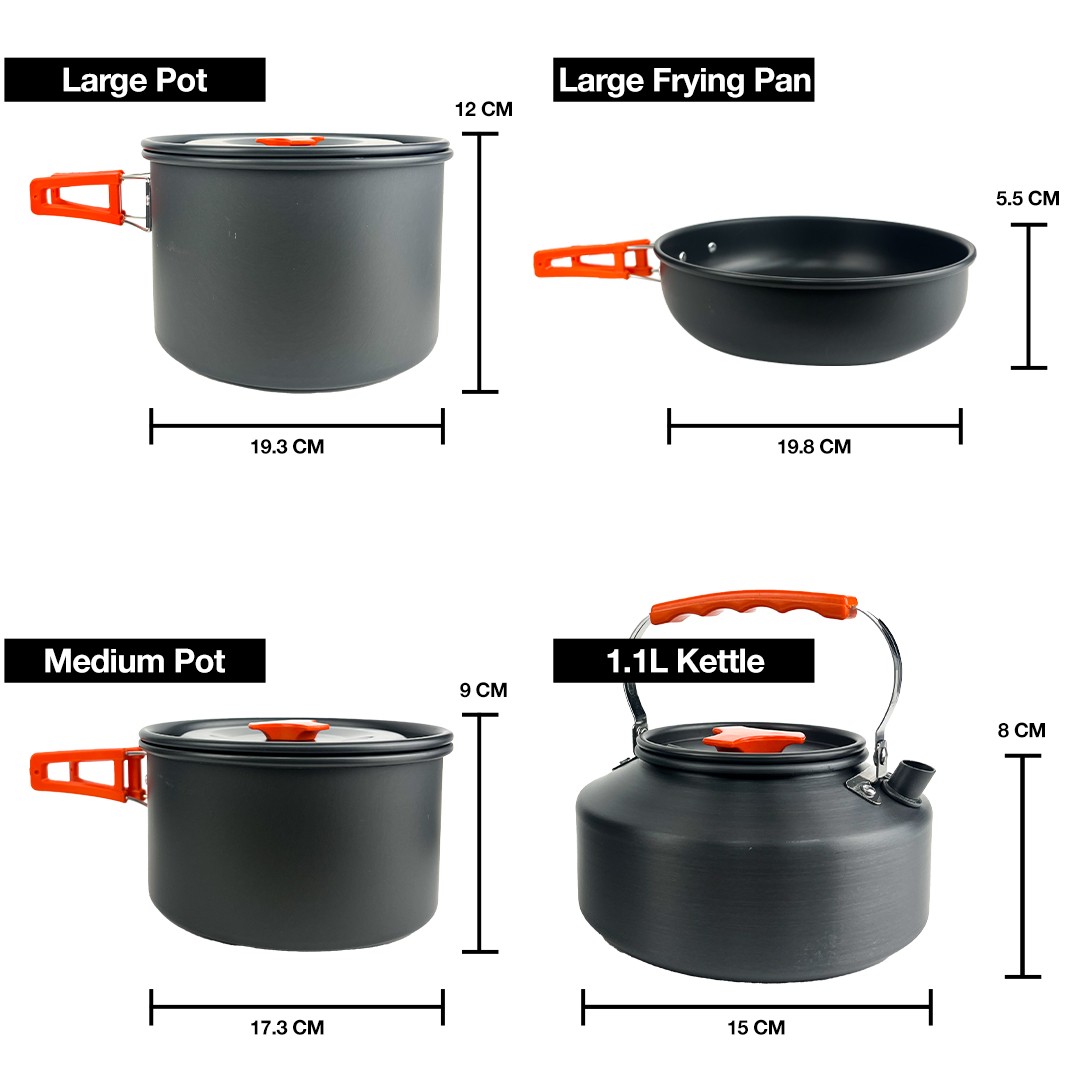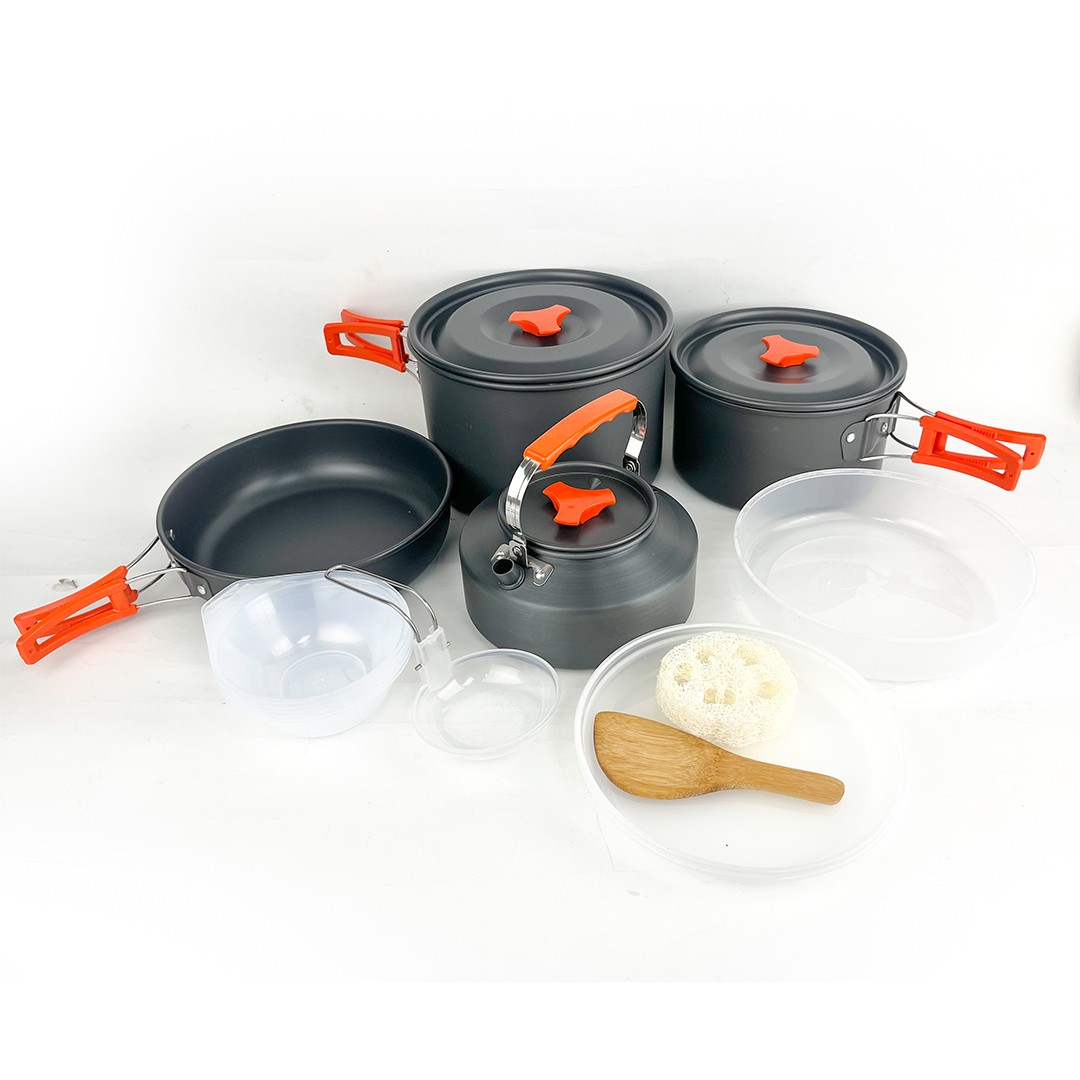 Notes:
There may be slight size deviations (1-3CM) due to manual measurement, different measuring methods, and tools
The picture may not reflect the actual color of the item because of different photographing light, angle, and display monitor