The Ultimate Hikers Guide To Climbing Mount Kinabalu
"Because it is there," was the eloquent reply of the great climber George Mallory about the Everest expedition. The same thing applies to climbing Mount Kinabalu.
Located in the Sabah region of Borneo and situated within the UNESCO World Heritage Site Kinabalu National Park, Mount Kinabalu is the center of attraction. Standing at 4095 meters (13,435 feet) above sea level, it is the highest peak in all of Borneo and Malaysia. The name originates from a Kadazan word, 'Aki Nabalu' meaning 'the revered place of the dead'. The place has above 5000 species of plants, more than 300 species of birds, and over 100 species of mammals.
If you're up for the ultimate challenge, climbing Mount Kinabalu is for you. With its dense thick foliage and steep trails, it allures mountain lovers from all over the world. While the trek is challenging, it engulfs one with epic stunning views of nature from the top. Here is what you need to before you take up the challenge yourself.
Mount Kinabalu trails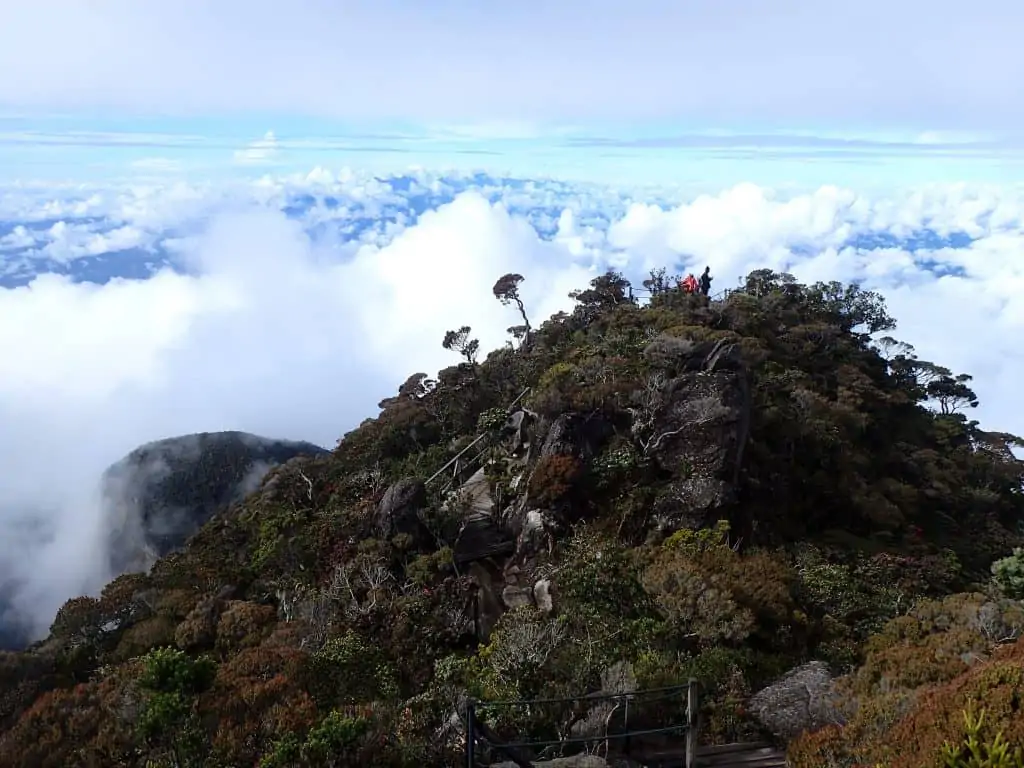 Being the highest peak in the Crocker Range, you will pass through rainforest, grasslands, rockscapes, and alpine meadows during the climb.
Mount Kinabalu has two trails to the peak, Ranau Trail and the Kota Belud Trail.  Both of them start from Panalaban, which was earlier known as Laban Rata. And, they meet at the Sayat Sayat checkpoint on the way to the Low's Peak summit.
The Ranau trail is 1.27 Km from Laban Rata to Sayat Sayat and was opened for hiking in December 2015. It is less stiff and has wooden staircases and manageable rock steps. These made it a popular and tourist-friendly option. The Kota Belud Trail was opened one year later in December 2016. It goes 1.1 Km from Laban Rata to Sayat Sayat. But it is more challenging than the Ranau trail.
Climbers have the option to choose between them. They are allowed to hike up and down through Timpohon Gate and have to follow one of these two new trails. The Ranau Trail is on the eastern side of the old trail, and the Kota Belud Trail on the western side. To follow any of the trails, climbers have to trek 6 kilometers from Timpohon Gate to Panalaban. Laban Rest House and several assorted huts are situated there. It may take from 3 to 5 hours for reaching Laban Rata from Timpohon Gate. The trekking route from here is marked a couple of hundred meters apart. It has moderate to difficult inclination.
The Ranau Trail starts after Pendant Hut and the Kota Belud Trail starts next To Gunting Lagadan & Panar Laban Hut. Both of them end at Sayat Sayat. The trail one should follow depends on the fitness level. Anyone with an average fitness level can manage the Ranau Trail, whereas the Kota Belud Trail needs above average fitness level.
Almost 90% of the Ranau Trail contains wooden staircases and carved rock stairs. There are also ropes for easy climbing. The final part of the trail is full of granite surface terrain. Overall, it is safe for an average climber.
Almost 95% of the Kota Belud Trail contains granite surface.  It also has wooden steps in some parts of the early stages. Ropes are also lined for leading climbers along the trail. The final part of the trail has an inclination of 60 degrees making it most challenging. You require special permission for Kota Belud Trail.
Exploring Mount Kinabalu via Ferrata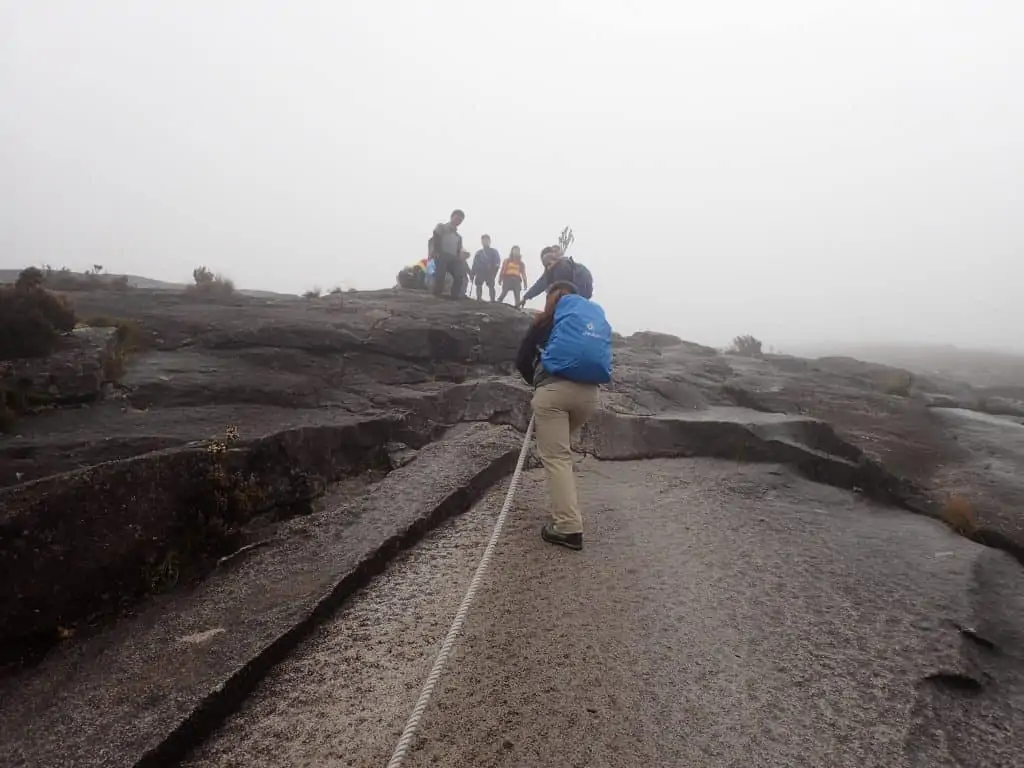 The Mountain Torq Via Ferrata has another exciting way of exploring Mount Kinabalu for those who love heights and adrenaline. Ferrata means 'iron road' in Italian. It is the globally highest Ferrata route installed on the Panalaban rock face. The mountain pathway starts at 3,200 meters and ends at 3,776 meters above sea level. It has a series of bridges, cables, rails, and rungs that embrace the steep rock face. Taking this route one can view the scenic section that is otherwise available to rock climbers and mountaineers.
Mount Kinabalu via Ferrata offers two routes; Walk the Torq and Low's Peak circuit. The Low's Peak circuit is more difficult. But, you do not need any climbing experience for any one of these two routes. The route is designed for intermediate climbers and beginners as well. Beginners can walk climb along the granite walls. It takes around 2 to 3 hours. And, if you are an intermediate climber, you can take the 4 to 5 hours journey for experiencing the breathtaking heights and views of Mount Kinabalu.
It is an additional activity that one can do after reaching the summit. But you have to book it at the park gate. The route is 1.2 km long and one has to negotiate a vertical traverse of 365 meters.
The minimum age requirement for Walk the Torq is 10 years. It is 17 years for Low's Peak Circuit. Anyone, not above 70 and who stands at 1.3 meters minimum, can take them under the supervision of experienced guides. Overall fitness is the additional requirement.
How Long To Climb Mount Kinabalu
Now, you don't need to worry about not knowing the route to take or getting lost. There are several climbing packages available till 31 December 2021 that could help you with that problem. They belong to two categories. The first category spans two days and one night, and the second for three days and two nights. Here is the itinerary followed.
2D1N Gunung Kinabalu Package
Day 01: Kota Kinabalu – Kinabalu Park HQ – Timpohon Gate – Laban Rata
Starting early from the hotel for the 2 hours journey to Kinabalu Park
Registration at the Park HQ, getting ID tags, mountain guide, packed launch. Remember to wear the ID tag at all times.
Transfer to Timpohon Gate for starting the hike. It is mainly stairs and rocky and will take approximately 4 to 6 hours.
The trek passes through different vegetation zones from Oak to mossy and alpine vegetations.
Arrive at Laban Rata (3230 meters above sea level) in the afternoon.
Have buffet dinner, refill water, and stay in the dormitory.
(Meals: Packed Lunch, Buffet Dinner)
Day 02: Summiting Low's Peak – Descending to Mount Kinabalu – Kota Kinabalu
Get up at 2:00 hours in the morning for early supper.
Start ascending to the Summit. It is usually through the Ranau Trail
Do a night hike for 3 to 4 hours with the headlamp. The Low's peak is at 4095 meters and will test your fitness and endurance.
Depending on how fast you can trek, you will view the glorious sunrise over the majestic Mount Kinabalu provided there is clear weather.
Trek down to Timpohon Gate. It takes 5 to 6 hours.
Transfer back to the Kinabalu Park HQ
Buffet Lunch in the Park
Return to the Kota Kinabalu City/Hotel. Takes around 2 hours.
(Meals: Early supper, Breakfast, Buffet lunch)
3D2N Mount Kinabalu climb
It includes an extra night around Kinabalu Park for leisure, acclimatization, and extra activities. Otherwise, there is no difference. One can book it in advance.
Accommodations at Mount Kinabalu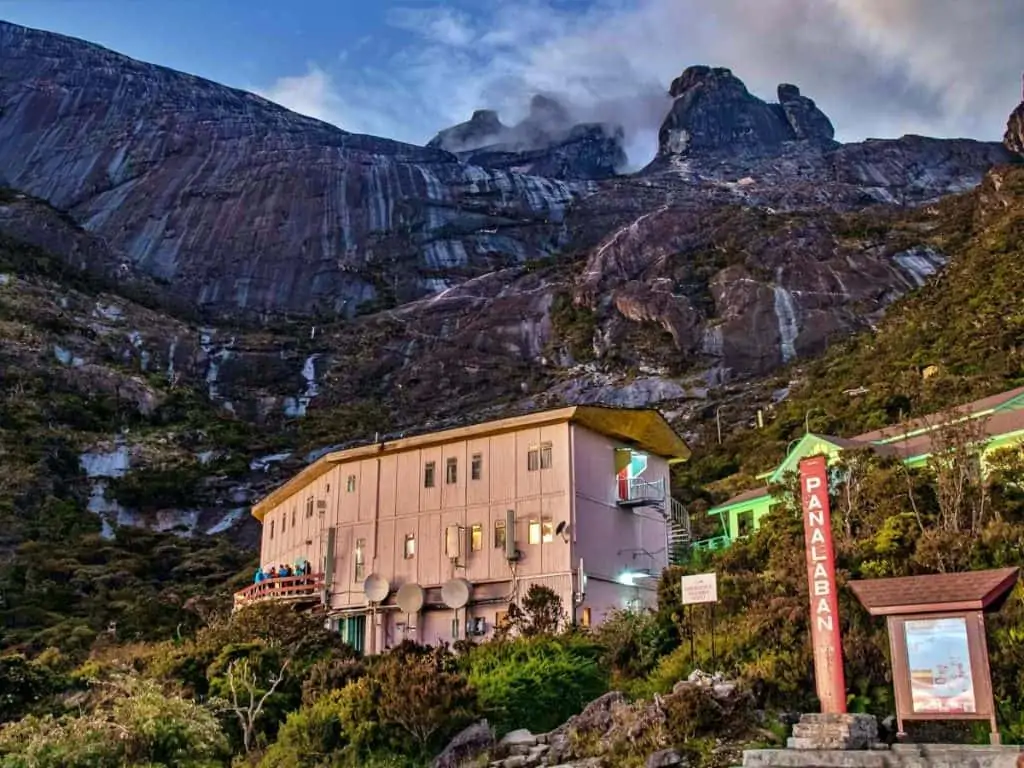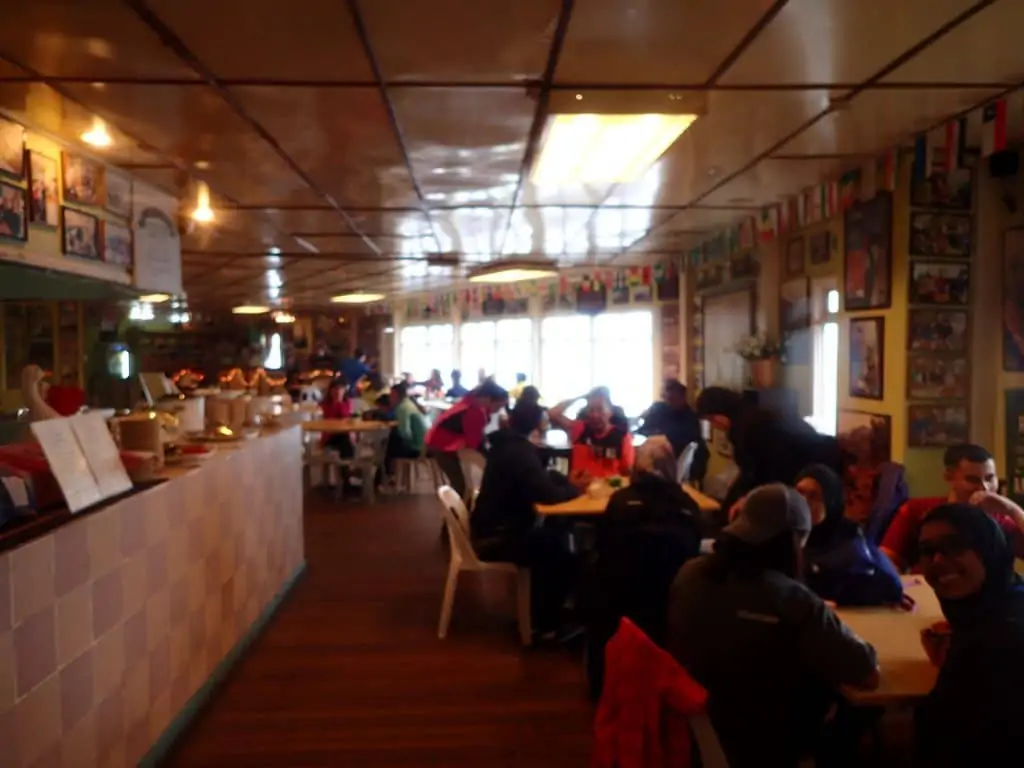 One can contact the following huts, lodges, resorts, and hotels for current prices and booking. The recommended accommodation for me would be the Laban Rata Resthouse as their food is delicious and so is their lodging.
Panalaban Assorted Huts
Laban Rata Resthouse
Pendant Hut
Lemaing Hut
Kinabalu Park
The Hill Lodge
The Peak Lodge
Liwagu Suite
Kinabalu Park Premier Chalet – Garden Lodge
Kinabalu Park Premier Chalet – Summit Lodge
Kinabalu Park Premier Chalet – Kinabalu Lodge
Nepenthes Villa
Nepenthes Suite
Kinabalu Park Premier Chalet – Rajah Lodge
Kundasang Ranau
Perkasa Hotel Mt. Kinabalu
Kinabalu Pine Resort
Kota Kinabalu
Sutera Harbour Resort – The Pacific Sutera
Sutera Harbour Resort – The Magellan Sutera
The Klagan Hotel
Promenade Hotel Kota Kinabalu
Some frequently asked questions about Mount Kinabalu
Who can climb Mount Kinabalu?
Anyone within the age group from 10 to 70 years with good health and fitness level can do this.
What is the best time to hike Mount Kinabalu?
The best time to climb is from March to September. It is then pretty dry, the weather is nice, and gives a clear view. However, hiking is possible almost throughout the year.
Is Mount Kinabalu climbing safe?
Apart from any 'Act of God', it is a pretty safe climb under the supervision of the guide.
How the Mount Kinabalu temperature varies?
The temperature at the summit may be as low as from 0 °C to 3 °C. The temperature of Timpohon to the Panalaban area varies from 6 °C – 16 °C.  And, the temperature at Kinabalu Park stays between 15 °C and 26 °C. However, Mount Kinabalu is a tropical rainforest area. As such, there may be heavy rain at any time of the year.
What is the cost involved?
It depends on different packages. Search on the web to know the current price.
Is it okay to book with website sources?
It is safe to book with https://www.mountkinabalu.com/. One can also book with the travel agents listed on Sabah Tourism Board.
When to book a climb slot and accommodation?
Last-minute booking is possible. But it is subject to availability. It is better to book a Mount Kinabalu climb slot 3 to 6 months in advance.
What is a climb slot?
It means booking a bed at Panalaban and is attached to the climbing permit
How many climb permits are issued daily?
Effective from 5th March 2021, only 100 climb permits will be issued.
Is the COVID-19 test necessary?
Only climbers who show negative COVID-19 screening results can climb.
Is climbing without a guide possible?
Even experienced climbers are not allowed to climb Mount Kinabalu without a guide.
Is hiring a porter necessary?
You may not hire a porter, but it helps.
Can I climb without an agency?
Yes. You can do the hiking without any agency. But you have to book everything well in advance.
Things to bring
Packing light is the best for hiking. Here are the essentials for Mount Kinabalu hiking.
Waterproof backpack: Usually, a backpack of 40L capacity is sufficient. Get a rain cover if the backpack is not waterproof.
Headlamp: Headlamps are required for night climbing. It will also keep both hands free to hold onto ropes and rocks.
Altitude sickness tablets and pain killers: They help to cope up with emergencies.
Warm clothing: It must include woolen socks, waterproof gloves, and a hat. You will need them for staying in unheated rooms, on the Ferrata, and at the summit.
Waterproof jacket/disposable raincoat: It is needed because weather at high altitudes is always unpredictable.
Fleece jacket, insect repellent: They protect from crawling insects and mosquito bites.
Change of clothes: Include lightweight clothing and something for layering.
Comfortable hiking boots and socks: It is better to get shoes with ankle support and start wearing them at least two months before the hike so that they won't hurt your feet.
Yummy snacks: Take biscuits, cakes, chocolates, energy bars, nuts, sugary treats, etc.
Hiking stick: It will make trekking easy both way up and down on the trail. You will preserve a lot of energy for walking on the second day.
Sunglasses, Sun protection cream, SPF leap balm: They are a must if you take the Ferrata route.
A good camera: It should with a waterproof pouch, spare batteries, and chargers, or perhaps an action camera if you want to vlog your whole journey
Binocular: To look at the scenery and spot any rare animals.
Personal toiletries: Carry soap, toothbrush, toothpaste, shower gel, towel, tissue papers, etc.
Fluids: 5L drinking water, energy gels, and 500ML Isotonic Drink. Or a good thermos if you fancy a hot drink once in a while
Earplugs: You may need them due to the snoring in the dormitory.
Passport: You will not get a climbing permit without it.
Here is a checklist for your own printing convenience.
PRINTABLE CHECKLIST
How to prepare for Mount Kinabalu climbing
Early preparation & Packing
Do not carry any valuable items
Overnight stay at Kinabalu Park or Kundasang Highlands (1500 meters above sea level) before the climb is ideal for acclimatization.
Try to keep the backpack between 4 and 8 Kg.
Before climbing
Engage a guide as per group size.
Get ready in a comfortable trekking outfit.
Do not take a heavy breakfast
Have cash. Credit card facilities are not available.
Wear the ID tag at all times. It is an absolute necessity.
During climbing
Check if you are comfy in the dress and can move freely.
Trek at a normal and steady pace.
Eat packed lunch after climbing for 2 hours.
Rest for 10 minutes at the 4th or 5th km mark. It will help acclimatization.
Never sit or lie down on high altitudes. Just stand to take a rest and walk again.
Be careful with steps and never run.
Cover the mouth and nose with something in windy condition.
Ascending to the Peak
Register your climbing permit at the Sayat Sayat checkpoint
Start as early as possible
Check if you are wearing the ID tag.
Drink saltwater. It prevents cramps.
Check your headlamp and gloves.
Do not take a heavy meal. Snacks are a better option.
Watch steps, follow the rope, and never go off the track.
Make sure you are near to your group.
Trek at a normal steady pace. Control your breathing and make sure to exhale fully. It will help to prevent Acute Mountain Sickness.
Also, make sure that your feet and hands are warm and dry while making the final ascent.
At the Mount Kinabalu summit
Enjoy the magnificent view of the sunrise if weather permits.
Take snaps to capture the moment. It will be a memoir for the rest of your life.
Do not stay for long at the summit as it is too cold and windy.
Do not make loud noises.
Respect the surroundings and the belief of the local people.
Descending
Start descending as early as possible
Try to walk in a zig-zag pattern for avoiding slipping and reducing joint pain.
Also, mind your speed and never run while descending.
Use trekking poles. They will minimize the impact on your knees and legs.
It is the ideal time to enjoy the scenic beauty. Take as many snaps as you want.
Check out with Sabah Park Rangers at Sayat Sayat checkpoint. it is important.
Do some cooling down stretches, after you reach Timpohon gate
After the climb
Get the climbing certificate from your mountain guide
Dip your legs in ice-cold water after you return to the hotel.
Eat adequate protein to strengthen the muscles.
Summing up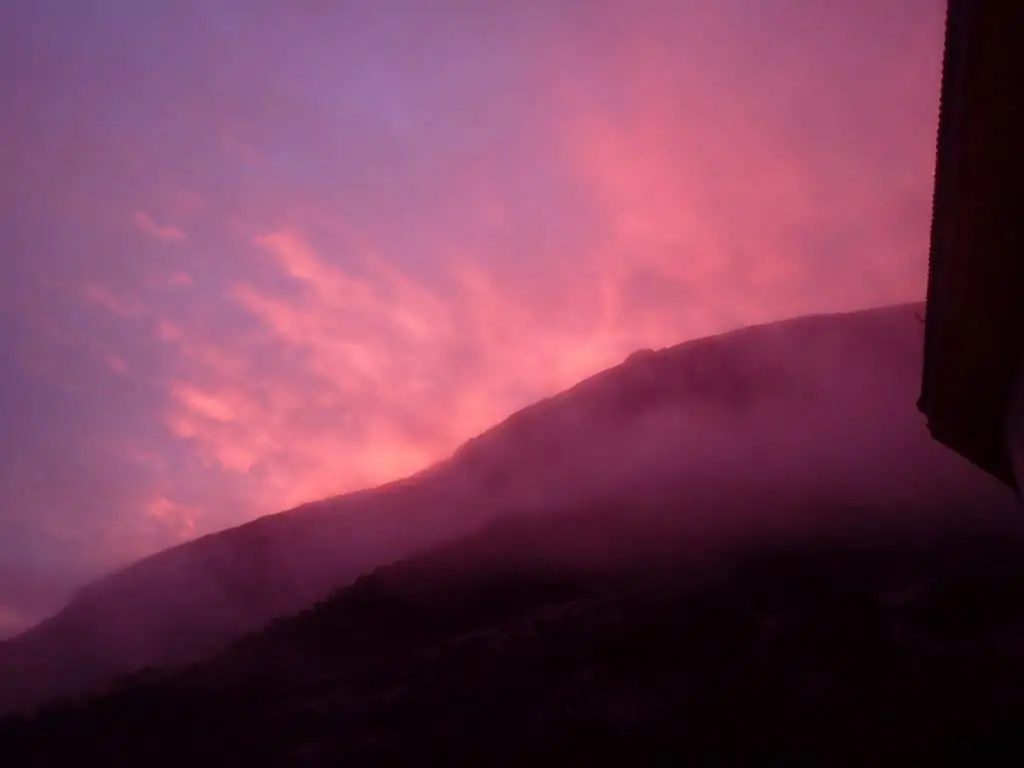 Sabah, Malaysia is a prime destination for nature lovers and hikers from all over the world. Mount Kinabalu is one of the few easily accessible places in the world. One can reach there in less than two hours from the Kota Kinabalu International Airport. Explore the place with your family and friends. As a true hiker, you should only take snaps, leave your footprint, and keep memories for the rest of your life!
If you have any experience that you want to share, join our Facebook Group, where we share a lot of good, valuable information for free: Malaysia Outdoor Community