Penang Hill
Difficulty of trek: Easy to hard, depending on selected trail
Duration of trek: Approximately 2-5 hours depending on selected trail
Total height: 833 m  
Area Overview
Credit: KosherUnit
Located on the west side of Georgetown, Penang Hill is full of attractions. It is a network of hills with the most popular one being Flagstaff Hill (also known as Bukit Bendera) and has up to a crazy number of 26 different trailheads leading up to the peak.
For more details on these trails, check out this guide from their official website here. But here's a quick breakdown of the most widely used trails:
Botanical Gardens

Coordinates: (5.437768, 100.290705)

10 trail entrances

All trails are around 4.5-6.3 km long

Greenhouse nearby

Pleasant view
Moongate

Coordinates: (5.435736,100.292789)

2 trail entrances 

Both trails are approximately 4.6 km long

Near Botanical Gardens
Youth Park

Coordinates: (5.431680, 100.297267)

5 trail entrances

Trails are around 5-6km long
As an alternative, the easiest and most scenic yet least "hiker" way to get to the peak is to take the Penang Hill Railway from the Lower Station. 5-minute ride, air conditioned, what more could you ask for? Or if you wanna hike AND take the train, you can hike your way to one of the stations, and ride the train up for the rest of the way, or do it the other way around.
There's 3 stations (Lower Station, Middle Station, Upper Station) so you can select your difficulty, although they're still not as challenging as the other trails. The peak has a really breathtaking view that encompasses Georgetown, especially at night. Definitely a good spot for romantic dates, but there's more than just a good view in Penang Hill.  
Attractions
Love Lock
Credit: iamsinyee.com
Not single? Seal your love for your bae with decorated padlocks on this observation deck that stands 823m above sea level. Sick view and very romantic. To all the singles out there, avoid this place at all costs if you don't wanna feel upset. 
Dinosaur & Aviary Garden
Credit: Penang Talks
As if Penang Hill ain't historical enough, they've got dinosaurs (not real ones of course). Kids are gonna love it.
Earthquake Typhoon Pavilion
While our neighbours take the hit for us when it comes to natural disasters, you'll be able to experience an 8.0 magnitude earthquake and a 12th level typhoon at Penang Hill. Sounds pretty crazy, but it's just a simulation of course. 
Curtis Crest Tree Top Walk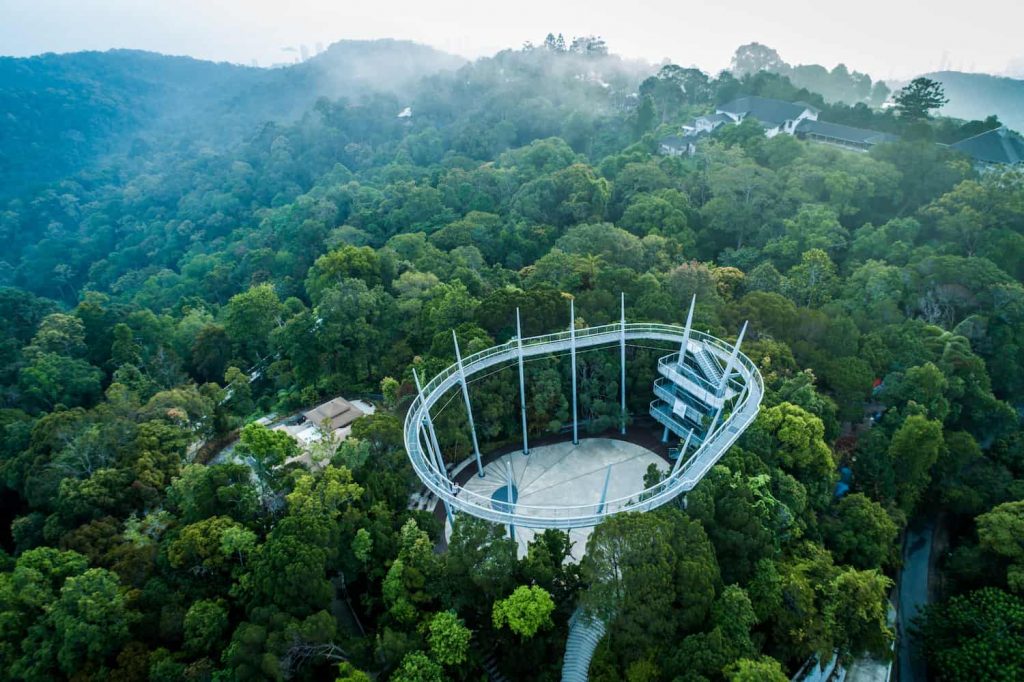 Credit: webintravel.com
Named after Charles Curtis himself (first superintendent of Penang Botanic Gardens), the Curtis Crest Tree Top Walk offers a 360 degree view of the island. If the weather is good, you might be able to see Pulau Langkawi in the distance. If you stay till 6 p.m., you'll be able to catch one of the most breathtaking, insta-worthy sunsets in the island.
Langur Way Canopy Walk
Credit: Nomadette
Imagine looking down and seeing the surrounding rainforest from 15 meters above. Photography enthusiasts, where you at?
The Owl Museum
Credit: RNR Travel
Filled with souvenirs and anything owl-related but an actual owl, this place has owl figurines made of all kinds of material. If you're into owls, check it out.
Sri Aruloli Thirumurugan
Credit: Ang Photography
This is the oldest Hindu temple in the entire island. A must-visit for sure.    
If you're new here, do follow us on Facebook and Instagram to get the latest update on our products and campaigns!