"Have you ever considered coming to Malaysia?"
That was the question that I posed to a fellow traveller that I met on a train ride to Kandy, a 5-hour adventurous ride with a train full of Sri Lankans.
Malaysia. It might be surprising for many, but this beautiful little country is still off the radar for many travellers out there. For them, Malaysia could be just another Southeast Asian countries. "I've been to Thailand or Indonesia, but not Malaysia. Isn't it the same?" If only I get a dollar for every time I hear that, I would be able to afford a boat and a short retirement. This article is not one of those "must go places in Malaysia". This post sheds the light on why Malaysia should definitely be in your South East Asia travel plans and what really makes Malaysia, Malaysia. 
1. The cost of travelling in Malaysia is low, very low.
As much as I hate to admit it, our depreciating Ringgit is one of the main reason why you should come to Malaysia. For as little as $1, you will get a rather fulfilling lunch with a drink included. You could get a decent breakfast inclusive of coffee for the same amount as well, sometimes less depending on what you eat. If you are eating at the streets, it doesn't go more than $1 usually. Please don't compare the rates if you are eating at a restaurant. That is a different story by itself.
Speaking of street food, the above meal can be purchased at a very clean and well-maintained shop in Malaysia. We Malaysians are very particular when it comes to cleanliness and would be on our toes all the time to make sure what we eat doesn't come out in a bad way. Travellers and backpackers alike can rest assure that their meal is well prepared and taken care of.
2. You can find accommodations here easily and they are cheap
When I mentioned cheap, I actually mean it. We once wrote an article on cheap accommodations that you can find in Penang and readers couldn't believe how true it was! For as low as $8 a night, you can get something as clean as below:
And yes, we understand. What is cheap if it's not clean? I've been to some of these places personally and like how we Malaysians likes our food clean, we LOVE our accommodation clean. It's a way we portray ourselves to the guest.
It's pretty easy to find backpacker lodgings all over Malaysia, especially in better-known places like Penang, Perak, Melaka and Kuala Lumpur.  The best part is, these places include dorms and homestays located right in the middle of all the bustling activity, where the best sights and attractions are literally just down the road from where you're staying. Yes, Khao San is not the only place where all the fun is. We have them right here in Malaysia.
3. We are well known for international cuisines as well 
We know how you might get homesick sometimes when it comes to long travelling. Here's a little unknown fact about Malaysia, we are crazy over food, so crazy in fact that we perfected our art of preparing international food as well! We have tonnes of renowned restaurants who are more than ready to satisfy your cravings. Be it Japanese, Koreans, Mexican, Western or even Indian food, we have them and we have them here for you!
Oh right, the above meal would only cost you an approximate $2, with unlimited refill for rice, water and vegetable as well. Surprised? Don't be yet.
4. Our beer is expensive, but our Thodi is not
Look, we are not Cambodia. Our beer can be pretty expensive at some places, especially at pubs and bars. But don't let that be a reason for you NOT to visit Malaysia. I'll rebut by telling you that we have a few things that you should try instead of the plain normal beer. It's our local thing and yes, it's something that you should really try before leaving Malaysia.
First off, we have something we call, Thodi. Made from fermented coconut juice, Thodi is a favourite drink among the local Indians of Malaysia. In fact, even the Chinese community would have a go at it at Indian events. That's just how we are as Malaysians. For $1, you can get a 1.5L bottle of Thodi and they come in the most unassuming way:
Another must try drink in Malaysia would be Tuak, made from the sap of different palm tree, also famously known as the Palm Wine. Sometimes, they are made from fermented rice as well and are better known as rice wine. Either way, popularize by Eastern Malaysians, this alcoholic beverage is one of your must try replacement for beer.
5. Learn about multiple cultures in one place
Yes, the media might say really bad things about us but trust me when I say that the media is not always on the correct end. We have more than one race living together in Malaysia for so many years and we have blended so well so far. Visit Malaysia and learn about the Malays, Chinese, Indians, Sikhs, Christians, Indigenous Tribes and so much more! There is so much to learn about us that weeks might not be enough. Every single culture brings a different type of living, dressing, beliefs, food, interest among many others. For so many years, we have lived together peacefully and if you are wondering how we can do it so well, well, first, we don't trust the media that much.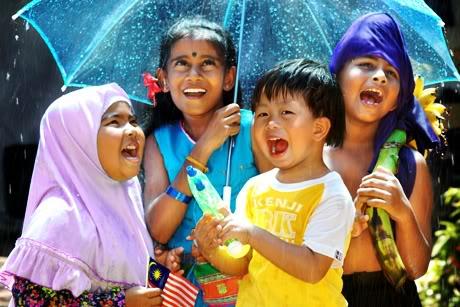 Walking along the streets and staying in homestays will show you a different world altogether as you are exposed to our locals and our daily lives. Our superstitions and varied cultures are still practised all over Malaysia until today, even as the country progresses forward. It's nice to keep some old beliefs in a modern world sometimes.
 6. We are so diverse that we can combine our languages together
Jokes aside, most of the Malaysians here speak perfect English so you will not have any problem asking for direction or ordering a meal. When you order a chicken, a chicken arrives, not a stir fried pangolin. So, worry not. It would be interesting for you as well to learn our very own version of English, which we call Manglish. It stands for Malaysian English and rightfully so because we can combine English, Malay, Cantonese and Tamil in one sentence by itself. In fact, we are so creative that by one English word combined with different Cantonese word, we can derive many different meanings: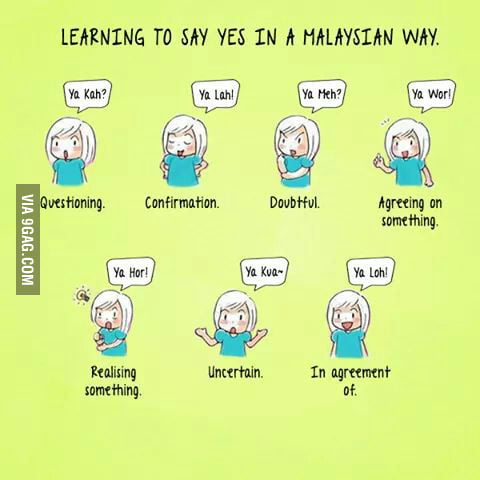 The next time you come, don't be surprised if you start adding "lah" or "kah" at the end of your sentences. And it's fun. I've seen backpackers and travellers in Malaysia do it all the time and the smile comes out EVERY single time, both from the speaker and the listener. See how easy it is for us to make you happy?
7. Our tropical climate is perfect, just, perfect
The tropical climate in Malaysia makes it a beautiful place to go to during the cold winter months of your home country. Spend your winter sunbathing at the beaches or hiking through the overgrown rainforests, getting a beautiful natural tan and enjoying yourselves away from the biting cold. Malaysia has many beautiful islands and coral reefs to visit s, whether you plan to relax and sunbathe, snorkel or even go for a dive. Pulau Tioman, Pulau Redang, Pulau Layar… Take your pick from these islands!!
So the next time you are planning a trip to South East Asia, drop by Malaysia. We have it all here and if you think the list is long, this is nothing yet! We have so much more to offer you at a rate that you will DEFINITELY love.
Stopping by Malaysia soon? If you have any questions to ask, please feel free to leave a comment below. I'll be more than happy to help. 🙂