Name: Mount Yong Belar (Gunung Yong Belar)
Location: Blue Valley Dam, Cameron Highlands
Starting Coordinates: 4.61263N, 101.40432E
Tallest Point: 2183m (7156feet) above sea level
Difficulty: Advanced and technical, good stamina and endurance needed for the long hours of walking, technical skills needed for climbs and crawls
Time needed for completion: Day hike is possible but 2 days 1 night is more recommendable for a more relaxing hike (what's the rush, seriously?)
Things to prepare:
1. 2L Hydration Bladder (there will be water points to refill)
2. Extra change of t-shirt and pants
3. Food
4. Raincoat
5. Durable hiking bag
6. Extra change of socks
7. Walking pole (optional)
8. Fleece Jacket/Windbreaker (it gets pretty windy and cold up there)
9. Headlamp
10. Camping equipment
Getting to the starting point to Mount Yong Belar:
Parking at SMK Kampung Raja (Parking fee: RM10, guarded)

Head out by 4WD to starting gate (30 minutes)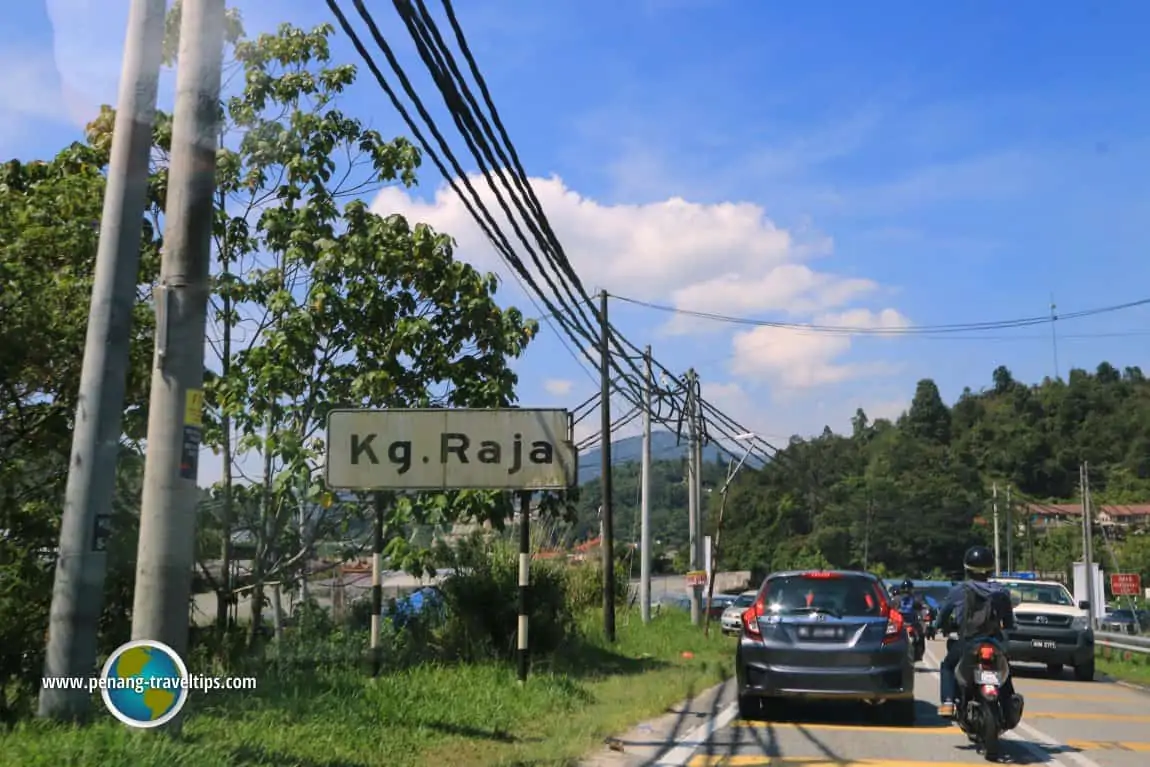 To be clear, we started and ended at a different spot due to some miscommunication with the landowner. Our starting point was at the entrance of a privately owned farm, which in simple terms is the easier route. It takes only 40 minutes to walk to reach the entrance of the forest, called "Pintu Rimba". The walk is rather picturesque, with vegetables on your left mountains on your right.
From "Pintu Rimba", it's a one-way street into the forest with slight elevation and tonnes of roots to beware of. There are no huge river crossings at Mount Yong Belar (Gunung Yong Belar) trail, so yes, you can keep your shoes pretty dry if you are good enough. The trail is not extensively steep and is still very well kept in terms of trail condition. The first camp site, "Kem Tudung Periuk" is about 3 hours away from the Pintu Rimba point. It's a large clear area which can easily fit 40 – 50 people.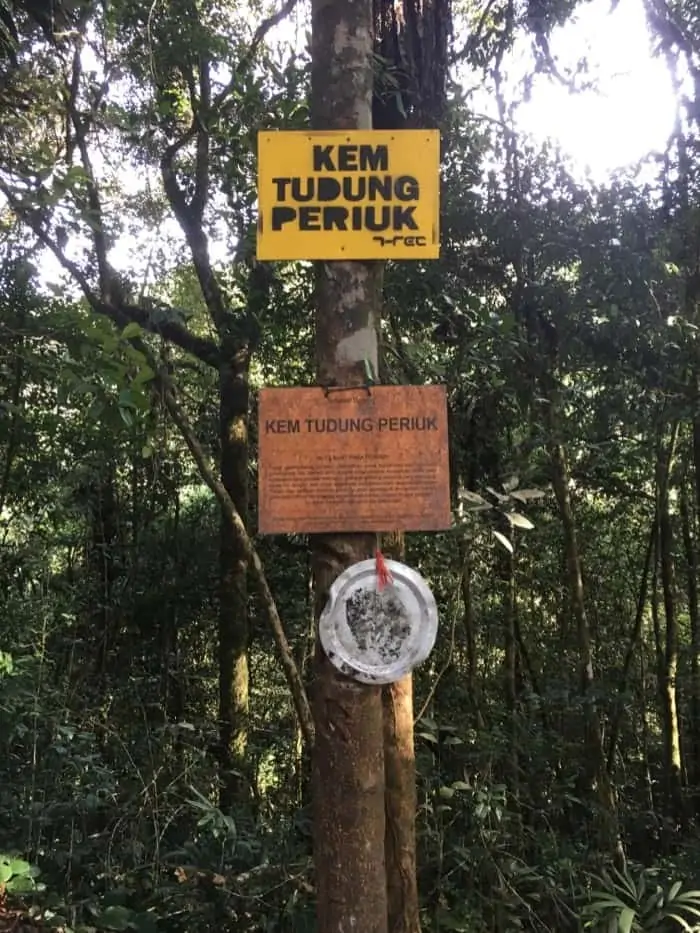 We stopped and took our lunch at Kem Tudung Periuk before moving on. There is a stream further down the trail so if you are planning to finish whatever water ration that you have left, by all means, because you can fill it back once you start moving. After Kem Kasut, the trail resumes an up and down gradient with a few false peaks. Take a break at the false peak and admire the beauty of the mountain ranges there. The Mount Yong Belar (Gunung Yong Belar) trail offers you a view unlike any other mountain in Malaysia. Don't rush through things. There is plenty of time for you to set up your tent.
Kem Kasut, the second campsite along the trail is 3 hours away from Kem Tudung Periuk. Slightly smaller than Kem Tudung Periuk, this clearing can fit about 20 – 30 people. We had 27 people and it fits perfectly fine (we even had a team pitch up a fly as their kitchen, which produces an amazing smell might I add). By the time we reach Kem Kasut, it was about 4 pm. Being one hour away from the summit, we could shoot up to the peak on the same day of course but setting up the tent and calling it a day seems to be a wiser choice. Oh and yes, you can camp at the summit but it's not really recommended because:
Strong winds

It's pretty cold up there

Thunderstrikes

Lack of water source
So, if you want a comfortable camping experience, do it at Kem Kasut. So for our team, it's Kem Kasut and we will be shooting for the peak the next morning (5:30 am).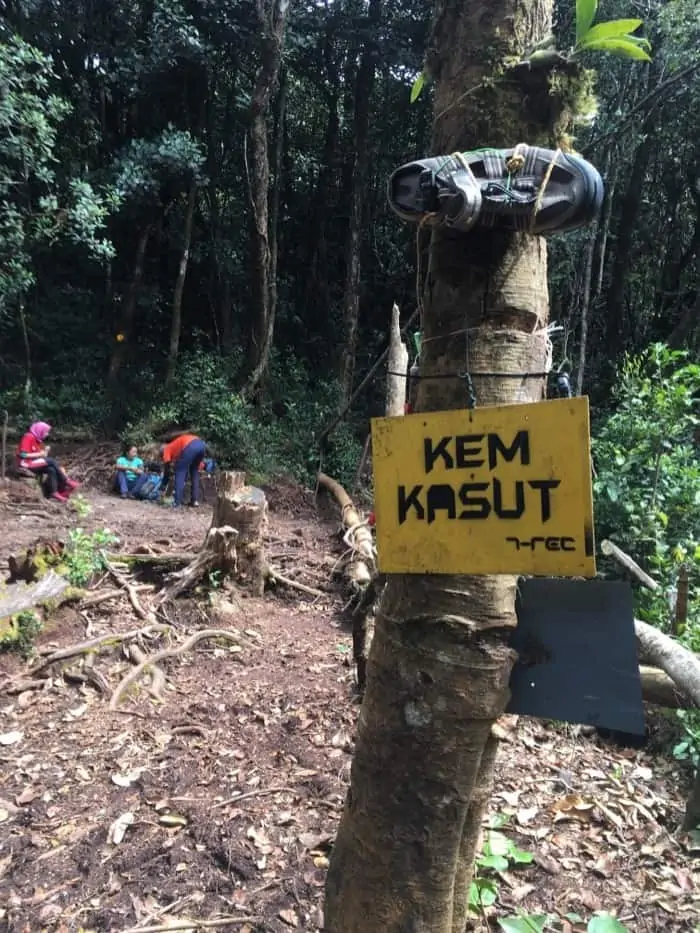 The next morning, we took off with our headlights at 5:30 am and headed for the summit. The estimated time was 1 hour and we made it averagely within an hour. Unfortunately for us, the sun was blocked by thick clouds although our team waited for almost an hour up there in the strong wind and bone-chilling cold. Yes, it's really cold up at the peak. Remember your gloves as well!
We made our way back to the campsite and reach by 8:30 am, more or less. The road down was way easier considering it's already bright and you can see without your headlamps. Packed up, fueled and recharged, we made our way out of the forest, the same way we came in.
Exiting from the same way, it took us roughly 5 hours to reach Pintu Rimba where we entered but instead of getting picked up from our original starting point, we had to endure another 2 hours of trail because of some miscommunication with the landowner. Well, for cases like this, there is no point fighting. Whatever happens, keep walking and it will be over. We're hikers and hikers don't complain.
So the other trail that I mentioned here is the original entry trail of Mount Yong Belar (Gunung Yong Belar), called, the pipe trail, for obvious reasons, because it consists of pipes, a lot of pipes. It's a very slippery trail, so watch your steps here. The trail is not very long but because you are taking small cautious steps here, it might take a bit of time (2 hours for our case). These pipes don't interlock tightly, so when you step on one, it might move and slip away. Be careful here.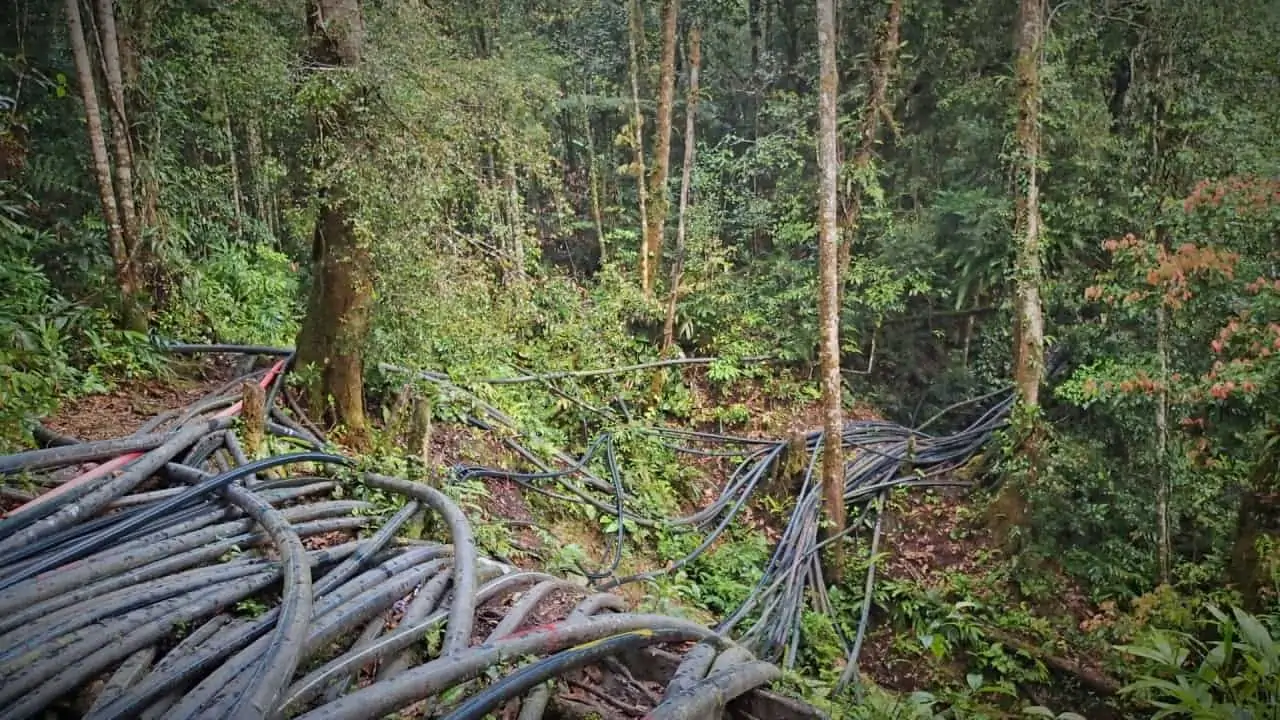 After an endless run of pipes, you will reach the final part of the trail, the stairs. Here's a tip for the stairs. Walk sideways. It's easier. The steps are pretty small therefore walking sideway gives you more balance and speed.
After the stairs, you will see something that you have been longing to see the whole day, your pickup vehicles! That's the end of your trail. Rejoice, pat yourself on the back and take as many pictures as you want because this will be a memory to cherish!
=============================
So, if you are planning to hike Mount Yong Belar (Gunung Yong Belar), use this as a rough guide and prepare well. As you can see, the trail is not easy, that's for sure but if you prepare well, it can be very enjoyable. Hope this serves you well. New hiker? Not sure what to bring along during hiking? Check out our quick guide on what you should bring here. Have any questions? Leave it in the comment section below and I will be more than glad to assist you if possible.
Want to know more new items available at PTT Outdoor? Click here.
If you like our content, join our PTT Outdoor Facebook Group, where we share a lot of good, valuable information for free: Malaysia Outdoor Community