Find the Best Camping Tent in Malaysia for 2023
Are you ready to embark on an incredible camping adventure in the great outdoors of Malaysia? The first step to a memorable camping experience is finding the perfect tent that fits your needs. In this guide, we'll help you choose the best camping tent in Malaysia for 2023, along with essential accessories and care tips, ensuring that your shelter withstands the test of time and weather conditions.
Short Summary
Find the best camping tent in Malaysia for 2023: size, capacity & weather resistance are key.
Top picks include Naturehike Village 13, Tahan Panthera 4 Automatic Tent, Coleman 6P Northstar Darkroom. Tent and more!
Essential accessories like groundsheets/footprints & repair kits also needed. Follow tips to keep your tent clean & waterproof.
Choosing the Perfect Tent for Your Needs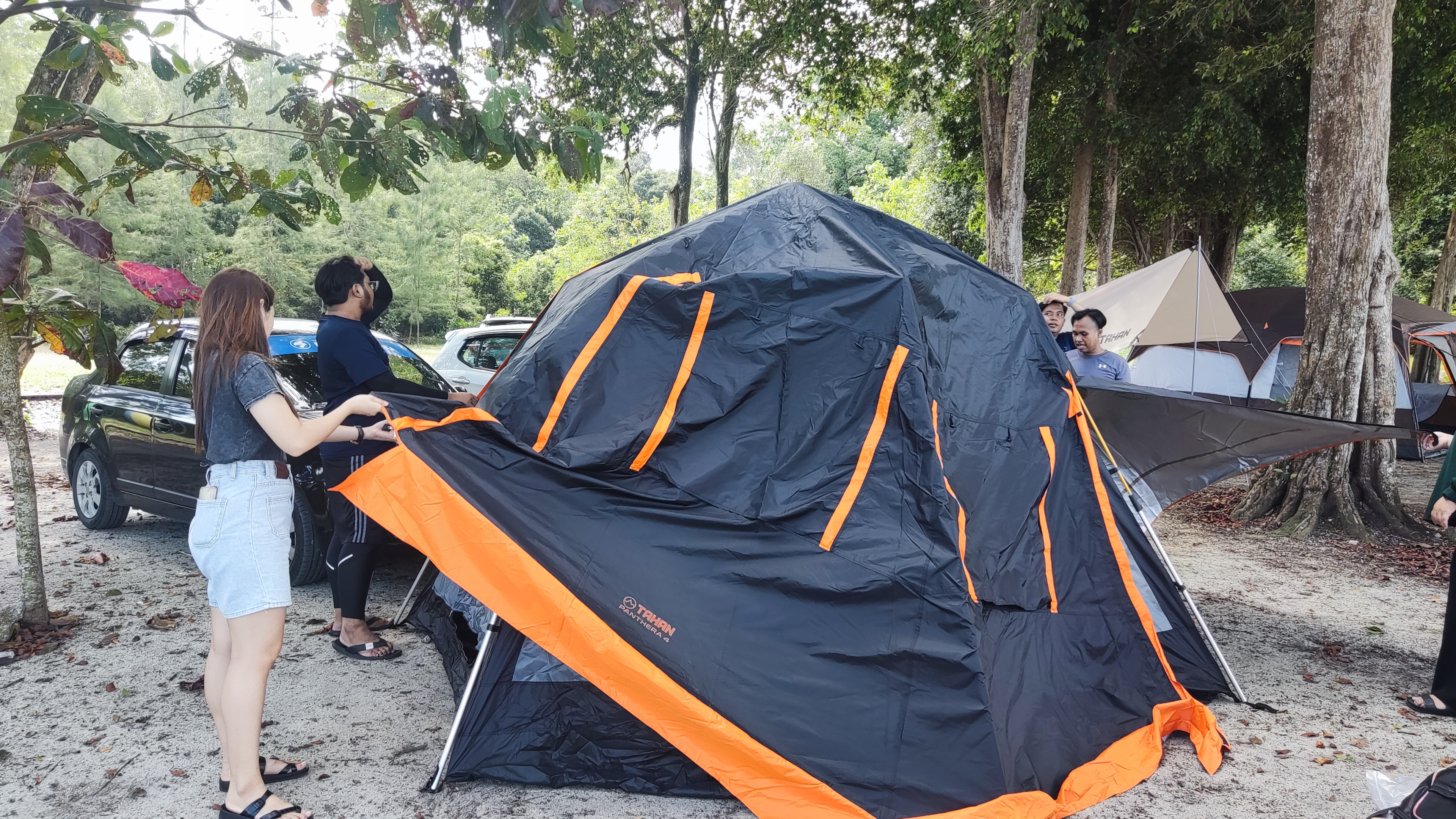 The perfect camping tent can make or break your outdoor experience. Finding the right size, weather resistance, and ease of setup are crucial factors to consider when selecting your ideal camping companion. After all, who wants to struggle with a complicated tent setup when you could be enjoying the beauty of your campsite?
Whether you're a solo adventurer or a cozy group of friends, the right tent will cater to your specific needs, providing a comfortable and safe haven amidst the great outdoors. From automatic tents that pop up in seconds to spacious options that can accommodate larger groups, there's a suitable camping tent for every outdoor enthusiast.
Size and Capacity
The size and capacity of your tent are essential factors to consider when planning your camping trip. Tents come in various sizes, ranging from compact solo tents to large capacity options with multiple bedrooms. The tent's capacity is usually indicated by the number of people it can accommodate.
However, keep in mind that you might need extra space for your gear and to move around comfortably. So don't hesitate to grab a tent with a slightly larger capacity than the number of campers to ensure a more spacious and enjoyable experience.
Weather Resistance
A weather-resistant tent is vital for a pleasant and hassle-free outdoor life. Whether you're facing a warm sunny day or a sudden downpour, your tent should be able to withstand various weather conditions. Look for tents made from waterproof materials, sealed seams, and features like rainflies, vents, and waterproof coatings.
Some tents even come equipped with snow skirts and sturdy aluminum alloy frames, ensuring that you stay protected and worry-free, no matter what Mother Nature has in store.
Ease of Setup
Nothing dampens the excitement of a camping trip more than struggling with a complicated tent setup. Opt for tents with color-coded poles and clips, as well as straightforward instructions to make your tent assembly a breeze.
Dome tents are generally easier to set up, while cabin tents might require a bit more effort. With the right tent, you'll spend less time wrestling with tent poles and more time making unforgettable memories with your camping companions.
Top Camping Tents in Malaysia for 2023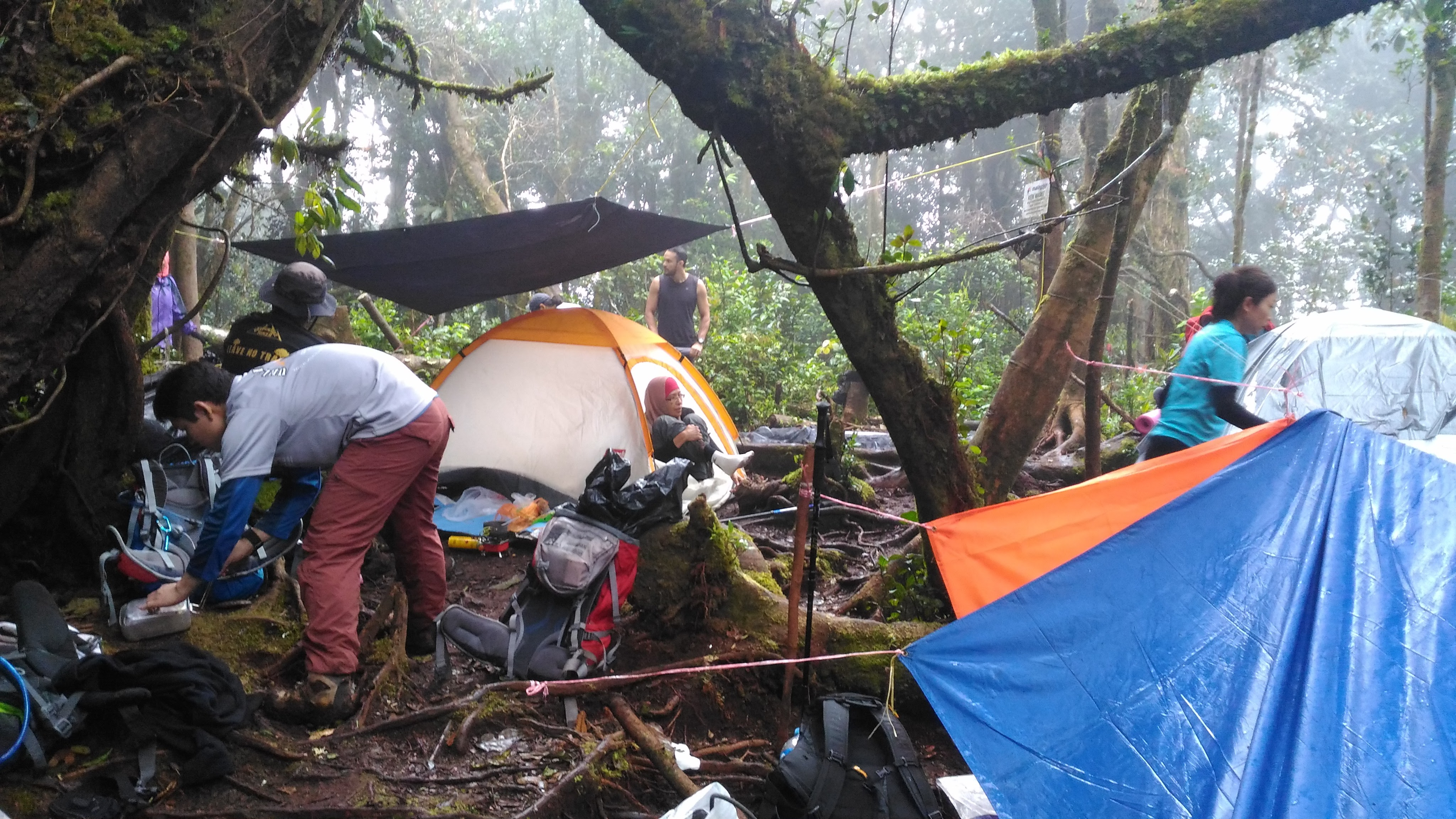 Now that you know what to look for in a camping tent, let's dive into our top picks for the best camping tents available in Malaysia for 2023. We have carefully selected these tents based on their size and capacity, weather resistance, ease of setup, and overall performance.
No more settling for flimsy tents that barely last a single trip; these options will elevate your camping experience to new heights.
Naturehike Village 13
The Naturehike Village 13 is designed for 4-6 people, featuring a double-layer design with a waterproof coating and 210T polyester fabric that can withstand the elements. The tent offers a large mesh window for ventilation, ensuring a comfortable stay regardless of the weather.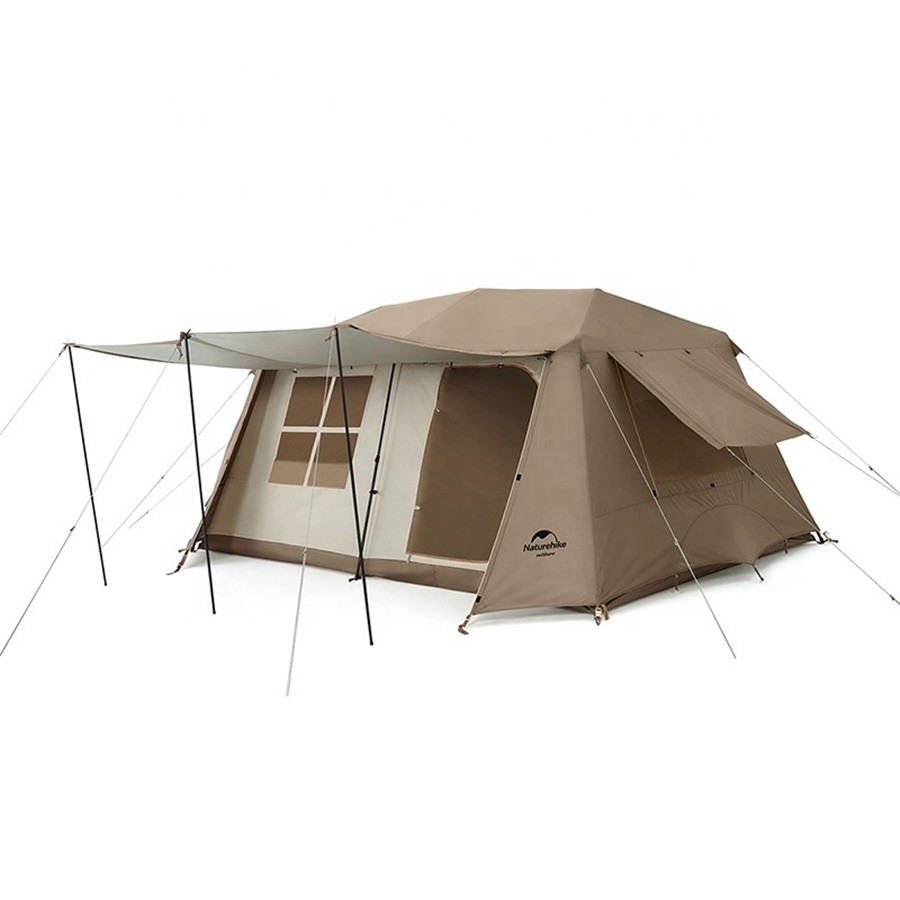 The removable rainfly provides flexibility, allowing you to enjoy stargazing on clear nights. However, it is relatively heavy, making it less suitable for extreme weather conditions or long treks.
Overall, the camping tent Naturehike Village 13 offers a great balance of comfort, durability, and weather protection for a memorable camping experience. One of the famous Naturehike tent Malaysia.
Two bedroom and one living room, 13m² large space
Silver coating process sunscreen which is windproof, rain proof and sunscreen
Five side breathable full window gauze coverage
Integrated bracket with elastic telescopic automatic support and side pole connection
Comfortable bottom tent with oxford cloth and inside storage bag for you to put things in there
Tent comes with USB connection atmosphere light bar to light up the tent
Material: 210D Polyester Oxford Silver Plated Fabric
Size: 395 x 270 x 183CM
Packaging size: 110 x 25 x 30CM
Capacity: 5-8 persons
Weight: Approx. 22KG
Budget Range: Tahan Panthera 4 Automatic Tent
Say goodbye to complicated tent setups with the Tahan Panthera 4 Automatic Tent. This easy-to-assemble tent is perfect for campers who prefer a hassle-free camping experience. Boasting a waterproof rating of up to 2000mm and UV protection up to UPF50+, it keeps you sheltered from both rain and sun.
The tent comfortably accommodates 3-4 people, and its pop-up system lets you set it up in no time. The package also includes a storage bag, tent ropes, and a set of stakes, further enhancing its convenience and practicality.
TAHAN Panthera 4 Automatic Tent Features:
Accommodates 3 – 4 people comfortably
Pop-up design for quick and easy set-up
Constructed with water-resistant silver coated polyester taffeta
Excellent ventilation for a comfortable sleeping experience
2000mm waterproof level for protection against rain
Comes with a detachable rainfly to keep water out
UPF50+, it blocks up to 98%* of harmful rays (UVA and UVB)
Pole material: Fiberglass
Fabric material: 210T Polyester Taffeta
Base material: 210D Polyester Taffeta
Number of doors: 2 doors
Tent dimensions: 210 x 240 x 135CM
Product weight: 4.3KG
Volumetric weight: 7.3KG
Tent color: Black only
Family Favourite: Coleman 6P Northstar Darkroom Tent
The Coleman 6P Northstar Darkroom. The tent is perfect for families or groups of friends, providing ample space for up to six people. Its special rainfly coating filters out 95% of sunlight, keeping the tent cooler during the day and warmer at night. The tent also features a vestibule, interior organizers, and a storage hammock for added convenience.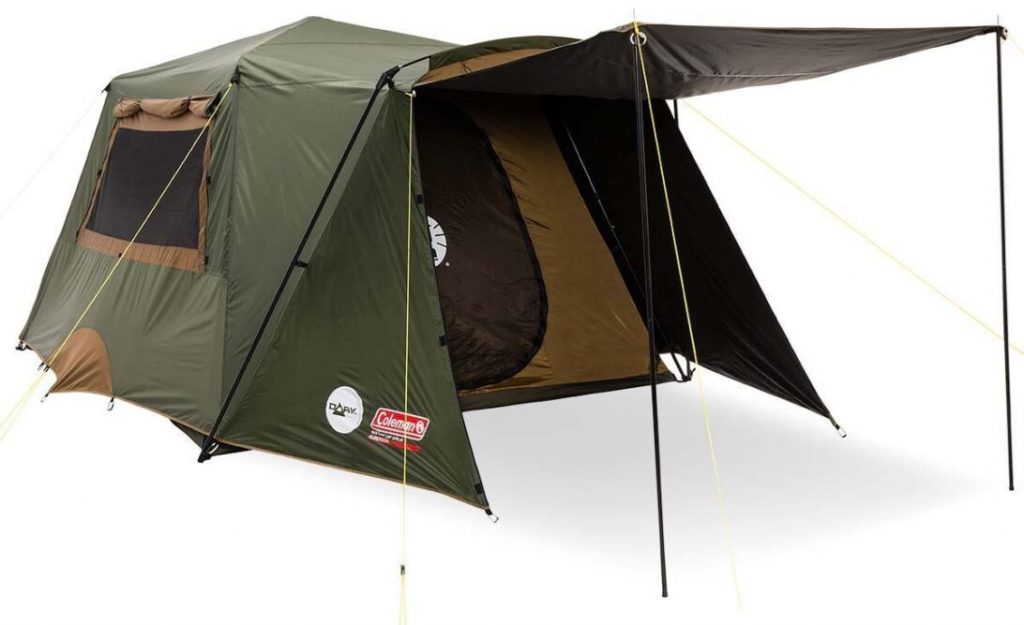 Not only is it waterproof, but it also comes with a storage bag for easy transportation. The Coleman 6P Northstar Darkroom. Tent offers a comfortable and well-organized camping experience that will make your trip unforgettable.
Coleman 6P Northstar Darkroom Features:
Sleeping Capacity:6 Person
Recommended Capacity:4 Person
External Dimensions:470L x 270W cm
Sleeping Area:330L x 260W cm
Packed Dimensions:135L x 25W x 25H cm
Max. Head Height:190 cm
Material: 75D 185T Ripstop Polyester Fly | Dark Room Coating
Inner Material:Polyester
Floor Material:420D Polyoxford PVC
Frame Material:Steel
Waterhead Rating: Fly 3000mm | Waterproof Camping Tent
Light Source:Integrated LED Strip Lighting
Weight:20.6 Kg
Decathlon 4 Persons Camping Tent – Quechua
The Decathlon 4 Persons Camping Tent – Quechua is an excellent option for small groups or families. This frame tent is incredibly easy to set up, featuring a stand-up living room and a basin groundsheet. It can comfortably accommodate up to four people, offering a cozy shelter during your outdoor adventures. A bestselling Decathlon camping tent indeed.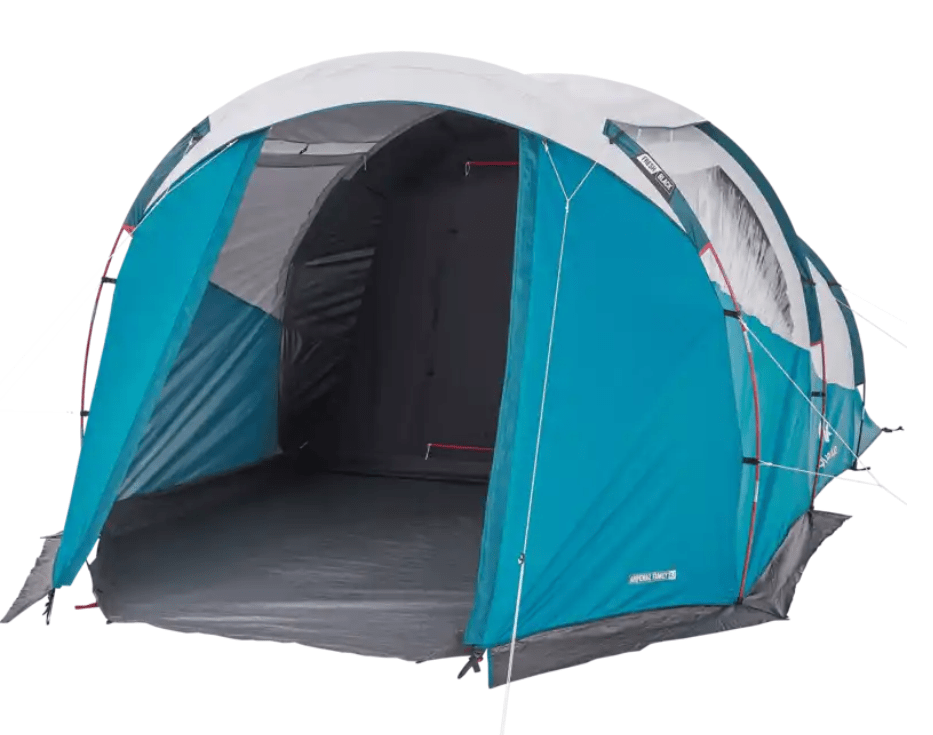 The tent is also waterproof, ensuring that you stay dry even during unexpected downpours. With its combination of convenience, comfort, and protection, the Decathlon 4 Persons Camping Tent – Quechua is a great addition to your camping gear.
| FEATURE | DESCRIPTION |
| --- | --- |
| CAPACITY | – Bedroom: 240 x 210 cm |
| | – Stand-up living room: 5 sqm |
| | – Basin groundsheet |
| EASY ASSEMBLY/DISMANTLING | – Simple pitching thanks to coloured markers on the poles |
| | – Pre-assembled bedroom |
| HEAT REDUCTION | – Fresh fabric: reduces heat inside your tent in the sun |
| DARKNESS | – Black fabric: guarantees 99% darkness in your bedrooms |
| WATERPROOF | – Tropical rain laboratory test |
| | – Under shower: 200 L of water per hour per sqm |
| WIND RESISTANCE | – Withstands force 6 winds – around 50 km/h |
| | – Wind tunnel test |
| EASY TRANSPORT | – Rectangular cover: 65 x 30 x 25 cm |
| | – 48 litres |
| | – 10.6 kg |
| ECO-DESIGN | – Reduced environmental impact by dyeing the thread before weaving it |
HIGH PEAK Tent Texel 4
Offering a double skin classic dome design, the HIGH PEAK Tent Texel 4 is ideal for those who prefer a more traditional camping experience. The tent features a rain stop door and wind stop side wings, ensuring that you stay protected from the elements during your stay.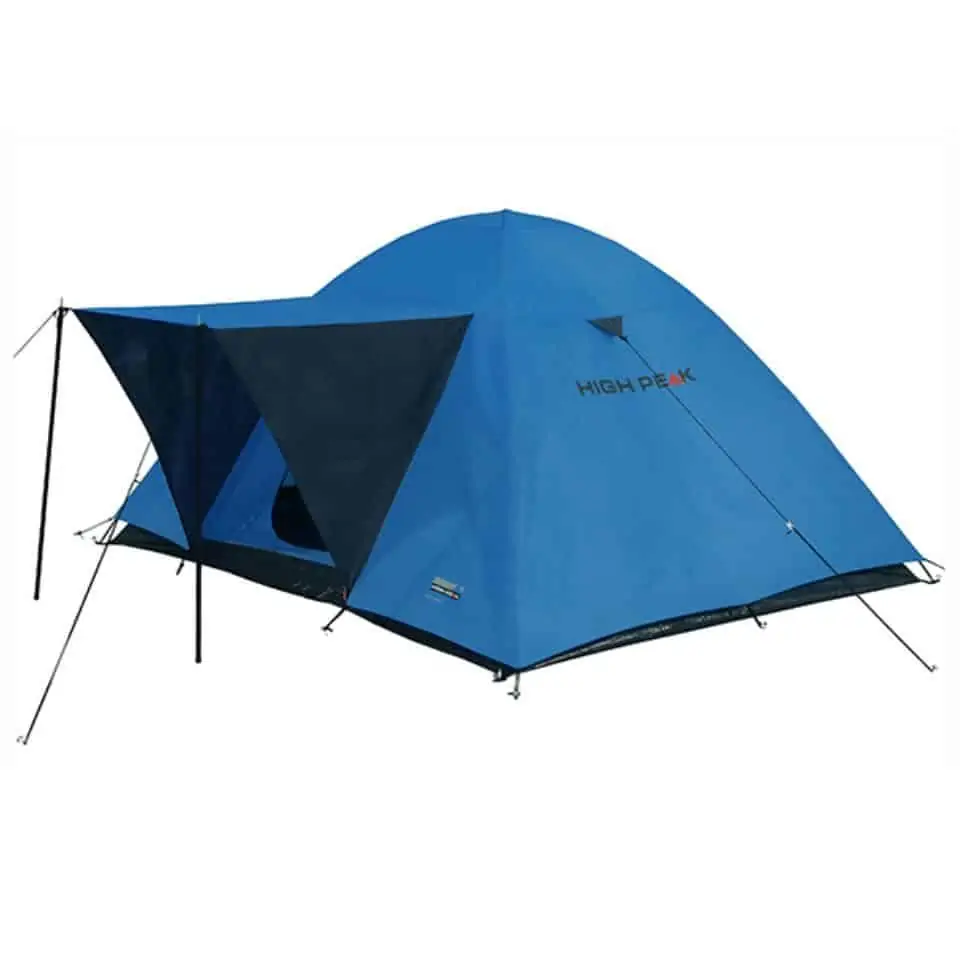 Its seam-taped construction and dual entry with mesh door provide added durability and ventilation. Though not as easy to set up as some other options on this list, the HIGH PEAK Tent Texel 4 promises a sturdy and reliable shelter for your outdoor adventures.
HIGH PEAK Tent Texel 4 Features:
Weather protected entry with upright poles
Permanent ventilation with distance holder
Inner Tent
Dual entry with full mesh door
Tub floor
Inner pockets
Lamp holder
Zipped carry bag
Seam-sealed
Self-supporting dome tent
Vidalido Automatic Instant Cabin Tent
The Vidalido Automatic Instant Cabin. Tent is designed for 5-6 people, offering ample space for a comfortable camping experience. Its large capacity, breathable design, and waterproof 200D PU ground fabric ensure that you stay cozy and dry during your outdoor adventures.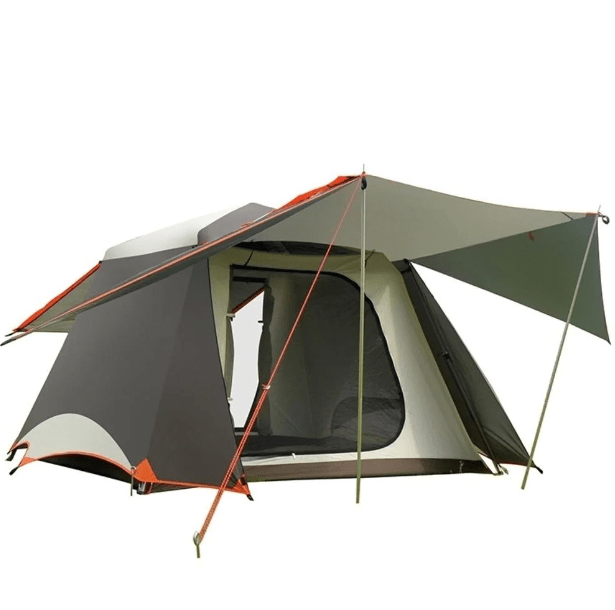 The tent's aluminum rods provide a sturdy structure, while its packing size of 120 x 20 x 20 cm makes it easy to transport. The Vidalido Automatic Instant Cabin. Tents are an excellent option for those who prioritize space, comfort, and durability in their camping gear.
Vidalido Automatic Instant Cabin Tent Features:
Size (inner layer): 270 * 270 * 180 cm.
Size (outer layer): 330 * 330 * 190 cm.
Weight: 11 kg.
Outer layer: 150D PU waterproof 2000 mm., Silver coating, UV protection.
Inner Layer: 150D with mesh net
Tent ground fabric: 200D PU waterproof 2000 mm.
Rod: Aluminium
Number of people: 5 – 6 person
Packing size: 120 * 20 * 20 cm.
MOUNTAINHIKER Pyramid Dark Tower Tent
For a unique and eye-catching camping experience, look no further than the Mountain Hikers Pyramid Dark Tower Tent. Designed for outdoor use, this tent is made of 210T PU polyester with a 5000mm waterproof rating, ensuring that you stay dry even in heavy rain. The package includes the tent, 14 ground nails, 7 ropes, and a main tent pole, providing everything you need for a secure and comfortable shelter.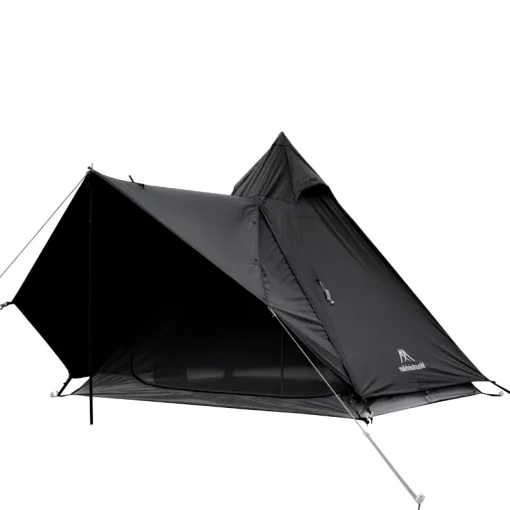 With its pyramid shape and impressive weather resistance, the Mountain Hiker Pyramid Dark Tower is an impressive tent and is sure to be the talk of the campsite.
MOUNTAINHIKER Pyramid Dark Tower Tent Features:
Large vestibule
Spacious
4-person capacity
Inner Layer: 210T PU polyester 3000mm, 200 x 240 x 200 cm
Outer layer: 210T PU polyester 5000mm, 260 x 260 x 200 cm
Mesh: B3 high density mesh
Bracket: Aluminium alloy
Package size: 62 x 18 x 18cm
Essential Tent Accessories
To enhance your camping experience even further, it's important to invest in essential tent accessories. From protective groundsheets and footprints to practical tent repair kits and efficient lanterns and lighting, these accessories play a crucial role in ensuring that your camping trip goes as smoothly as possible.
Let's explore these essential tent accessories in more detail and understand why they are invaluable additions to your camping gear.
#1 : Groundsheets and Footprints
Groundsheets and footprints act as protective barriers between your tent floor and the ground, preventing damage from rocks, roots, and moisture. They are typically made of waterproof materials like polyethylene or nylon and help keep the tent floor clean, dry, and insulated.
Choosing the right groundsheet or footprint involves considering the size of your tent, the type of ground you'll be camping on, and the weather conditions you're likely to encounter. By utilizing these protective layers, you'll prolong the life of your tent and stay comfortable during your camping trip.
#2 Tent Repair Kits
A tent repair kit is an essential addition to your camping equipment. These kits contain items like patches, seam sealers, and adhesive tape, allowing you to fix any damage to your tent during your trip.
Having a tent repair kit on hand ensures that you're prepared for any accidents or wear and tear, helping you get the most life out of your tent. Don't let a small tear or damaged seam ruin your camping experience – be prepared with a comprehensive tent repair kit.
#3 Lanterns and Lighting
Proper lighting is essential for a safe and enjoyable camping experience. Lanterns and portable lighting options provide visibility when navigating the campsite, preparing meals, or simply relaxing in your tent.
There is a wide variety of lanterns and lighting options available, including LED lanterns, gas lanterns, and solar-powered lanterns. When selecting a lantern, consider factors such as brightness, battery life, and weight. A good camping lantern should have a brightness of around 250 to 600 lumens, ensuring that you have ample light to illuminate your surroundings.
Tips for Tent Care and Maintenance
Proper care and maintenance of your camping tent can significantly extend its lifespan and ensure that it continues to provide reliable shelter during your outdoor adventures. In this section, we'll cover essential tips for cleaning and storing your tent, seam sealing and waterproofing, and inspecting and repairing your tent.
By following these guidelines, you'll keep your tent in top condition and ready for your next camping trip.
Cleaning and Storage
To keep your tent in pristine condition, clean it regularly using a non-abrasive sponge, cold water, and a non-detergent soap. Be gentle when cleaning zippers and tent poles, and avoid using harsh chemicals or washing machines, as they can damage the tent fabric.
After cleaning, make sure your tent is completely dry before folding and storing it to prevent mold and mildew growth. Store your tent in a cool, dry place, preferably in a breathable storage bag, to protect it from dust and moisture.
Seam Sealing and Waterproofing
Seam sealing and waterproofing are essential processes to keep your tent protected from water ingress. By applying a waterproof sealant to the seams of your tent, you can effectively prevent water from entering the tent during wet weather conditions.
To seal the seams, first clean the seams and fabric of the tent, then apply the sealer or tape to the seams, ensuring that the entire seam and fabric are covered. Regularly check your tent for any damaged seams or coatings and reapply the sealant as needed.
Inspecting and Repairing
Regularly inspecting your tent for any signs of damage is crucial to ensure its longevity and functionality. Look for any rips, holes, or damaged seals and coatings, and repair them promptly to avoid further issues. Keep a tent repair kit on hand for quick fixes, and if necessary, consult with a professional tent repair service for more extensive repairs.
By proactively addressing any potential problems, you'll ensure that your tent remains a reliable and comfortable shelter during your camping adventures.
Return and Refund Policies for Camping Tents
When purchasing a camping tent, it's important to be aware of the return and refund policies in case you encounter any issues with your purchase. These policies may vary depending on the seller and brand, but it's essential to know your rights as a consumer.
In this section, we'll outline the general requirements for returning a camping tent, as well as any exceptions and limitations to the return policy, and the typical processing time and methods for returns and refunds.
General Return Requirements
Most sellers have a return policy of 7 to 30 days from the date of delivery, with the tent needing to be in the same condition as when you received it – unworn, unused, with tags, and in its original packaging.
Some sellers may also require proof of purchase for any returns or exchanges. Make sure to check the specific return policy of the seller or brand you purchased your tent from to ensure a smooth return process if needed.
Exceptions and Limitations
It's important to note that there may be exceptions and limitations to the return policy depending on the seller and brand. Most sellers will not accept returns for items that have been used, damaged, or altered in any way.
It is also worth noting that it's illegal for businesses to deny consumers their right to a refund or replacement for faulty products or services. Be aware of your rights and the specific return policy of the seller before making a purchase.
Processing Time and Methods
Refunds for returned camping tents can take up to 14 business days to process, and the payment will be sent back to you using the same method you used for the initial purchase. Some sellers may have a faster refund processing time, while others might take longer.
Be sure to check the specific return policy and processing time of the seller or brand you purchased your tent from to set realistic expectations and ensure a smooth return process.
Summary
In conclusion, choosing the perfect camping tent and taking care of it are essential steps to ensure an unforgettable camping experience in Malaysia. By considering factors such as size and capacity, weather resistance, and ease of setup, you can find the ideal tent for your needs. Additionally, investing in essential tent accessories and following proper care and maintenance tips will prolong the life of your tent and enhance your camping adventures. So gear up, explore the great outdoors, and create memories that will last a lifetime.
Frequently Asked Questions
Is Naturehike a good brand for tent?
Overall, Naturehike is an excellent choice for budget campers looking for quality tents. They provide good value for the money and tend to be reliable and durable.
So if you're looking to save a few bucks without sacrificing quality, then Naturehike is definitely a brand to consider!
Which company tent is best?
After considering a range of options, we recommend Coleman for the best tent. Their tents are easy to set up and their durability can't be beaten. Plus, they offer an extensive range of styles and sizes, making it easy to find something perfect for any situation.
No matter the size of your group or the type of camping you're doing, Coleman has a tent that will fit your needs. Their tents are designed to be comfortable.
Which country made Naturehike?
Naturehike is a Chinese outdoor equipment company, established in 2005 and now selling products around the world. It offers tents, backpacks and other camping gear for outdoor adventurers.
What is a hiking tent?
A hiking tent is a lightweight shelter made to help you keep safe and dry while out exploring nature. It's designed to be carried easily, making it a great option for when you want to hit the trails.
It's important to choose the right tent for your needs. Consider the size, weight, and features that will best suit your needs. Look for a tent that is waterproof and breathable.
Disclaimer: At PTT Outdoor, we curate the best outdoor gears and reviews for you and present them in an enjoyable method. You might have came across this article when you typed in "camping tent murah" or "camping tent malaysia", so we hope you find our article relevant to what you are looking for! As usual, please feel free to feedback below in the comment section
Oh and you you are looking for campsites to go for an adventure, make sure you check our article on: 10 Best Campsites Malaysia for 2023