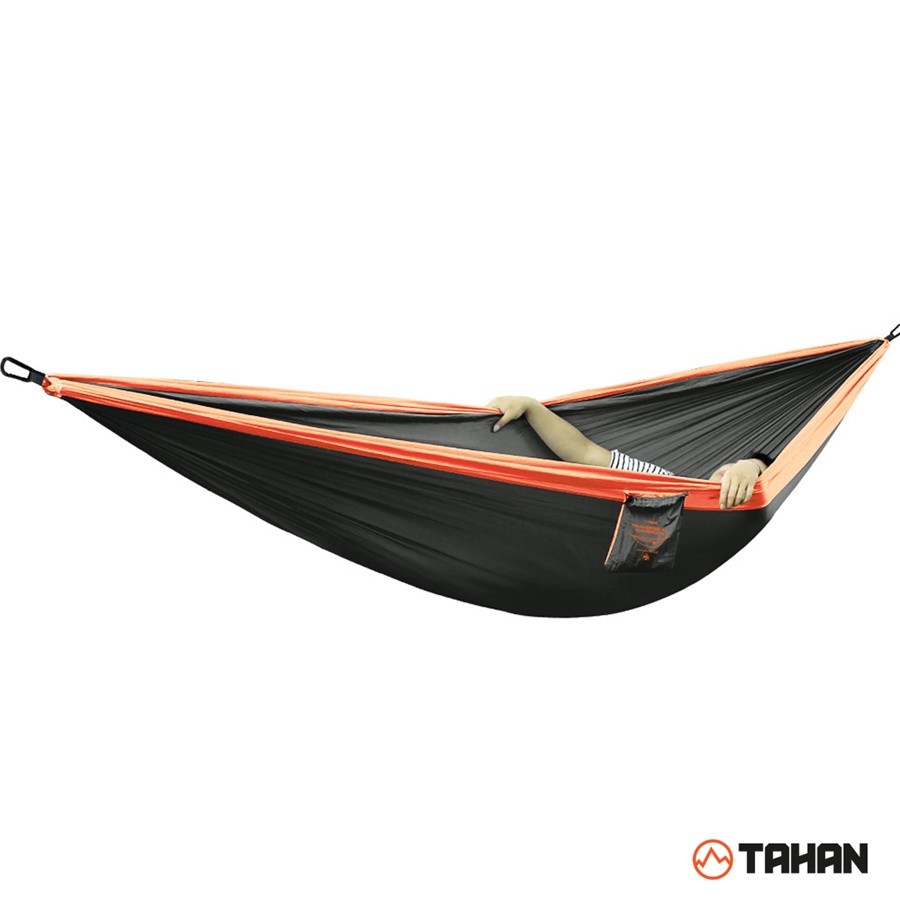 Welcome to our in-depth review of the TAHAN Traverse XL Hammock. If you're in search of a hammock that offers durability, comfort, and ample space, then look no further. The TAHAN Traverse XL Hammock is designed with the adventurous in mind, providing a reliable and comfortable sleeping solution for outdoor enthusiasts. In this review, we will take a closer look at the features, performance, and overall quality of this hammock to help you make an informed decision. So, let's dive into the details and discover if the TAHAN Traverse XL Hammock is the perfect addition to your outdoor gear collection.
Design and Construction
The TAHAN Traverse XL Hammock boasts a thoughtful design and robust construction. The combination of yarn-dyed fabric and 210T nylon spinning in the hammock's surface material ensures a perfect blend of durability and comfort. This fabric is not only soft to the touch but also highly resilient, making it ideal for outdoor use.
The silver fabric coating on the inside is a notable feature, providing added protection and extending the hammock's lifespan. It acts as a shield against wear and tear, which is especially crucial in outdoor environments. The 3-meter strap with 14 rings is designed for secure attachment, ensuring your safety while you enjoy the hammock. It can support an impressive weight capacity of up to 250kg, allowing two people to relax simultaneously. This hammock is truly built to last, thanks to its robust construction and choice of materials.
Comfort and Spaciousness
The TAHAN Traverse XL Hammock is all about comfort and space. It's extra-large, giving you plenty of room to find your perfect position, whether you like to stretch out or curl up. It's so roomy that you can even share it with someone else or enjoy some quality solo relaxation. With dimensions of 300 x 200cm, it's 60% larger than standard hammocks. This generous size not only provides plenty of room for solo relaxation but also comfortably accommodates taller individuals who often struggle to find a hammock that fits their height.
The use of lightweight and breathable materials is a key aspect of the hammock's design. Not only is the fabric soft and comfortable to lounge on, but it also ensures excellent ventilation. You won't have to worry about feeling hot and sweaty during your relaxation time.
Durability and Strength
Durability and strength are at the core of the TAHAN Traverse XL Hammock's construction. The materials used, such as the nylon spinning and the silver fabric coating, enhance its resilience and longevity. You can trust this hammock to withstand the rigors of outdoor adventures without showing signs of wear and tear.
Reinforced stitching further enhances its durability, assuring you that it can handle heavy use and endure the elements. No matter what conditions you subject it to, this hammock remains in top-notch condition. The high-quality carabiners and tree straps included in its design contribute to its overall strength, so you don't have to worry about unexpected accidents. With this level of durability and strength, the TAHAN Traverse XL Hammock is a must-have for any outdoor enthusiast looking for a reliable and long-lasting hammock.
Ease of Setup and Takedown
Setting up and taking down the
TAHAN Traverse XL Hammock
is a breeze. With its user-friendly design, you can quickly and easily set up your hammock wherever you go. The hammock comes with everything you need,
including sturdy straps and carabiners
, so you won't have to worry about buying any additional equipment. Simply
find two suitable anchor points, wrap the straps around them, and attach the carabiners to the hammock
. It's as simple as that!
And when it's time to pack up and move on, the takedown process is just as easy. Undo the carabiners, remove the straps, and pack everything neatly into the included carrying bag. No complicated knots or lengthy instructions to follow.
This hassle-free setup and takedown process makes the
TAHAN Traverse XL Hammock
perfect for outdoor enthusiasts who want to spend more time enjoying nature and less time struggling with their gear.
Portability and Weight
Perhaps one of the most standout features of TAHAN Traverse XL Hammock is its incredible portability. Whether you're hiking, camping, or simply enjoying your backyard, this hammock provides a comfy spot to relax in the great outdoors. It can be folded into a bag, making it incredibly easy to carry. This feature is a game-changer for those who love to explore various outdoor locations without lugging around bulky equipment. The lightweight design, with a product weight of only 690g, ensures that it won't weigh you down during your adventures.
Summary
In short, the TAHAN Traverse XL Hammock features are as below:
Size: 300 x 200cm
Product weight: 690g
Hammock surface material: Yarn-Dyed fabric & 210T nylon spinning
Silver fabric coated inside
Strap: 3 meters & 14 rings
Weight capacity: up to 250kg (max 2 person at the same time)
60% larger size and convenient for taller people
Lightweight and breathable material
Comfortable, soft and cool fabric
Easy and fast step to set it up
Hammock can be fold to became a bag, make it easier to carry
Reviews From Customers
Good
it's a loss if you don't buy it because it is very good, and the price is reasonable. highly recommended.
— Y.S. —
Perfect
This hammock is big enough!!! A hammock like this would be useful for everyone, and it comes highly recommended.
— Zafran waridi Zafran —
Nice
This is the best hammock we've ever had! This hammock is large enough to accommodate two full grown adults.
— Pravin Rao —