So you're shopping for a hammock? Hooray! Nothing's better than relaxing and swinging your way into the weekend with one.  But when it comes to buying a hammock, it's not as simple; there's so many types and materials to choose from, how do you know which one to pick?  That's why we've put together some key buying factors you might want to consider to help you decide the right hammock for you.
Types
Spreader bar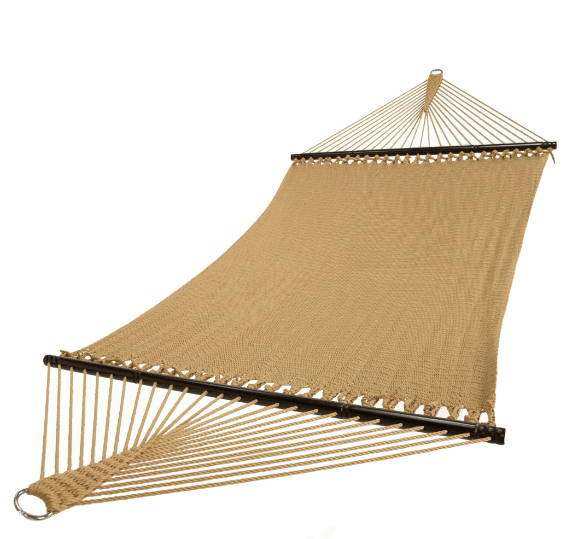 A spreader bar is a wooden or metal bar connected at each end of a hammock to makeit taut and flat in the middle.  Spreader bar hammocks are a preference for many – hence why most hammocks are now designed this way. It's more inviting and much easier to get into, and won't swallow you whole unlike traditional gathered-end ones.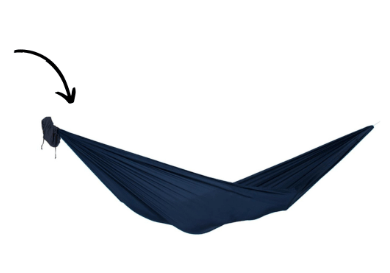 What's more, it'll dry faster too thanks to the fabric being pulled tightly. Note: Watch out for flipping though!
Classic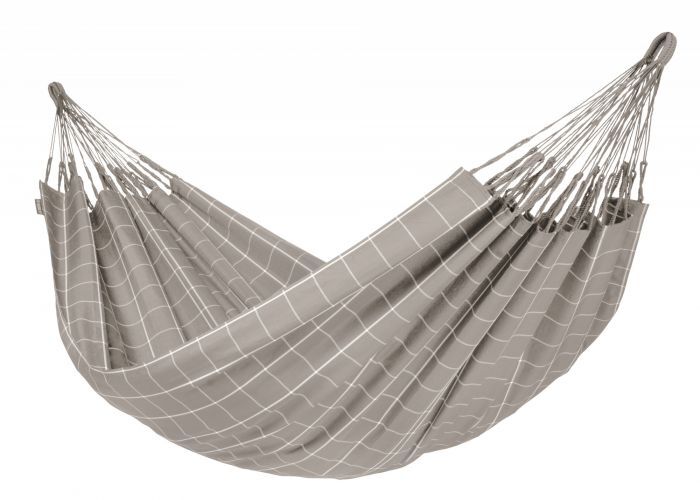 Considered one of the best and most convenient, classic hammocks date back to the 1500s where its design was first used by Native Americans. They're the most cocoon-y type as they tend to curl up a lot more and have a deeper dip in the middle. If you like being hugged to sleep, this one's for you.  How to hang them? Just tie the ends directly to the posts.
Tree hammock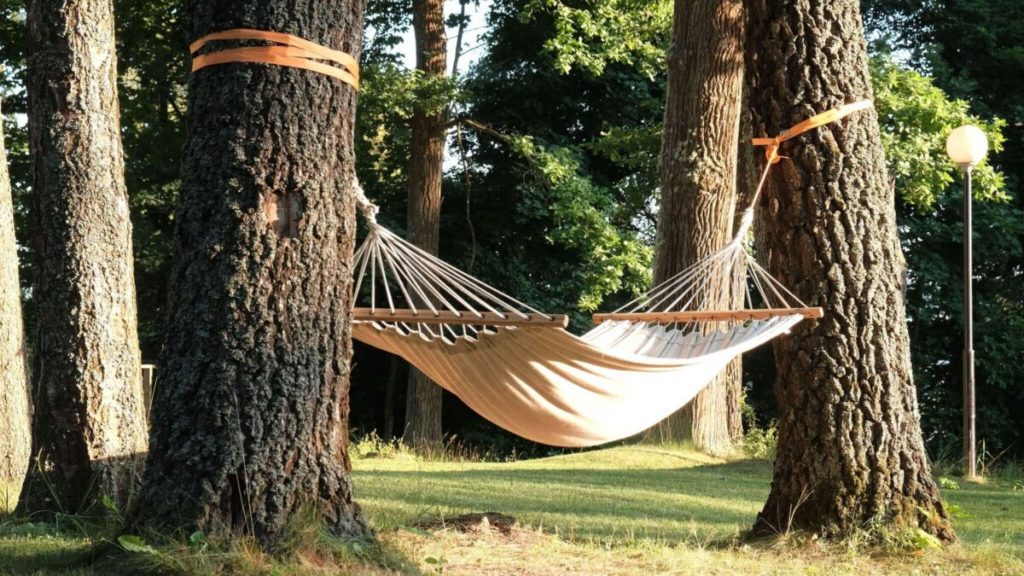 Like its name, it needs a tree to hang on to – preferably two. The trunks should at least be a foot in diameter, or else the hammock won't be taut enough to float, and well, you might as well be sleeping on the floor. If you don't have 2 perfectly spaced trees, that's ok. There are some tree hammocks that come with a base stand on one end, so lucky for you, only one end needs to hang from a tree.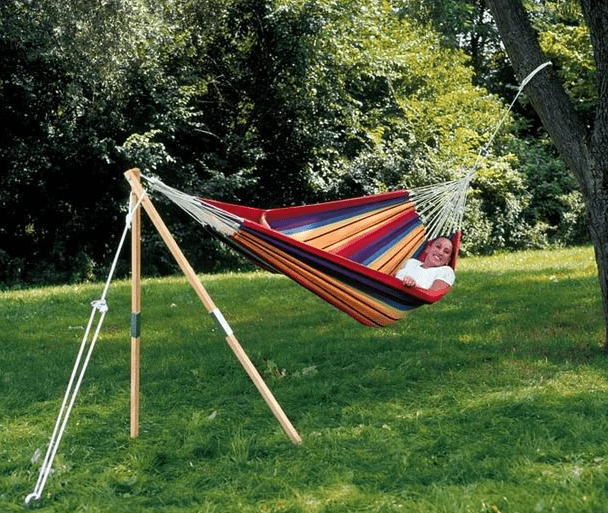 Swinging chair
Pretty self-explanatory – it's a chair that swings from a tree/stand/ceiling etc. Not your average hammock, but provides the same feel and experience. Due to its 'sitting' nature, this type is perfect for casual reading and lounging.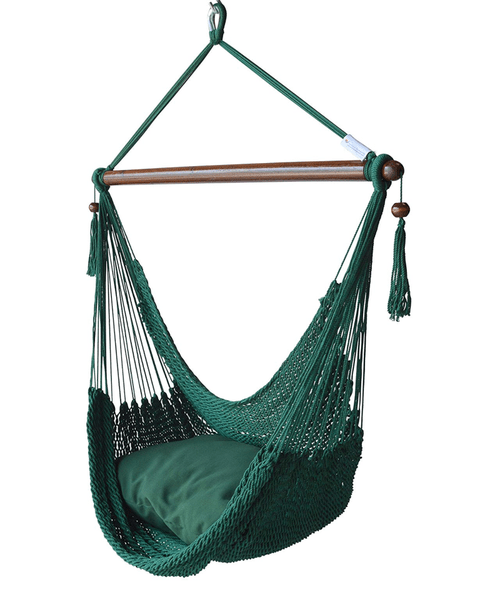 Portable/Camping
If you're planning on going camping, you'll definitely want to get yourself a portable hammock. It'll be your best friend in the wilderness.  They're lightweight, convenient, and can be rolled like a burrito so you can easily bring them anywhere with you. Not only are they practical, they're durable to the outdoors and can be easily attached to trees and other suitable posts. Some camping hammocks also come with add-ons for extra security (eg: mosquito nets and tarps).  The best part? You don't have to lug around a huge tent with you.
Hammocks with Canopies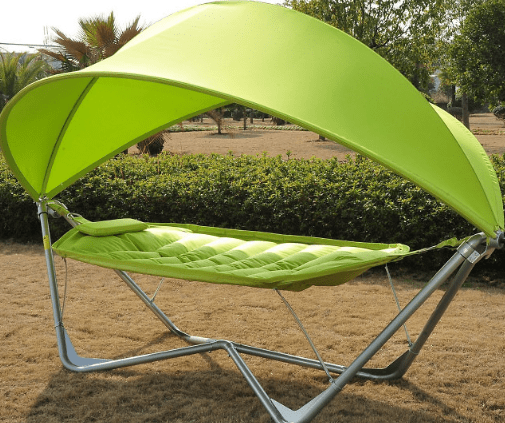 Talk about lounging with style, we now have hammocks with canopies. This 'glam'-mock takes lounging to another level with a built-in canopy for sun and light rain protection. (disclaimer: Not advised for heavy rain & strong winds)
Parachute Hammocks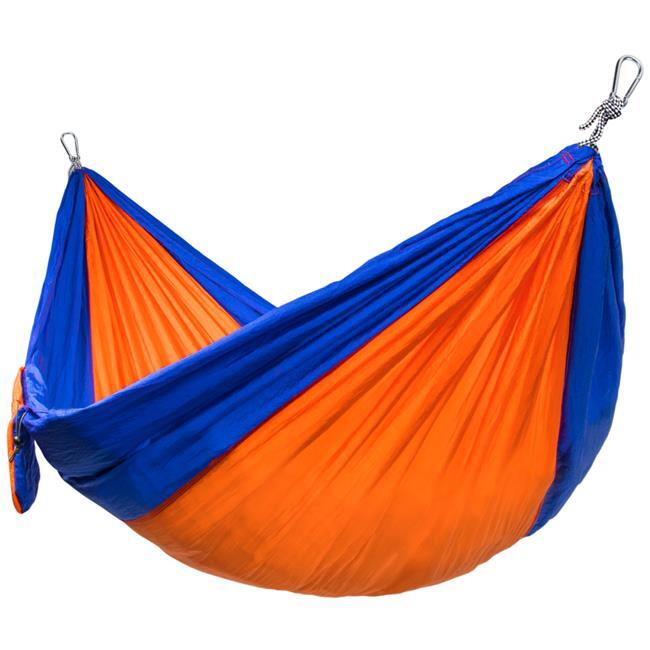 These are constructed from parachute nylon, ergo: Parachute Hammocks. But don't let the name fool you, they actually look like boats.  Parachute nylon is made to be super-strong and ultra-lightweight. Despite being huge and able to accommodate 2 people at once, it's relatively compact and travel-friendly – great for the outdoors!
Brazilian Hammocks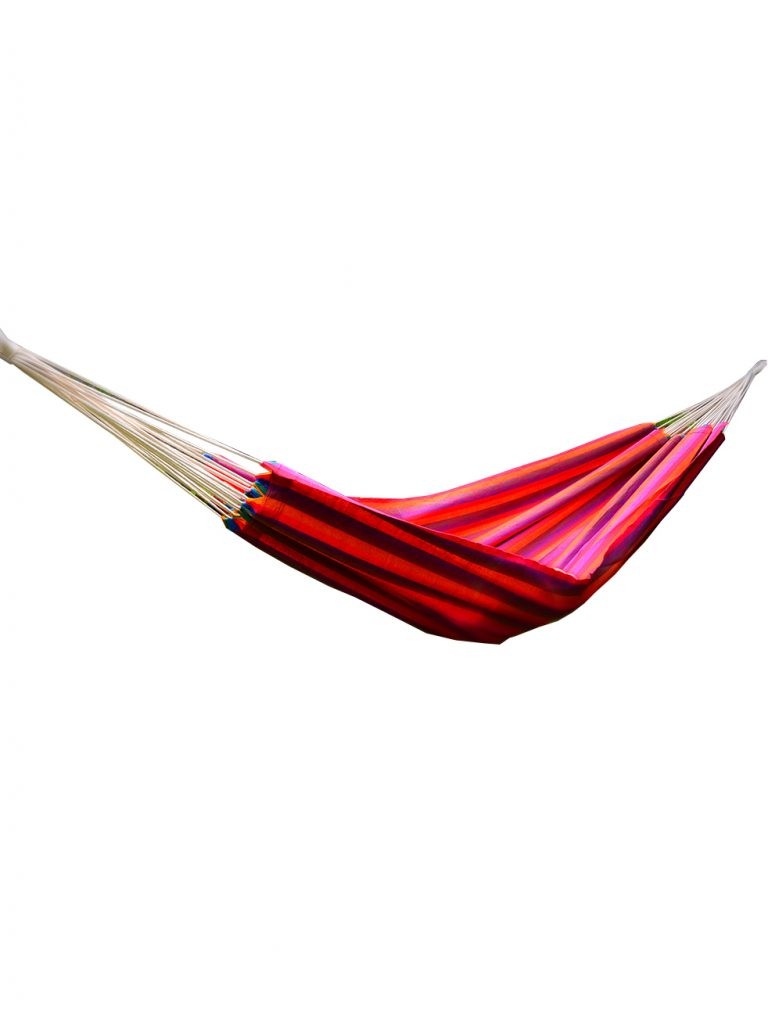 Spacious, comfy and durable, these hand-woven hammocks make for the best lounger on a nice, breezy day. They're usually hung low for a deeper sag in order to relieve strained joints – a brazilian trademark and staple for every household.
Quilted Hammocks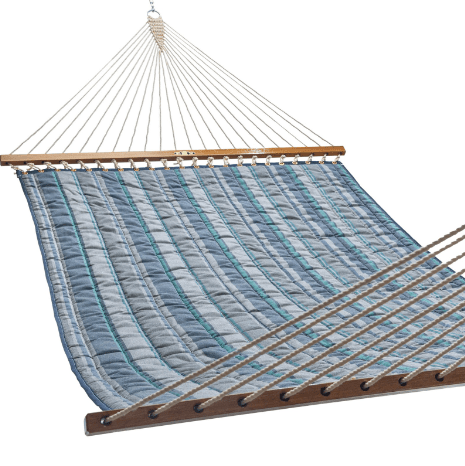 Imagine being swayed gently to sleep on a bed of clouds – that's a quilted hammock for you. Like the name suggests, it's made of durable, quick-drying polyester fabric sewn into a quilt.  They're are not only aesthetically pleasing but also incredibly comfortable, a must-have for your patio.
Rope Hammocks

These are one of the most common hammocks people have in their backyards. Although they look like giant nets, they're actually very comfortable and conform to your body nicely when laying in them. The ropes are usually made from polyester or cotton, the former being more weather durable and the latter more comfortable. Either way, rope hammocks are definitely a great choice for lounging and are one of the best out there.
Size
Buying the right size is super important for your safety. Many tend to overlook the weight capacity and focus solely on the amount of people it can fit – a common mistake you should definitely avoid because if you exceed the weight capacity, your hammock won't be able to support you and RIP your 🍑 So here's a general size guide to help you pick one that's suitable for you:
Single 
Supports 1 average-sized adult

Width of around 120cm – 150cm

Weight capacity of 130kg – 180kg

Smallest size but has ample wriggle room
Double 
Supports 2 average-sized adults

Width of around

150cm – 180cm

Weight capacity of 180kg – 220 kg.

Great for couples 
Family 
Supports 2-3 average-sized adults

Width of around

170cm – 200cm

Weight capacity of 250kg

HUge
Travel
Typically comes in single sizes

Lightweight, small & practical

For outdoor and camping use
Material
Just as there are many types of hammocks, there's also many types of materials they're made from. What are the differences?
Cotton
The most staple material for making hammocks. Soft and comfortable, you'll sleep like a baby. The only downside to it is that it's more prone to fray and absorbs moisture which could lead to mold, not recommended for outdoor camping. Pros:
Soft & comfy

Flexible and body conforming

Perfect for lounging/sleeping in
Cons:
Prone to fray

Absorbs moisture (longer time to dry)

Higher risk of mold
Polyester
Another staple material is of course, polyester. More durable and weatherproof due to its synthetic properties. However, it's not as flexible as a cotton hammock so do expect reduced comfort. Pros: 
Durable

Weatherproof

Suitable to use outdoors
Cons: 
Not as flexible > reduced comfort

Oleophilic (absorbs oil)
Nylon
Typically stronger (and more expensive) than polyester. This is thanks to the ripstop technique where extra fibers are threaded through the original fibers. Nylon is often used for camping hammocks because of its durability and is lightweight. Pros: 
Stronger than polyester

Durable

Lightweight

Suitable for camping

Resistant to mold and rot
Cons:
More expensive than nylon

Absorbs more water than polyester
Parachute nylon
Compared to nylon (which is constructed of thicker threads), parachute nylon is thinner and silkier to the touch. Another popular material for camping hammocks. It also dries quicker than regular nylon. Pros: 
Lightweight

Silky to the touch > increased comfort

Quick-drying
Cons:
Expensive

Thinner > less durable
Accessories
Hammock Stand
Some hammocks require you to drill holes into your walls or trees to hang them from. But with a stand, you can avoid both. And since you can pitch it anywhere you'd like, it makes your hammock more portable too.
Tree straps
A must-have accessory you need if you're hanging a hammock from a tree is a tree strap. Not only do they reduce damage on the tree, they also strengthen the grip by increasing the surface area around the tree, so your hammock can hang more securely.
Tarps
For rain and sun protection, as well as privacy, having a tarp comes in very handy, especially on camping trips. They come in many different sizes so be sure to find one that can cover your hammock well. The larger ones might require additional hardware (eg: guylines, stakes etc)
Pillows and pads
Amp up your lounging sesh with hammock pads and pillow sets for additional comfort. 
End-use 
At the end of the day, it all comes down to the question: what will you be using a hammock for? If it's for lounging, almost any kind would be great. Want extra comfort? Go for a cotton hammock. If you don't have enough room, a swinging chair is a good space-saving option. Or spice up your patio with some colorful Brazilian and rope hammocks.   If you're going camping, camping hammocks are the way to go (obvi). Lightweight, durable, and practical for the outdoors, they're your ideal tag-along for your camping trip. They're a lot easier to set up and take down, so you can save time and energy when you're on the go from one place to another. Also, if you've ever been camping before, you'll know that the ground can be unforgiving sometimes. You need to find the perfect patch to sleep on, but there might be insects, mud and sharp rocks you definitely don't wanna lay your back on if you're sleeping in the woods.  But with a hammock, you won't have to worry about all that anymore. Be it mud or sharp rocks, you can camp right over them and get that sound sleep you deserve. That's all folks! Hope this guide was helpful! Just remember to take your time and keep these factors in mind when you're out shopping to get your money's worth of course.  And while you're here, check out some of the cool hammocks we have in store! Who knows? We might just have what you've been looking for 😉  
If you're new here, do follow us on Facebook, Instagram and Twitter to get the latest update on our products and campaigns!