Over the years I have been asked when am I gonna attempt a triathlon. And my response is always the same:
"Hah. I can't ride a bicycle."
Believe it or not, the last time I got on a bike was when I was a kid. Now that I am older, the idea of getting on a racing bike is pretty daunting. All the what-ifs came uninvited. However, a couple of months ago I saw a friend's post on this event called Perdana Builders Tri-Factor International Triathlon in social media. It was a sprint-distance triathlon, suitable for amateurs. 750m swim, 20km bike, 5km run. Half an Olympic distance. Hmmm. I mean, the swim and run can be easily done. With just a bit of practice on the riding part, maybe I could do this. You know how sometimes you came across certain ideas, and something got triggered in your head, "I've gotta do this."? Yeah, that was how I ended up registering for my first ever triathlon.
Step 1: Get a bicycle. I found a friend who was kind enough to lend me his bike. Six weeks prior to the competition, I remembered asking him, "Six weeks, do you think it's enough for me to survive this?" Why not, he answered. That was when I got my first lesson around his neighborhood. As expected, it was a big time awkwardness. I couldn't even mount the bike without crashing to the tree beside. And those pedals, gosh since when are they so hard and spiky! The number of times my calves got struck by them. I was badly bruised by the time I got home.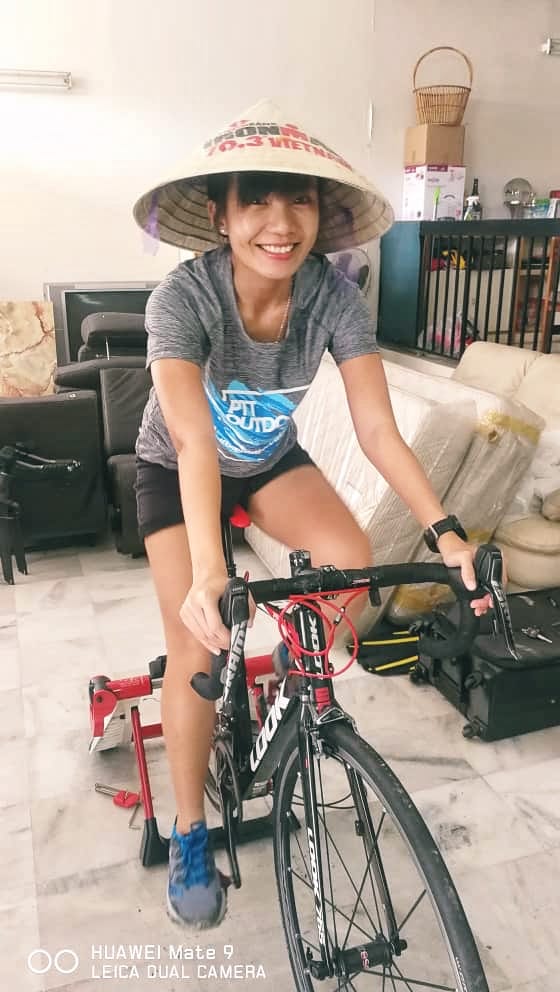 Still, I kept practicing. I learned to ride alone. At first, I avoided the main roads. Cars were scary. Once, I made an elderly woman scream when I came to a sudden brake behind her. Slowly, I ventured to some big roads but never the busy ones. Soon, it was a love-hate relationship with the bike. I didn't always look forward to my "riding lessons", but when I saw cyclists it fired up some motivation to get my skills brushed up. I wanted to do well for my first triathlon.
The weeks went by and finally, T-day arrived. I reached Putrajaya really early to make sure I had enough time to check-in my gears. Parked my precious bike at the designated spot. Shoes, checked. Helmet, checked. I don't know anything about bicycles, but I gotta say, those bikes in the transition area looked so exquisite they could probably glow in the dark. And the sight of people in trisuits. So foreign, so imposing.
I watched the other categories flagged off, all the while feeling the jitters. Yet I couldn't wait for my turn. Finally, the MC announced for all female participants to gather around the deck. It was time to play. When the whistle went off, I leaped into the lake and started on the swim leg. I was confident with my swimming. Having swam throughout my early years, I knew I could go far as long as I did the breaststroke (my freestyle was faster, but I doubt I could hold that for 750m and I was trying to save some energy for the dreaded cycling part). I joined the lead pack not long later. Sprinted the last few meters with freestyle.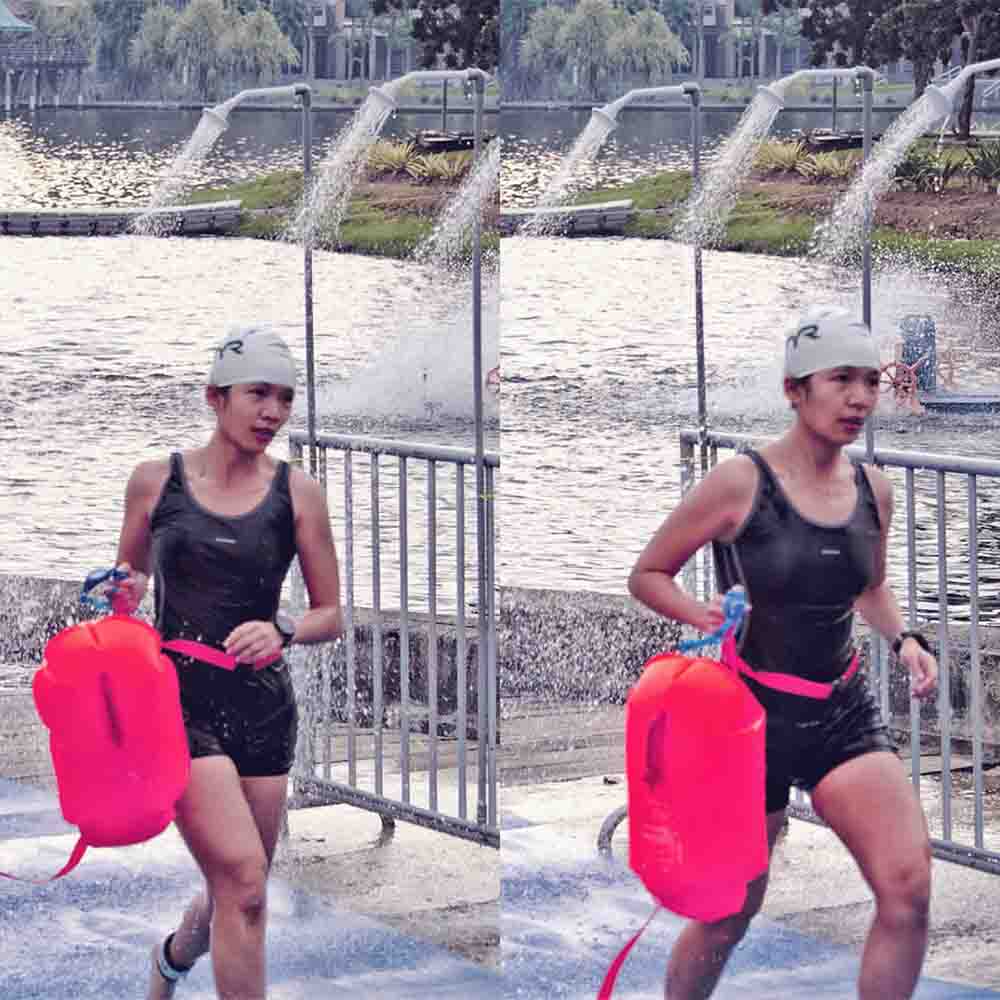 After coming out from the lake, I rushed to the transition area, got changed real quick, pushed my bike out and started on the cycle leg. The route was relatively flat with some short uphills. I kept my composure and rode as fast as I could. To no one's surprise, some of the ladies caught up soon after. Funnily enough, I was told about the consequences of drafting and worried my brains out of it, which proved unnecessary. I lost sight of them within seconds. But I had no time to concern about others. I was too busy screaming when the bike came to an exhilarating speed and making sure I turn at corners without crashing into the curbs. Yet, I managed to clock a personal best time. *pats helmet*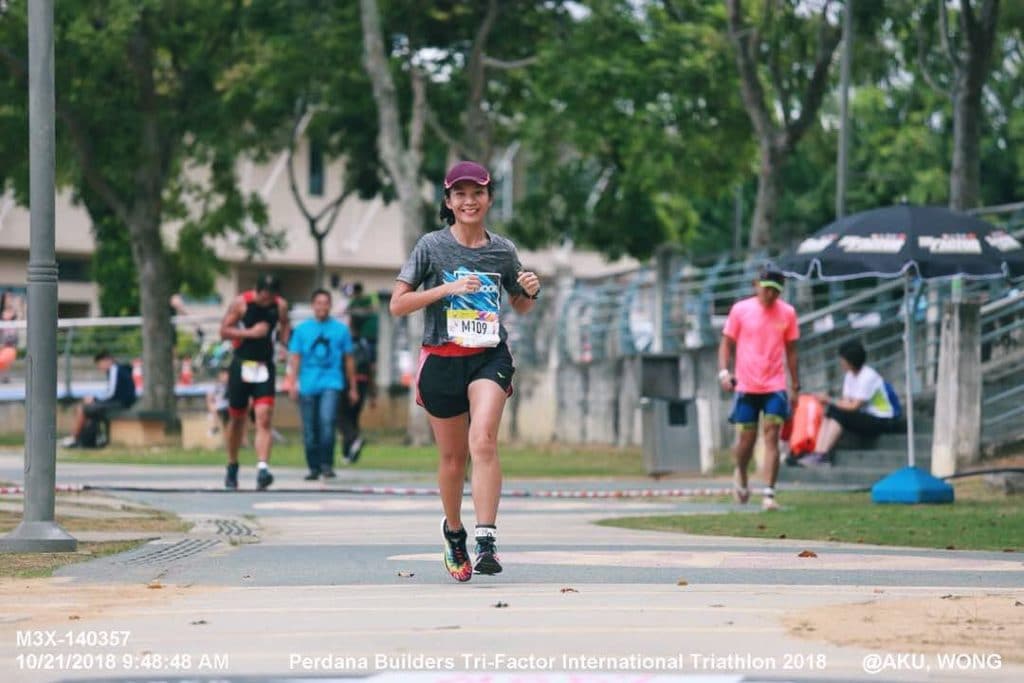 Back at the transition area, it didn't take me long to remove my gears and went straight into the running part. Something I am extremely familiar of. At one point, I took a glance and saw a few ladies about 50m behind. I ran faster, managed to shake them off and caught up with some earlier ones. Out of 45 competitors in the Adult Female Category, I became the 8th to cross the finishing line with an official time of 1:41:20. That earned me 4th placing in my age category. I couldn't believe what I had just achieved.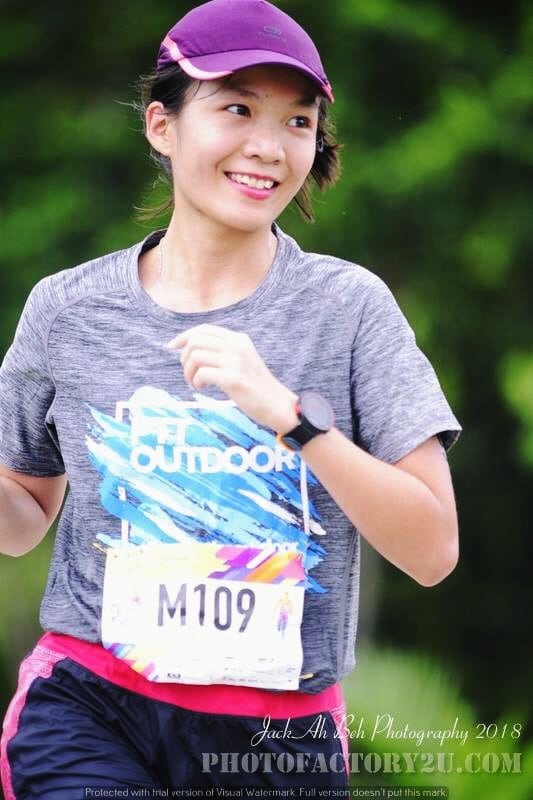 As I checked out my bike, there was a feeling of nostalgia. It was time to return this beauty to my friend. Will I see it again one day, in a bigger arena? Good question.
One thing for sure, I learn that instead of staying in the curiosity bubble, why not answer to that one crazy idea and take risks =) 
Signing off,
Suyuen
Your friendly outdoor girl