There is always the first step to everything, once you reach that 1000th step, and look back, you will feel it, you have done it! ~ PTT Outdoor
Hello fellow Outdoorians, for today I want to talk about one of the famous hiking landmarks that we Malaysians love to go to. The hiking spot is known as Gunung Berembun, as in, 'jangan basah berembun pula bila sampai di puncak'.
(Note: for Non-Malay speaker, Embun means dew, so Mount Berembun can literally mean Mountain Dew).
Jokes aside, you will get to the top and become wet nonetheless, with sweats of victory.
Hikers from any background, be it beginners, or even veterans would find this place a great place just to release stress, enjoying the beauty of the mountainous rainforest of Malaysia. For those who want to look for just a normal hiking experience, this mountain is the perfect hiking experience for you. It can be completed within a day's journey.
Here're a few points of Gunung Berembun that everyone should be aware of:
Difficulty: Easy
Duration of Trek / Hike: 3 – 5 hours depending on the trail, and your pacing
Distance of Trek / Hike: 2.7 km closest trail, 3.6 km farthest trail
Total Height: 1,840 meters or 6037 feet from sea level
The peak of the mountain Coordinate: (4.472583,101.400429) Peak Coordinates
Number of Trails Available: 4
Starting Points Coordinates:
The following trails suggested would be the best route to take. You can also view the trail on the map provided below.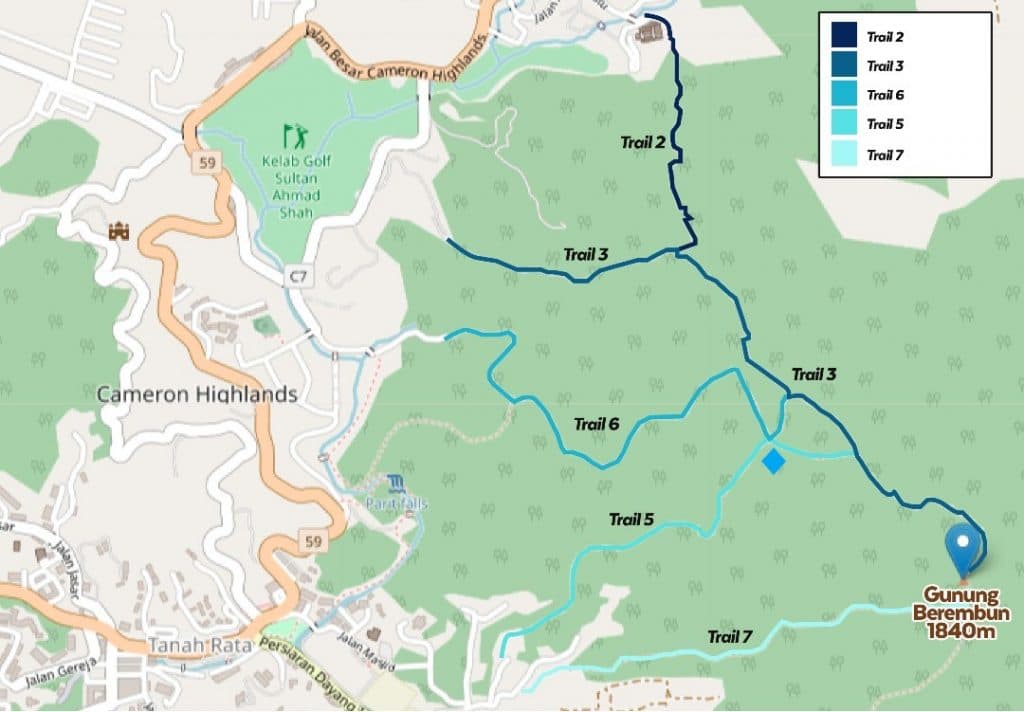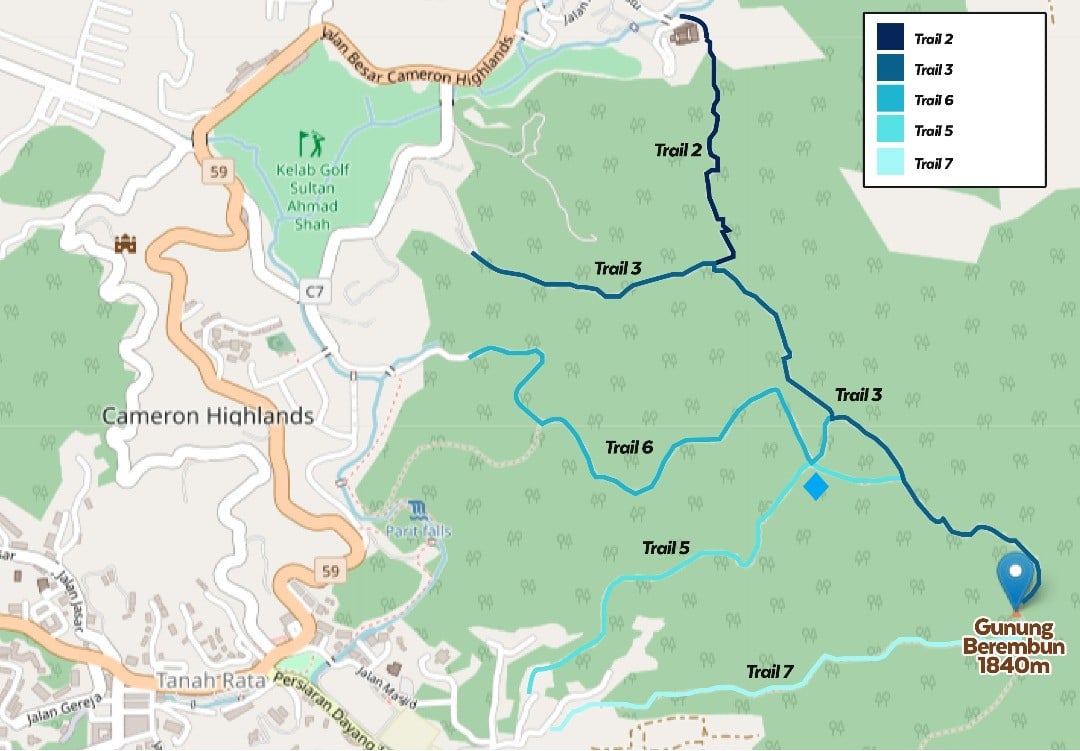 1. Trail No. 7 – Near MARDI offices: (4.469300,101.387136) Trail 7 Start Point Coordinates
Here's the coordinate for perhaps the shortest trekking trail for this particular hiking trip. The trail will lead you straight to the peak. For beginners, trail no 7 is perhaps the best trekking trail since this trail is the nearest.
Depending on how fast you can track, the fastest you can reach the peak would take the duration of at least 3 hours with this trail. To get to the starting point, it's fairly easy, you can ask locals for a guide as well to reach the MARDI offices.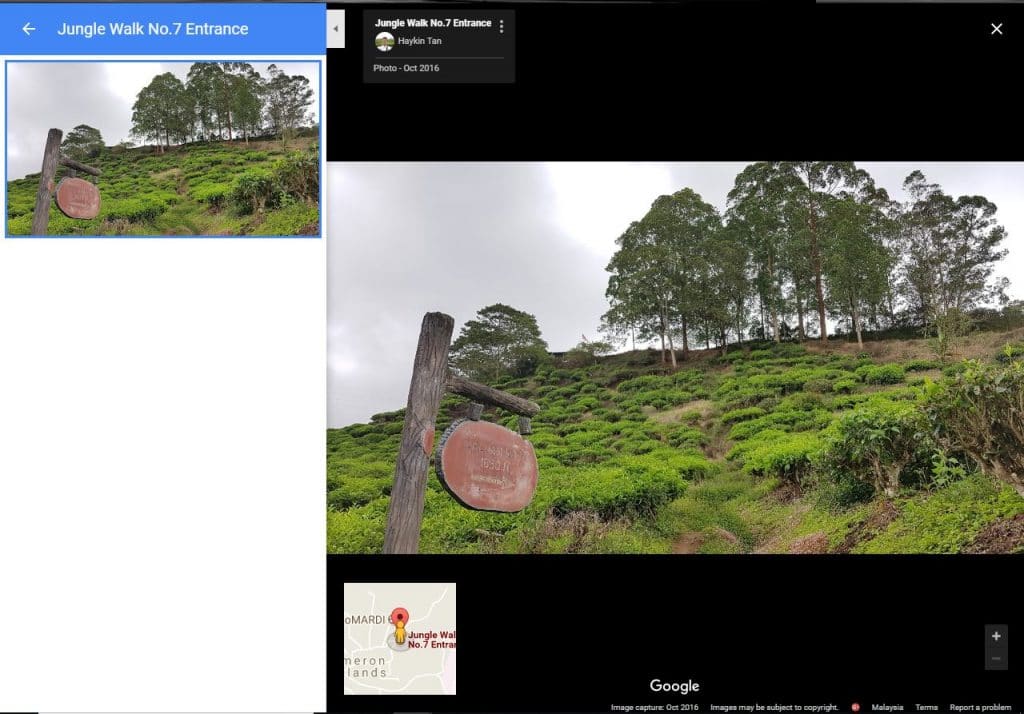 2. Trail No. 5 – Near MARDI offices: (4.470326,101.386685) Trail 5 Start Point Coordinates
For this trail, the trailhead is a little bit to the North from the trailhead for Trail no 7. It is nearby the same MARDI compound as well. Using this trail is a little bit farther than using Trail no 7. And the trail will lead you to a convergent point, better known as 'Shelter Junction' (4.476798,101.394694). The convergent point connects people from Trail No. 6 and also Trail No. 3. After Shelter Junction, hikers must proceed to trail no 3 to complete their journey to the final goal.
You can find the trail north of the MARDI facilities as well, just ask any locals to point in the right direction to trail number 5, I am sure we Malaysian will be willing to help with open hands.
3. Trail No. 6 – Sungai Pauh Campsite: (4.479825,101.385076) Trail 6 Start Point Coordinates
Trail No. 6 is perhaps the most used trail for this hiking trip. Since the starting point is at Sungai Pauh campsite. Hikers prefer to go to the campsite as it can fit 300 campers at any given time. And the entrance fee is also quite cheap, for only RM3 per person per entry (for how long as you want it). And there is also a fee for parking your vehicle at only RM5 per vehicle. The payment can be done at the Campsite main office.
Alright, back to talking about the trail, this trail will also lead hikers to the convergent point, the 'Shelter Junction' (4.476798, 101.394694). After Shelter Junction, to reach the goals, hikers must proceed the trekking through hiking trail no 3.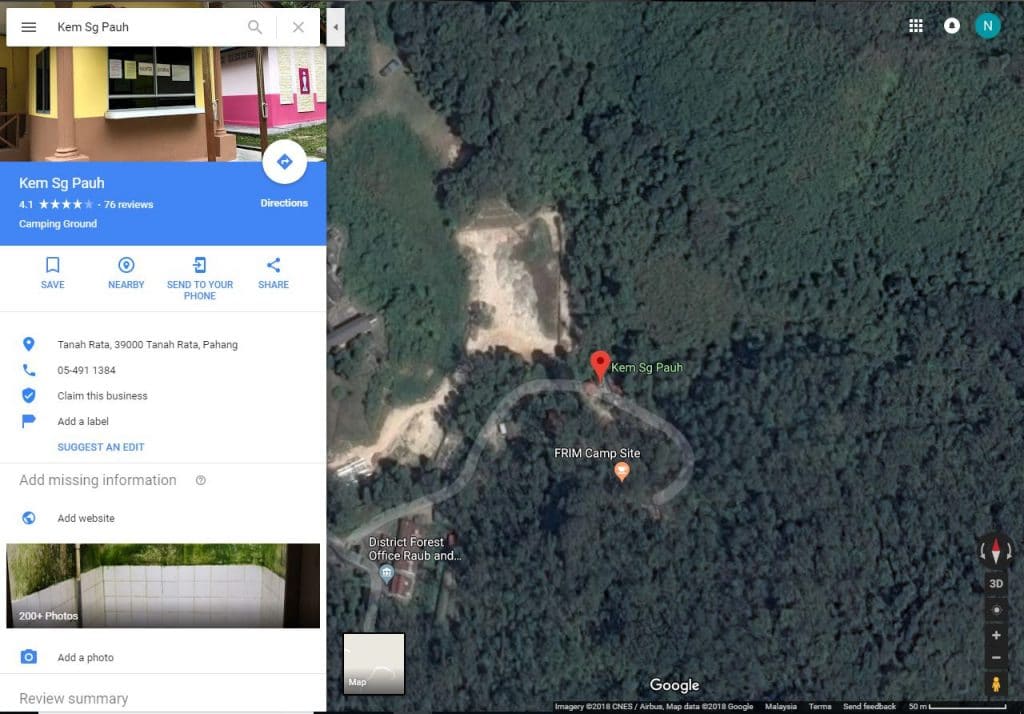 4. Trail No. 2 (Interconnects with Trail No. 3 midway) – Near Sam Poh Temple: (4.489339,101.391068) Trail 2 Start Point Coordinates
Upon trekking for a few minutes, you will find another trail midway, trail number 3 (4.482370,101.391819), known as the "Smaller Mossy Forest" the trail which will lead you straight to Gunung Berembun Cameron Peak. This is the longest trail on this hiking trip. After which, just head straight down trail No 3 until reaching the peak of the mountain.
Note that on Hiking Trail no 3, hikers for Gunung Berembun Cameron can also make a choice to stop by 'Shelter Junction', however, they would have to leave trail no 3 and go right.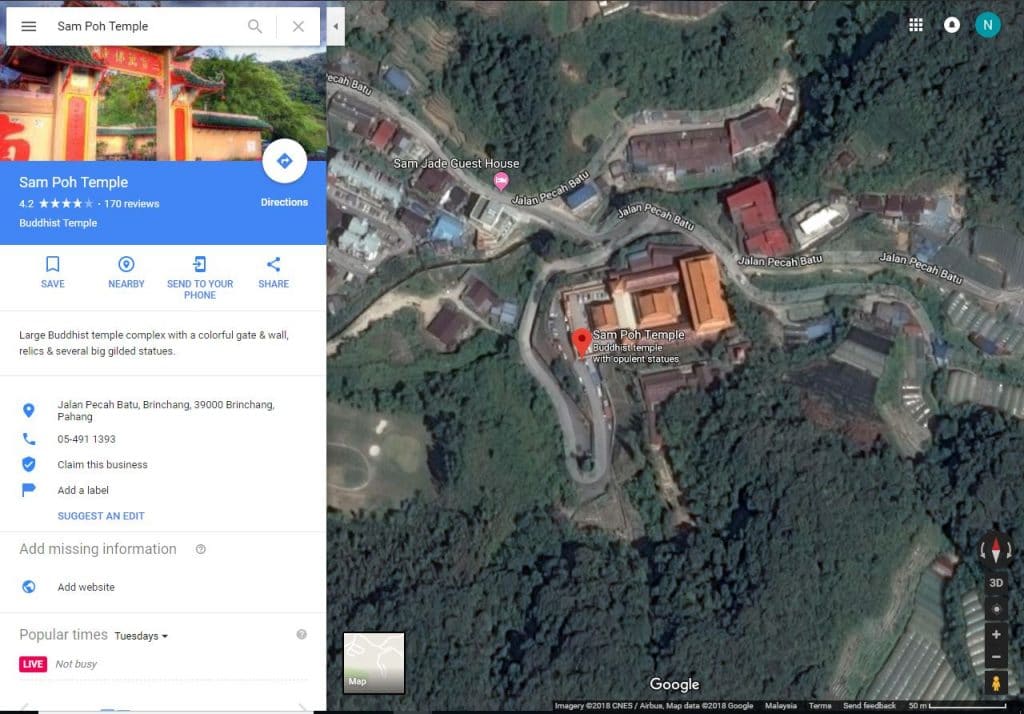 Requirement for climbing and hiking at Gunung Berembun Cameron:
1. Apply for Hiking Permit from Pahang State Forestry Department
Their main link is as follow:
http://forestry.pahang.gov.my/index.php/en/perlesenan-permit/mendaki-gunung
And the portal of which to apply for the permit online is as follows:
http://forestry.pahang.gov.my/ekorimba/main/index.php
The payment must be done through Money Postage or Bank Draft. Then they will authorise a permit to be released.
2. Have proper hiking and/or camping gear
This depends on the hikers really. But the basic gear required according to the experts would be the following items that we have in our PTT Outdoor shop:
These three items are basic items for hikers and mountain climbers. If you are planning to spend the night over at the mountain top, perhaps carrying more camping gear would be advised.
What is so special about Gunung Berembun Cameron?
The mountainous rainforest is a special habitat for numerous flora and fauna species. The rainforest in Malaysia is still well preserved compared to other forests and jungles in different parts of the world. By exploring the mountain tops, you can enjoy various species of animals, and plants that live at the Mountainous range of Gunung Berembun Cameron.
The other thing special regarding this particular trekking landmark is that the many choices of trail hikers and trekkers can pick are very convenient. Some of us would like to go easy as their first time trekking the mountainous rainforest. Others can challenge themselves by exploring as many trails as possible and still would not get lost.
Gunung Berembun Cameron is a great place if you are headstrong and determined to reach the peak of the mountain. Because the difficulty is not that hard, though it can be challenging to complete. The most important thing is to always have fun.
Thanks for taking the time to read our simplistic post pointing out the starting point and the finishing point to hike Gunung Berembun, Cameron Highlands, Pahang. Please feel free to drop some comments and share experiences that may be useful to others reading this blog post.
=============================
Oh, before I forget, have a read at one of our blogs where we interviewed our Ambassador on her completing a 55 km CULTRA event trail at this very landmark that this post is currently discussing. You can click here to read about Suyuen Wong and her tips on how to complete a task that is fairly impossible for normal people.
Don't miss out on our Monthly Clearance here, sure will get your money tearing tears of happiness.
If you like our content, join our PTT Outdoor Facebook Group, where we share a lot of good, valuable information for free: Malaysia Outdoor Community