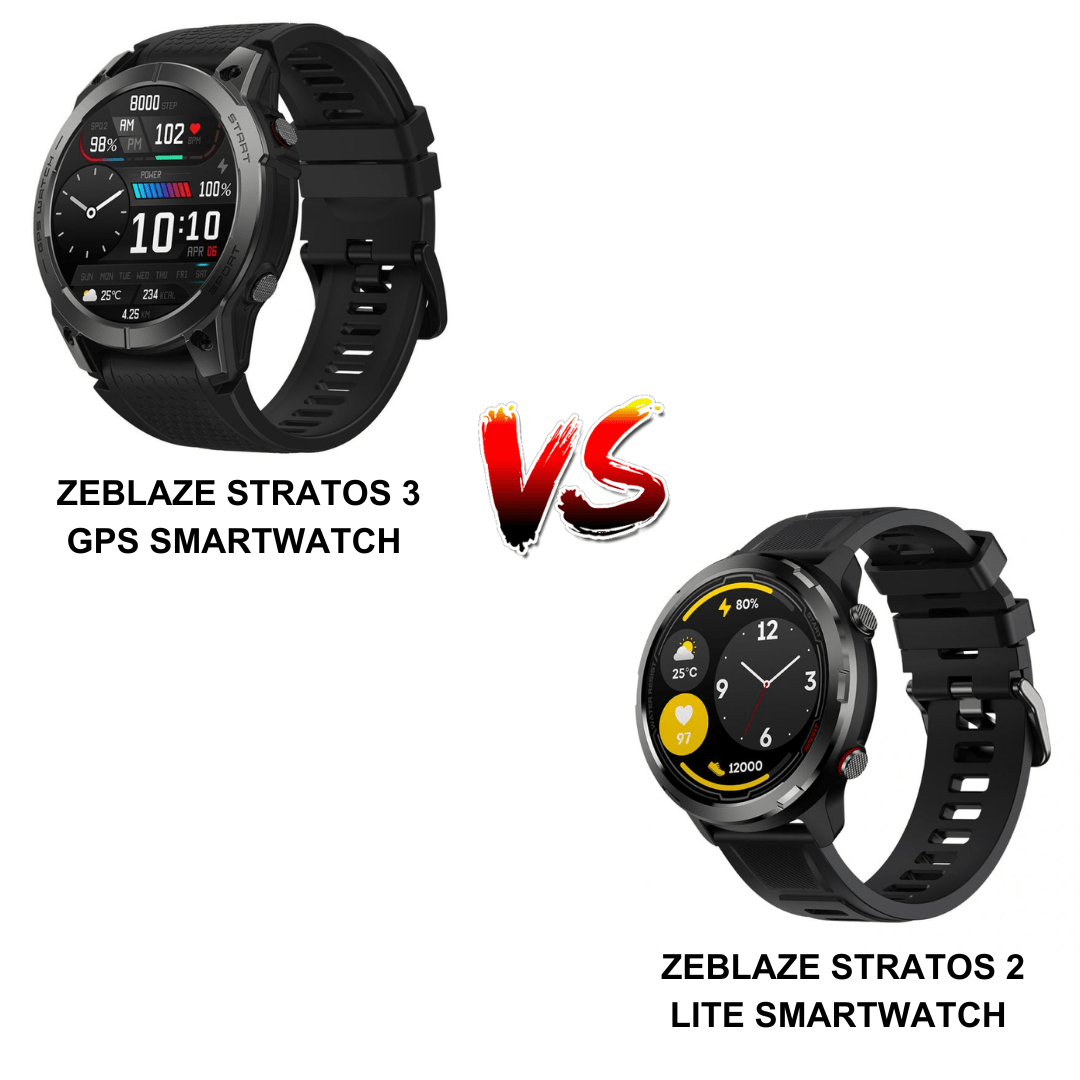 Comparison Table
| Feature | Zeblaze Stratos 3 | Zeblaze Stratos 2 Lite |
| --- | --- | --- |
| Display | 1.43″ AMOLED, 466 x 466 pixels | 1.32″ IPS, 360 x 360 pixels |
| Processor | MTK2523 | MTK2502 |
| RAM | 32MB | 16MB |
| Storage | 128MB | 64MB |
| Battery Capacity | 400 mAh Li-Pol battery | 300 mAh Li-Pol battery |
| Battery life | Up to 45 days in power-saving mode, up to 20 days in training mode with power-saving mode, up to 84 hours with GPS and HR tracking enabled | Up to 25 days in typical usage mode, up to 15 days in heavy usage mode, up to 56 hours with GPS and HR tracking enabled |
| Charging Time | 1.5 hours | 1.5 hours |
| Supported Devices | Android 4.4 or iOS 8.2 and above | Android 4.4 or iOS 8.0 and above |
| Features | Fitness tracking, GPS, heart rate monitoring, blood oxygen monitoring, sleep tracking, notifications, music playback, Bluetooth calling | Fitness tracking, GPS, heart rate monitoring, sleep tracking, notifications |
**Note: Battery life may vary according to usage, settings, operating conditions, and other factors, so that the actual results may differ from the laboratory data. 
Summary
Overall, the Zeblaze Stratos 3 outshines the Zeblaze Stratos 2 Lite in various aspects, making it the superior choice for those seeking an advanced smartwatch. With its larger, higher-resolution display, swifter processor, increased RAM and storage, and extended battery life, the Zeblaze Stratos 3 stands out as a premium option. It doesn't stop there, as it also offers extra features like blood oxygen monitoring and music playback, enhancing its overall appeal.
Nevertheless, the Zeblaze Stratos 2 Lite presents an attractive option for budget-conscious consumers. Despite its affordability, it manages to offer a respectable array of features, making it a reliable budget-friendly smartwatch.
Ultimately, your choice depends on your specific needs and budget. If you prioritize top-tier features and are willing to invest a bit more, the Zeblaze Stratos 3 is the clear winner. However, if budget considerations are paramount and you're content with essential features, the Zeblaze Stratos 2 Lite is a smart choice.
Can customize
Very nice n satisfied.. the wallpaper of the watch can customize in Zeblaze app and the way to customize is very easy which just choose n download.. highly recommended
— Rose —
Health Journey
The ZEBLAZE Stratos 3 GPS Smartwatch is a game-changer for my health journey. Its high-resolution display, precise GPS, and advanced fitness features are seamlessly paired with 24/7 health management, making it my ultimate wearable companion.
— Sallehuddin Abdul Latif —
Good Product
Buy it for my son. I am happy that he like it so much.
Good product. Quality good as per what I pay. Delivery fast. Battery capacity good after 3 days using still remain 70% ++.
— Nazmi —
Jam Cantik
– masa penghantaran cepat
– jam cantik
– sesuai juga untuk ladies
– jam function dgn baik
– app frenly user
– harga berbaloi bagi beginner/student
– seriously recommended
— Fatin —
Satisfied
Satisfies with this watch. Can customize the wallpaper myself… I love it!
Received in 3 days after placed order.
— Juhaidah —
Zeblaze Stratos 2 Lite Awesome
Been using the watch for 3 week.. So far it work as it should. The only drawback is the battery life no so great. It could only last up to 5-6 days per charge. However as at the price it is still an awesome smartwatch.
— Jonz Che Ya —