Need something that is cost-effective to train your strength for your workouts? Then you're probably looking for the Sanctband Active Tubing With Handle Tubing!
The Sanctband Active Tubing with Handles is specially designed for users' convenience while performing a complete workout. The attached handles are comfortable and suitable for daily workouts.
But, what advantage does this have over other workout equipment? Well for one, it is highly versatile. You can go from band squats to bicep curls almost immediately. Plus, it engages more muscles in your arms and shoulders  than dumbbells due to the instability of the tubes. This is due to your muscle fibers all over your arms and shoulders are engaged to keep it stable.
Another bonus, it's portable! Imagine carrying a dumbbell everywhere. Taking it out from under your bed is also a pain. But these tubings are so light and small, you can literally store it and bring it almost everywhere. It's pretty much a gym in your pocket!
Don't know how to use it? No worries! There's an instruction manual inside that teaches you the workout routines that utilizes the tubing! Or if you want a more detailed guide, click here for a video guide on the various ways to use these bad boys in your workouts.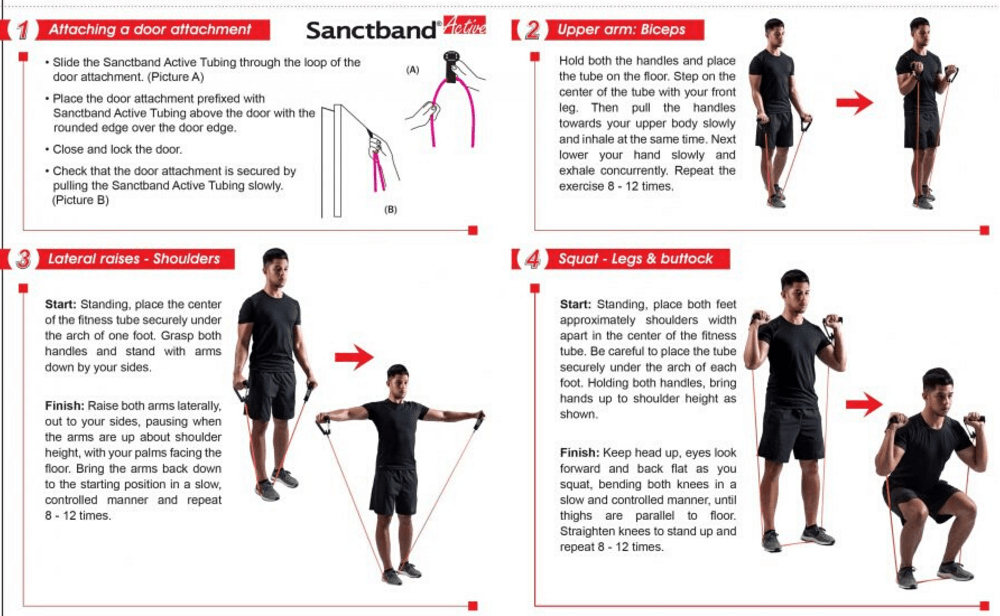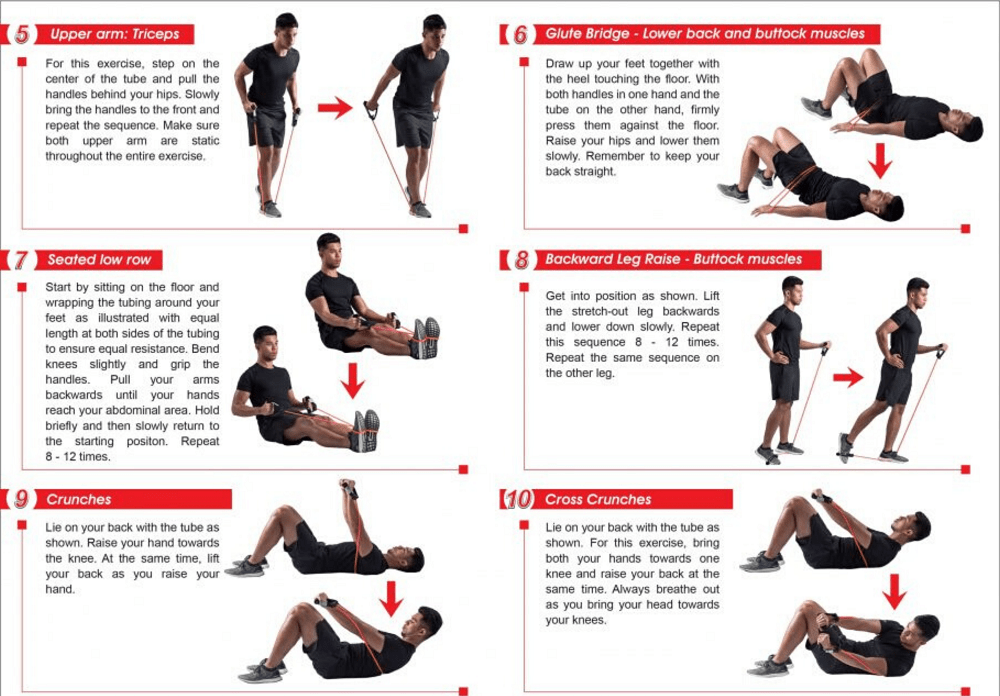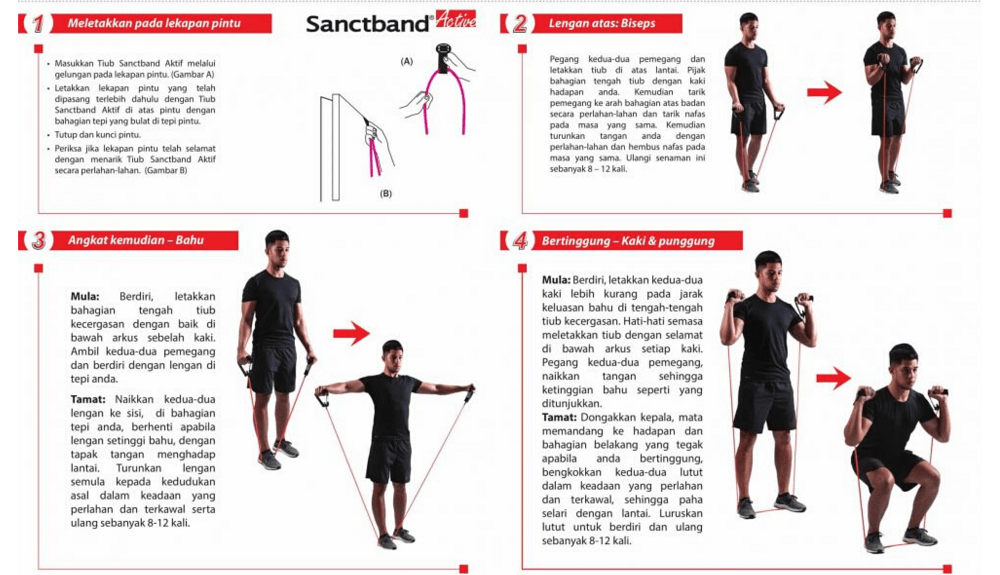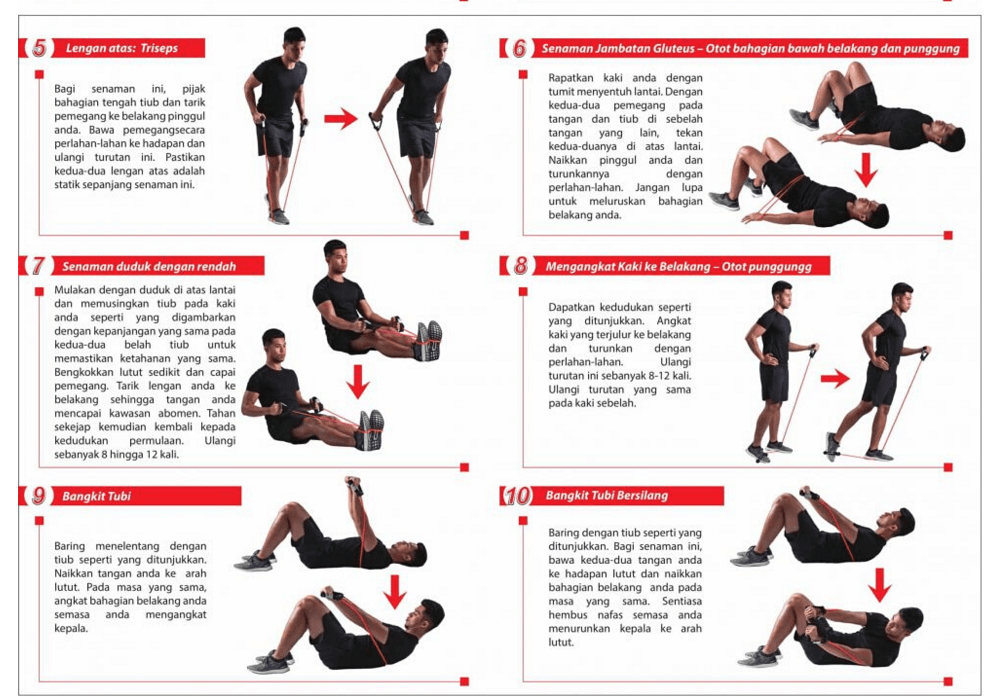 Product Safety Precautions: 
Do not use the resistant bands on uneven or rough surfaces such as tar road or sandy field. 

Do not attach, hook or loop the resistant band over any sharp-edged surfaces such as pole or pillar. 

Check for wear (breaks, white areas, cuts, tears, holes, nicks) to avoid your band breaking during an exercise. 

Check that it is secured in place so that it doesn't come unhooked as you are exercising. Attempt to pull the anchored resistant band to ensure that it's safe to withstand the pull force. 

Sanctband Active bands are made from natural latex which may cause allergic reactions. 

Be careful with the exercises at head height! Keep away from eyes, the band could slip out of hand or holder, and snap in the face!

Do not overstretch Sanctband | Sanctband Active (F≥200%), do not create too much tension. Choose the band that matches your physical condition and muscle strength.
Product Care & Storage Advice:
Do not store outdoors. Store bands away from direct sunlight and heat. 

Avoid storing resistant bands alongside sharp objects. 

Clean resistant bands by wiping using a damp clean cloth to free it from dirt or particles. 

Be sure to regularly check the general condition of your resistant bands. If you notice a crack or a snag, stop using the product and replace it.