Goal Zero Sherpa 100PD Power Bank is an Airline approved and travel ready. With 94.72 Watts of power delivered to your most crucial devices in a fraction of the time. In addition, its made for action-packed days when every minute counts. Charge laptops, tablets, phones, cameras, and more! Features :
Lightweight
Sleek design fits easily into packs, bags, and camera cases
Ideal for travel where space is limited
Charge quickly on the move
Battery capacity : 25600 mAh
Fast-charging power delivery gives more power in less time
Charge USB-C laptops, phones, as well as tablets using the 60W USB-C Power Delivery port
Two ways to charge
Recharge from the sun by connecting a compatible solar panel
Charge time is dependent on the size of the solar panel
NOTE: Sherpa 100PD can only be solar charged using the USB port on our Nomad solar panels
Use included cables to recharge from a USB source in 8 – 10 hours
Fully recharges from the wall in about 3 hours using the 45 Watt USB-C Charger (not included)
Charge times :
USB-C PD (60W): 2.5 hrs
Wall Charger (45W): 3 hrs
USB-A (2.4A): 9 hrs
Nomad 14: 12-28 hrs
Nomad 28: 6-14 hrs
PORTS Wireless Qi (output): 5W max
USB-A: 5V, up to 2.4A (12W max), regulated
USB-C PD port (input/output): 5V, 9V, 12V, 15V, 20V up to 3A (60W max), regulated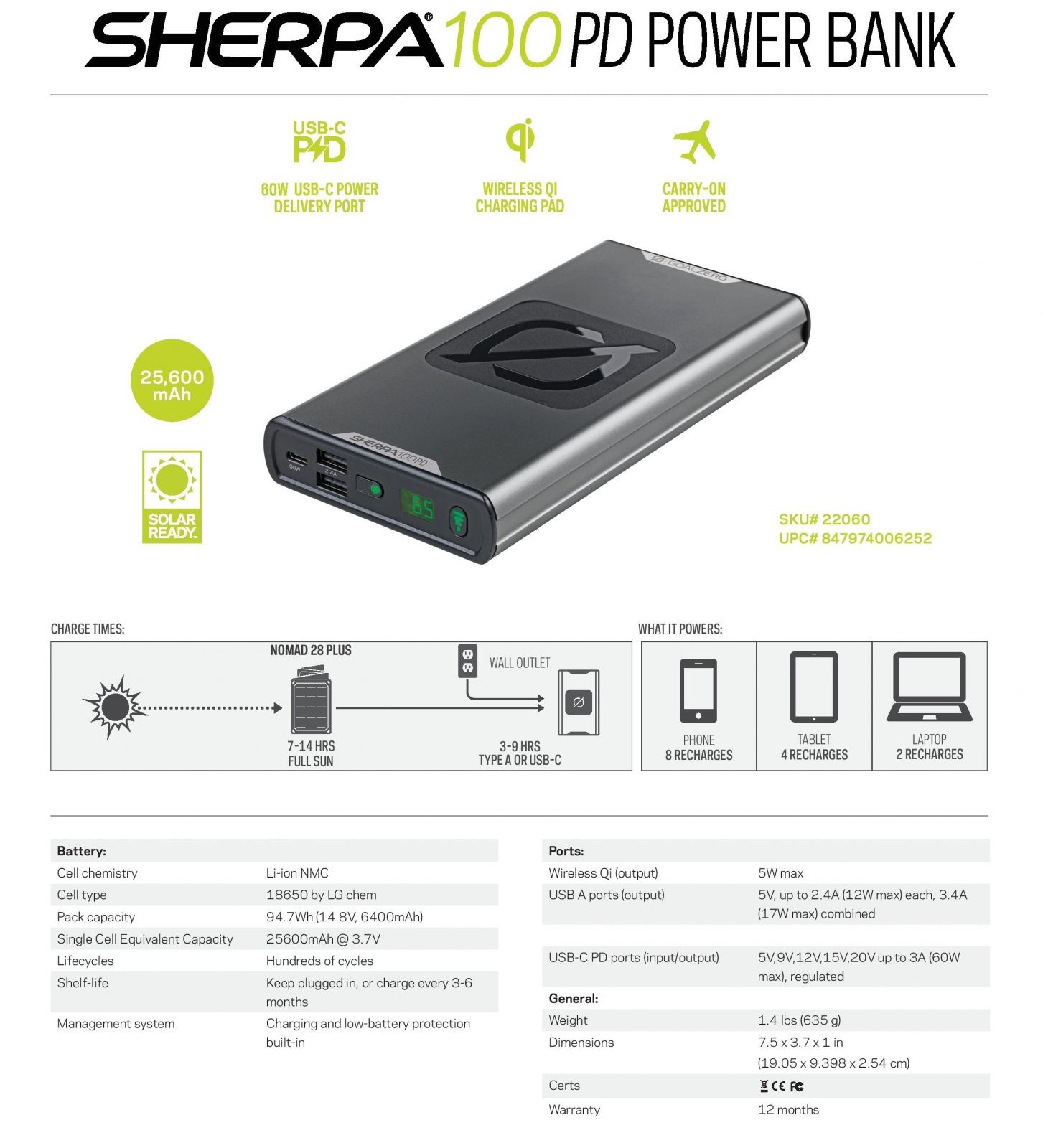 IMPORTANT NOTE : Warranty for this product is up to 12 months from the day a completed purchase has been made. An original receipt and packaging should be keep in a good condition to be able to apply for a warranty. Otherwise, your warranty will be reject and unfortunately cannot be claim.