"This is among the best smartwatch I ever had. The design and function are amazing!" – Fadzil
The ZEBLAZE Stratos Smartwatch's shape is tough, solid with distinct angles, and brimming with strength. The strength-enhanced design of the body details and internal structure takes a sense of both strength and practicality into account, making it tough from the inside out and a partner you can rely on.
Integrated wrist heart rate monitor and multiple smart sensors, the watch can accurately track your trajectory, speed, distance and calories burnt. You'll find the one that's perfect for you in our wider portfolio of amazing sensors that suit all sports and exercise needs. Whether indoor fitness, run, swim, cycling or other sports… whatever you do, Zeblaze Stratos can track it. The statistics recorded during each activity let you analyze your performance and improve on it next time.
The Zeblaze Stratos uses a high-end GPS chip and a built-in exact 4-satellite positioning system. We have also optimized the watch body materials and internal layout. Signal efficiency has been significantly increased, making satellite search faster and positioning more accurate, meeting your positioning needs among both urban jungles and canyon wilderness.
Track your activities by recording the movement of your wrist with the built-in 3D accelerometer. Combine your physical data to analyze exercise frequency, intensity, and regularity. So you can understand how active you are in your daily life outside of regular training.
The Zeblaze Stratos notifies you of any incoming text messages or calls, scheduled alarms, and events to prevent you from missing any important information.It can also easily control music playback on your mobile phone via Bluetooth so that you can enjoy your favorite playlists on the go.
On mobile, Zeroner is the tool for tracking, analyzing, and sharing health and fitness activities from your Zeblaze device. Zeroner displays your vital health data and entries for easy viewing. Customize what you want to see in the order you wish to see it. You'll receive a more detailed analysis, as well. View your weekly, monthly, and yearly healthy averages, your favorite activity history, and more.
Package includes: 1 x ZEBLAZE Stratos Smartwatch
ZEBLAZE Stratos Smartwatch Features:
Chip: MTK2523G, ARM CORTEX-M4 208MHZ
Water-resistant: 50M

Display Size: HD Color Touch Display Screen, Size 1.32″ (32.9 mm) diameter

Display Resolution: 360*360 pixels
Integrated GPS, GLONASS, GALILEO, BEIDOU
Assisted GPS for fast fix times. Barometric altitude, incline, ascent and descent
Sensors: Wrist Heart Rate Monitor, Pulse Ox Blood Oxygen Saturation Monitor, Accelerometer, Magnetometer, Compass
Battery Capacity: 580 mAh Li-pol battery
Battery Life Battery Saver Watch Modes: Up to 25 days; Smartwatch Modes: Up to 14 days; Max Battery GPS Modes: Up to 40 hours
Charging Time About 2.5 hours
Apps: Zeroner
Smartphone Compatability Android 6.0 or iOS 9.0 and above
Data Storage: 14 days of data overview and details
OTA Upgrade Support
Health Monitoring: Wrist-based Heart Rate (Constant, Every Minute) , Daily Resting Heart Rate, Abnormal Heart Rate Alerts, Heart Health, SpO2 Level Measurement,
Stress Management, VO2 max, Breath Training, Sleep Score and Insights, Calorie Burn Tracking
Activity Tracking Features: Step Counter, Move Bar (Displays on device after a period of inactivity; Walk for a couple of minutes to reset it), Auto Goal (Learns your activity level and assigns a daily step goal), Calories Burned, Real-time Pace & Distance
Width 22mm, Compatible with standard 22 mm quick release watch bands
Wrist Circumference: 140-230 mm
Dial size: 47 x 47 x 14 mm
Weight: 60 g with a wristband, 36 g without a wristband.
Operating Temperature From -20° to 50°C. Temperatures below -10°C may affect battery life and performance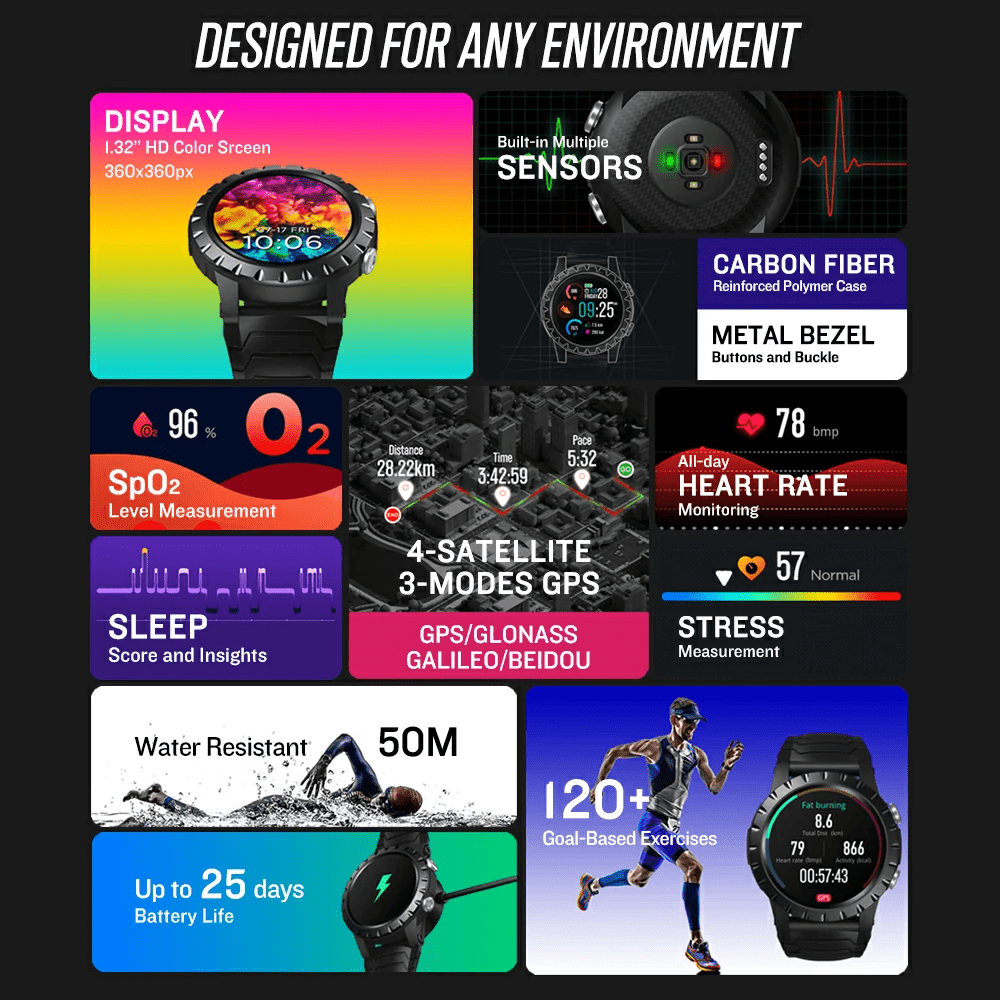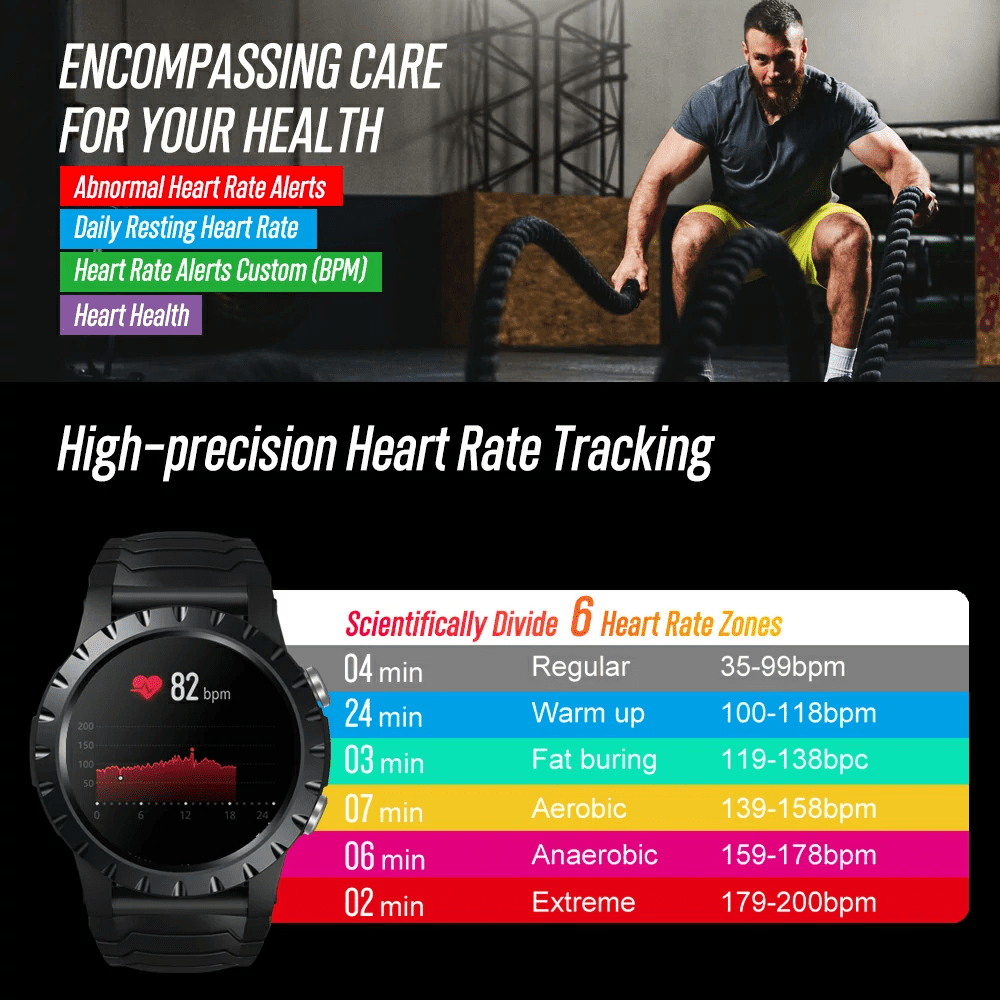 Notes:
There may be slight size deviations (1-3CM) due to manual measurement, different measuring methods, and tools
The picture may not reflect the actual color of the item because of different photographing light, angle, and display monitor