TBF Portable 12V Air Pump is a portable digital tire inflator air compressor pump for automobiles like bicycles, cars, as well as motorcycles. Features with pressure gauge, LED light and auto shut down. It can inflate a standard car tire from 0-35PSI in 3-5 minutes, which is faster than 96% of a conventional car tire pump. Just connect with a 12V power supply with a long power cord cable together with this air pump, then this digital air pump will start to do all the work for you. When using it, you just need to preset a pressure then start the tire pump, and the tire pump will auto shut off when reached the target pressure.
Designed with the LCD display screen, you can preset the target pressure, and when reached the preset pressure, the car tire pump will automatically stop. With the Automatic power-off function, you needn't worry about higher tire pressure or lower tire pressure anymore. Not only that, it has equipped with an LED flashlight which can help you to inflate the car tire in the dark. Besides, with a long power cable, it's so easy for you to reach the front and rear tire.
TBF Portable 12V Air Pump Features:
Equipped with a complete set of inflation nozzles, which can be used to inflate tires, inflatable boats, air cushions, inflatable toys, balls, and many other purposes
When working on the highway, in the field, or in the morning, if the tires suddenly leak or get an injection, it can be used for emergency
Designed with a portable handle, which is more convenient for you to carry out. In addition, this portable air pump has a small size, and it is easy to put in your car trunk, and doesn't take up much space
Equipped with an emergency LED flashlight, which provides an adequate field of view and brightness for you to inflate car tire at dusk, night, or poor lighting place
Features an intelligent LCD display screen, which can help you read the current tire pressure and preset the target pressure, aiming to make it easy to inflate
Package includes:
1 x TBF Portable 12V Air Pump (with cable)
1 x Manual
Instructions:
Insert the air nozzle at the top of the rubber tube directly into the tire valve. When you hear the sound of air leaking from the tire, it means that the air has circulated. Continue to tighten the air nozzle, and the air will no longer leak out.
Insert the DC12V power cord connector to the cigarette lighter.
When inflating, the indicator pointer rises with the tire saturation. When the pointer reaches the appropriate tire pressure (generally, the tire pressure of a car tire is 223kpa=35PSI), take out the plug and the air nozzle to complete the work.
Please use the professional ball needle and plastic nozzle of this machine to connect with the air nozzle to inflate the ball and other air-demanding equipment.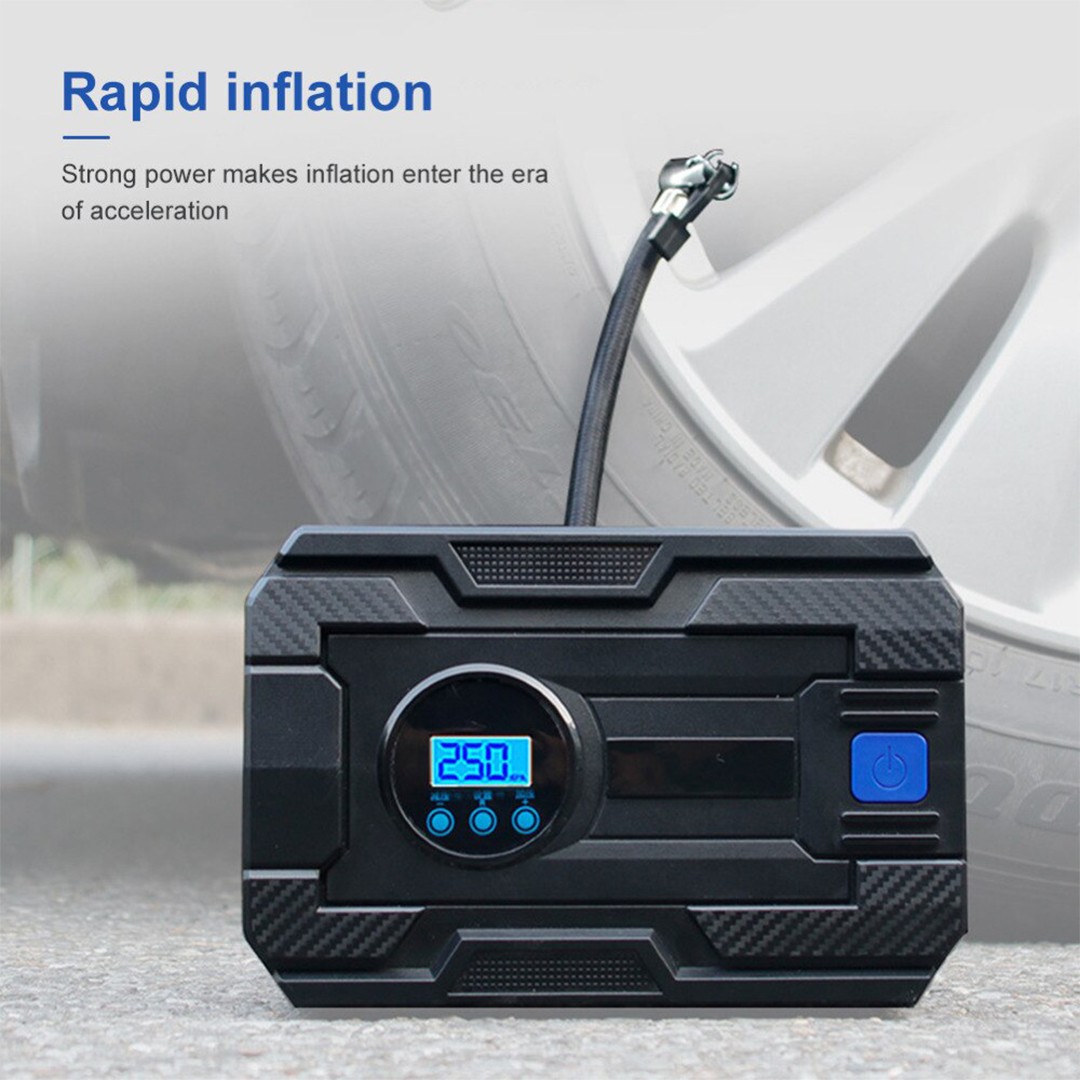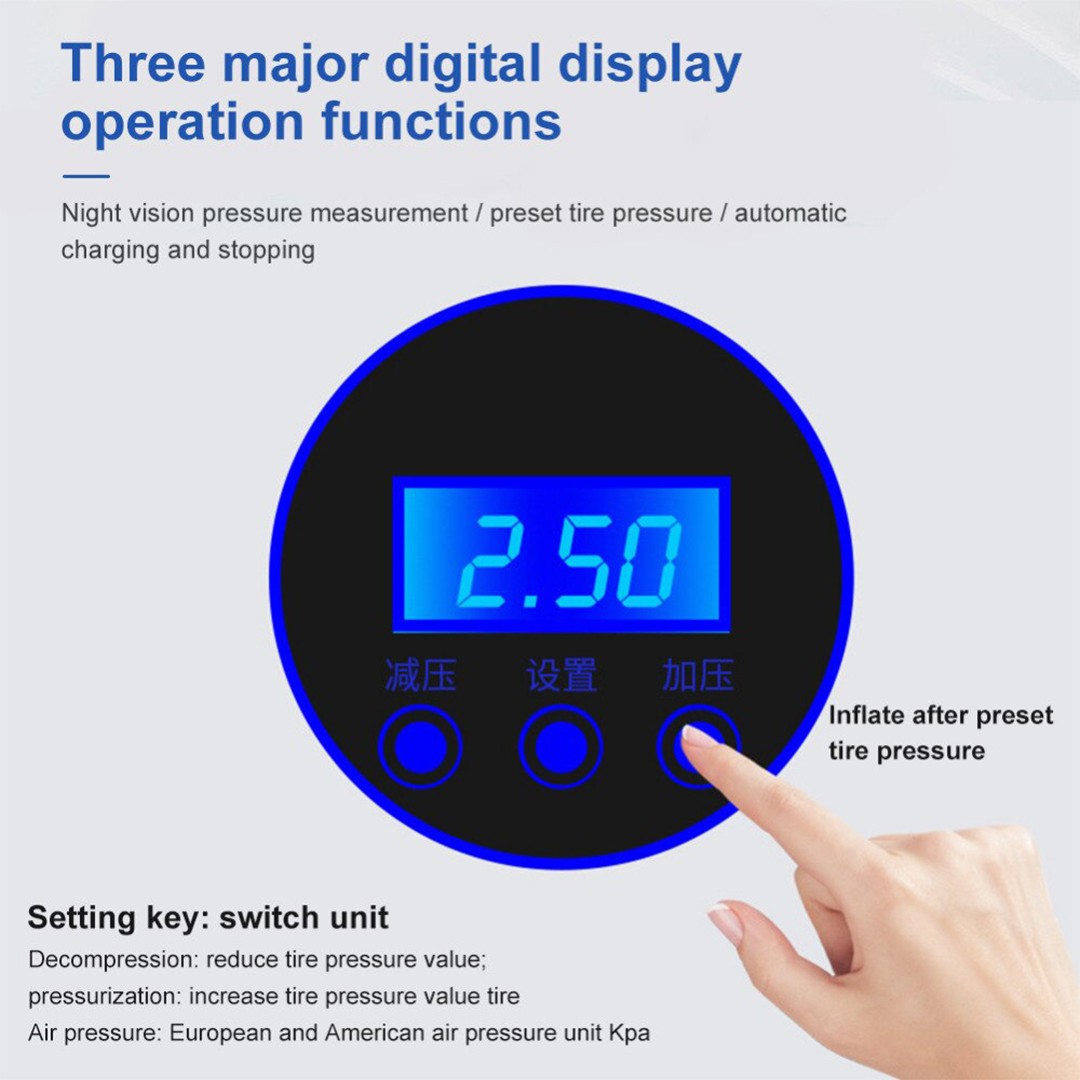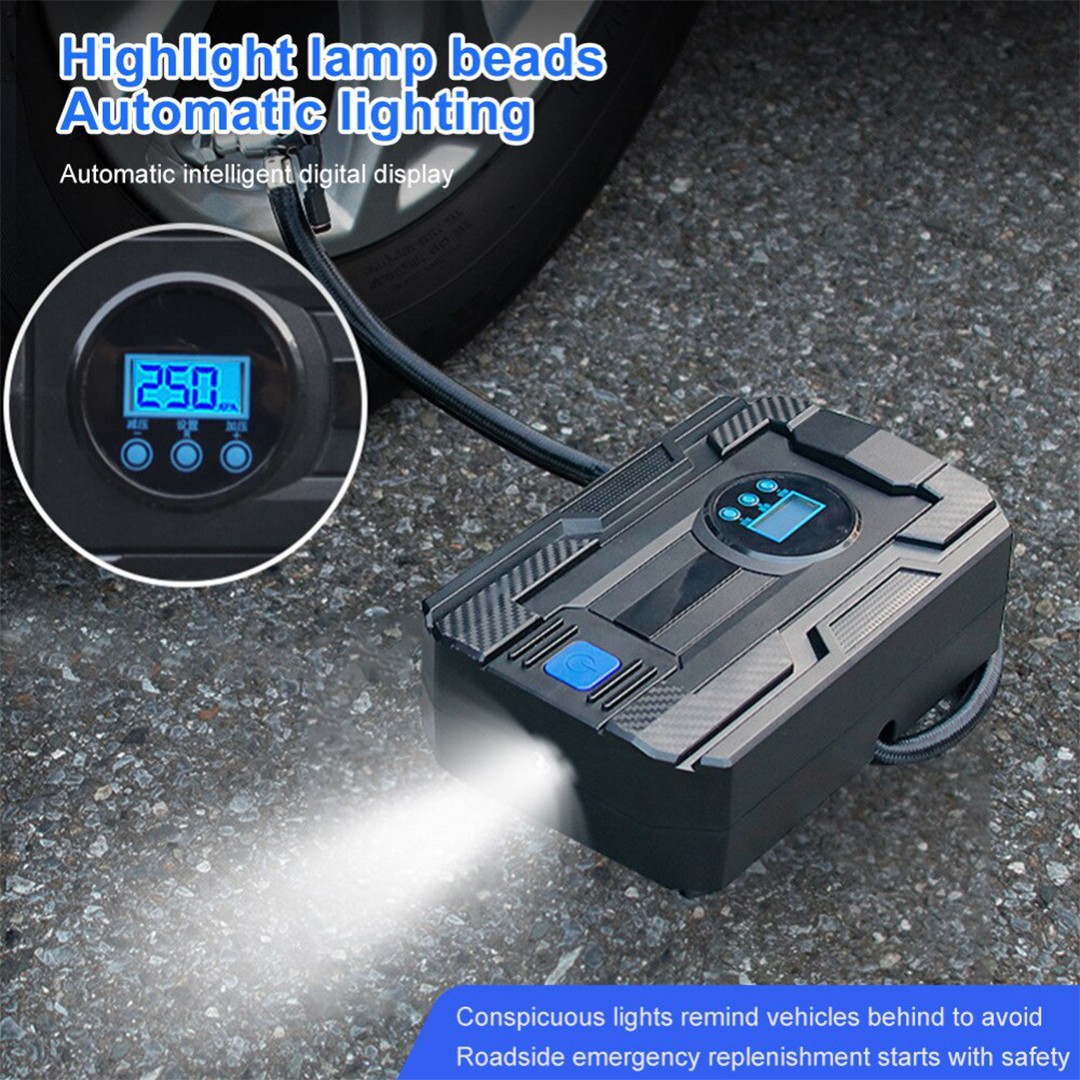 NOTES:
This air pump is limited to DC 12V car charging power supply, do not use high voltage power supply higher than 12V.

Can not be used to inflate the tires of large and overweight vehicles, such as trucks, large trucks, container trucks.
Start the car engine when using it, to make sure the power supply is enough for air pump and proper function.
When using, please stop for 10 minutes after continuous working for 10 minutes for cooling to prevent damage to the air pump and accessories and extend the motor life.
Do not leave the machine body when using it, pay attention to the tire pressure at any time, and not be too saturated.
Avoid from kid, moisture environment, falling, sand.
Do not left away when using it, always pay attention  and check to the air pressure.
There may be slight size deviations (1-3CM) due to manual measurement, different measuring methods, and tools
The picture may not reflect the actual color of the item because of different photographing light, angle, and display monitor