"With this Hammock with Mosquito Net, I don't really need to bring separate mosquito net anymore."- Jun Hong
Get ready to hit the outdoors without worrying about pesky mosquitos ruining your time! Made from durable and lightweight materials, this 0.9kg weigh hammock is easy to set up and provides maximum comfort for outdoor adventures. It's the perfect solution for camping, backpacking, and beach trips.
Our Tahan Panthera Ultra Hammock with Mosquito Net features a built-in dense nesh mosquito net that surrounds the entire hammock, also it comes with zippers for the nets, creating a bug-free zone for you to relax and sleep in.
Also, 6 reflective hook straps that glow in the dark, so that it's easier for you to look for the hook to hang the hammock onto a rope. 
Plus, you can feel secure knowing that our hammock is built to last with its high load-bearing straps, and our reinforced corners and edges guarantee maximum load-bearing capacity, so you can relax in complete safety.
What's more, there's an inner pouch in the hammock for you to keep your belongings and another 2-in-1 bag pouch outside the hammock which is supposed to be the hammock storage bag. See, how convenient! Unwind in style today with our Tahan Panthera Ultra Hammock with Mosquito Net!
TAHAN Panthera Ultra Hammock with Mosquito Net Features:
Dense mesh netting

Quick fasteners for mosquito nets

High load-bearing straps

Reinforced corners and edges

Adjustable and easy to install

Colour: Black (bottom) + Orange (Top)

Material of the hammock surface: Colour Woven Fabric

Hammock size: 300x200CM

Hammock weight: 0.9KG

Weight capacity: 250KG

Packaging size: 28x20x20CM
Package includes (per 1 unit TAHAN Panthera Ultra Hammock with Mosquito Net):
1 x TAHAN Panthera Ultra Hammock with Mosquito Net

1 x Storage bag

2 x 3 meters strap

2 x Carabiner

2 x Mosquito net rope
Combo: Hammock + ShelterPro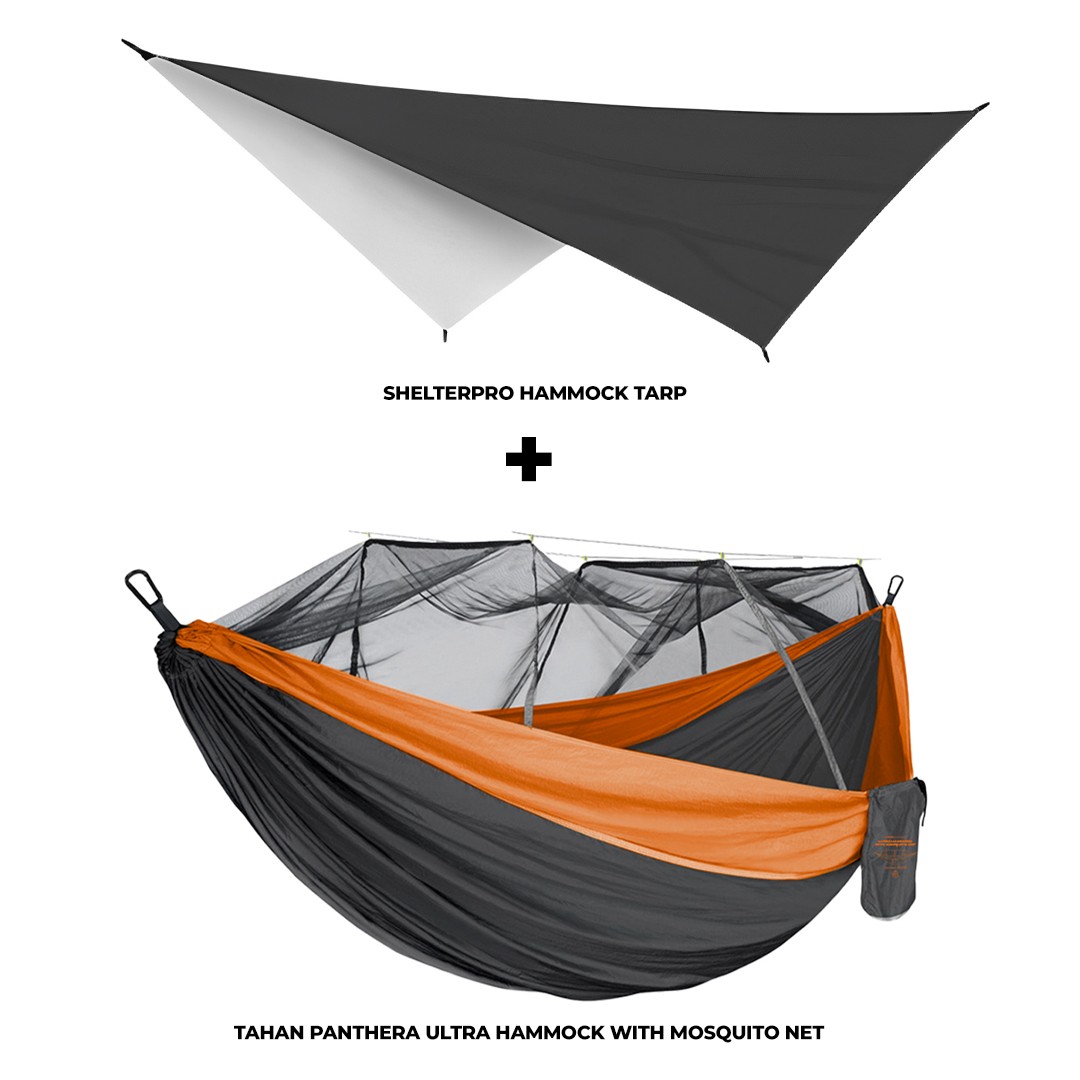 COMBO: TAHAN Panthera Ultra Hammock with Mosquito Net + ShelterPro Hammock Tarp
Color: Black on Outer Layer, Grey in Inner Layer
Product weight: 0.45kg
Waterproof: 210T polyester fabric with a waterproof range from 1000mm to 1500mm.
Breathable Underlying Fabric: Waterproof factor of less than 1000mm
Premium Materials: 210T polyester silver-coated fabric
Occasion: Camping, Picnic with friends or family, Hiking trips
Pole Materials: Iron pipe
Hammock Tarp Length: 273 CM
Hammock Tarp Wide: 320 CM
Combo: Hammock + Sleeping Bag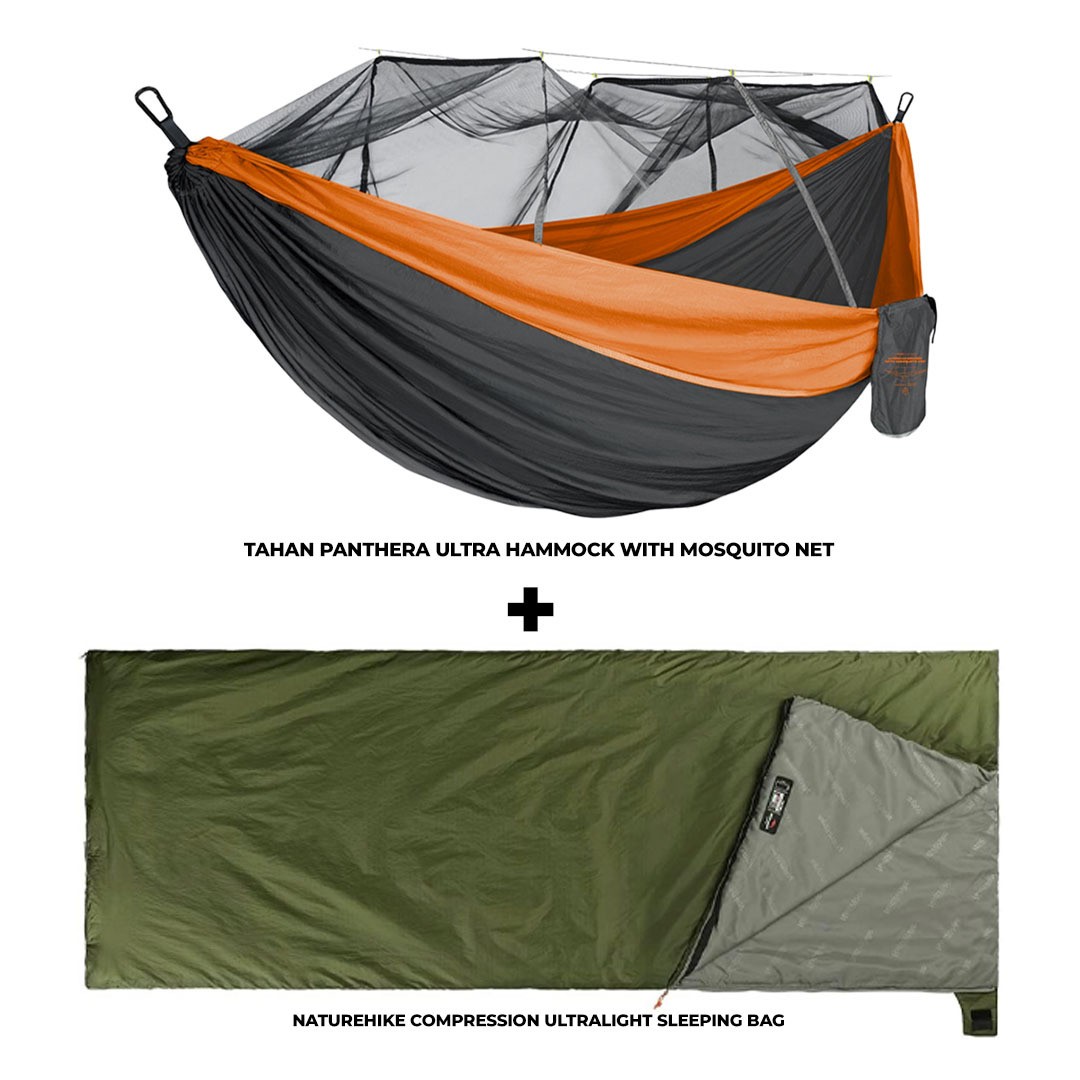 Size: 190cm x 75cm
Weight: 720G
Material: Fabric: 320D Nylon, Lining: TC cotton, Filling: Imitation silk cotton 100g/sq.m.
Water-resistant design
Small, compact and travel-friendly size
panthera combo here