"Bought set sanctband and received fast delivery. Good set for home workout"- Sarah
When it comes to training there are no shortcuts. That's why Sanctband's gym and fitness brands are designed to push you to new levels.
Over time, the harder you train the more muscle strength and endurance you'll develop. With SANCTBAND ACTIVE Lightweight Set built great for toning your upper body muscles – arms, back, chest and shoulders while improving posture.
It's also great for cardio workouts such as jump roping and cardio step aerobics. It is essential in every rehab and fitness program as it allows users to continue their workouts at home or when traveling.
SANCTBAND ACTIVE Lightweight Set Includes:
Product Safety Precautions: 
Do not use the resistant bands on uneven or rough surfaces such as tar road or sandy field.
Do not attach, hook or loop the resistant band over any sharp-edged surfaces such as pole or pillar.
Check for wear (breaks, white areas, cuts, tears, holes, nicks) to avoid your band breaking during an exercise.
Check that it is secured in place so that it doesn't come unhooked as you are exercising. Attempt to pull the anchored resistant band to ensure that it's safe to withstand the pull force.
Sanctband Active bands are made from natural latex which may cause allergic reactions.
Be careful with the exercises at head height! Keep away from eyes, the band could slip out of hand or holder, and snap in the face!
Do not overstretch Sanctband | Sanctband Active (F≥200%), do not create too much tension. Choose the band that matches your physical condition and muscle strength.
Features of Tubing with Handle:
Tube Length: 1.5m
Versatile, good replacements for dumbbells
Portable
Made of high-quality rubber
Padded Handles for secured and comforting grip
Soft Grip Foam Handles
Door Anchor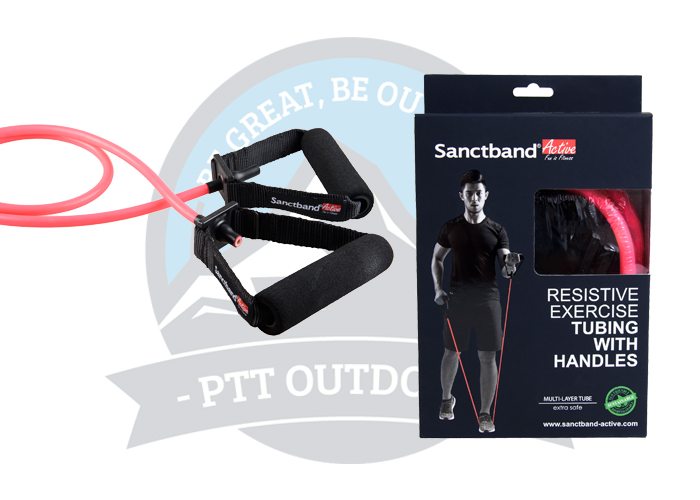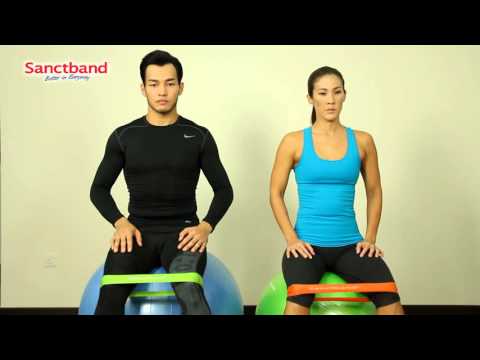 Features of using Mini Loop Band:
Mini Loop Band: 13"
Instructional Manual
Body Sculpting
Core Conditioning
Strength Training
Effective for both upper body and lower body
Smallest and most portable piece of equipment
Materials: Natural Latex
Features of using Resistive Band:
Resistive Band: 15cm (w) x 2.5m (L)
Accessory: Door Anchor for effective upper body exercise
Body tone and Firmness
Muscle Strengthening
Improve Balance
A safe and effective form of strength training
Very suitable for home workout
Materials: Natural Latex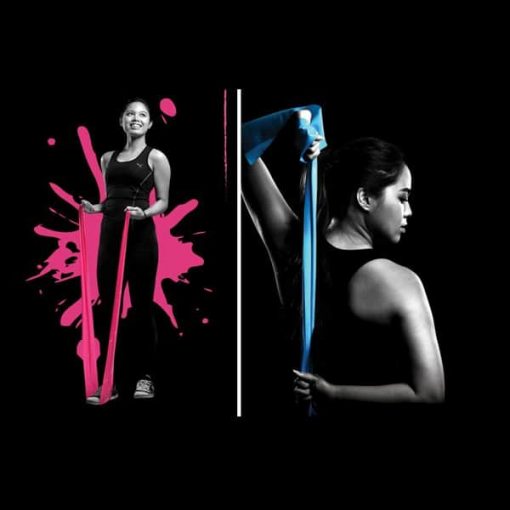 Product Care & Storage Advice:
Do not store outdoors. Store bands away from direct sunlight and heat.
Avoid storing resistant bands alongside sharp objects.
Clean resistant bands by wiping using a damp clean cloth to free them from dirt or particles.
Be sure to regularly check the general condition of your resistant bands. If you notice a crack or a snag, stop using the
product and replace it.
Notes:
There may be slight size deviations (1-3CM) due to manual measurement, different measuring methods, and tools
The picture may not reflect the actual color of the item because of different photographing light, angle, and display monitor