NITECORE TINI 2 USB Rechargeable Keychain Flashlight with dual OSRAM P8 LEDs give off an impressive 500-lumen output, perfect for daily use for a far-reaching and uniform beam that reaches up to 88 meters. It is small and lightweight for you to easily carry and put it in your bag. This NITECORE TINI 2 USB Rechargeable Keychain Flashlight featuring an addition of an OLED display, this screen shows real-time information like brightness level, mode, lumen, battery voltage, and remaining runtime, let you keep track of the state and power remaining.
When the time to charge, feel free to charge it everywhere with its rapid USB-C charging. Its dual switch design allows you to easily power on and off or adjust the brightness level. Hold the mode button to directly access the turbo mode or hold the power button for the ultralow. It further prevents accidental activation with a half lockout mode or full lockout mode.
To meet different usages, this NITECORE TINI 2 USB Rechargeable Keychain Flashlight comes with two user modes: the demo mode is designed for short-bursts of illumination while the daily mode is optimized for longer sustained illumination. With all of the new features and upgrades, the Tini 2 is a great addition to any EDC collection.
NITECORE TINI 2 USB Rechargeable Keychain Flashlight Features:
Utilizes 2 x OSRAM P8 LEDs with a max output of 500 lumens
Max peak beam intensity of 2,000cd and max throw of 89 meters
Utilizes a total reflective optic lens for uniform and soft light
Multifunctional OLED real-time display for lumens, battery voltage, and runtime, etc.
Built-in 280mAh Li-ion battery
Advanced Power Cut-Off (APC) technology for an ultra-low standby power consumption
Built-in Li-ion battery charging circuit with a USB-C port
A highly efficient constant circuit provides stable output up to 60 hours
2 user modes available (DEMO mode and DAILY mode)
Dual side switch design
5 brightness levels available with direct access to TURBO
Intelligent mode memory function
2 lockout modes available (Half lockout Mode and Full Lockout Mode)
Incorporated Advanced Temperature Regulation (ATR) module
Metal ring pullable to withstand up to 30 kilograms of weight
LED: 2 x OSRAM P8 LEDs
Color Temperature: Cool White
Body Material: Aero grade Aluminum alloy
Battery Type: Built-in 280mAh Rechargeable Battery
Max Beam Distance: 89 meters
Max Beam Intensity: 2,000cd
Brightness Outputs:

Turbo: 500 Lumens – 15 minutes
High: 200 Lumens – 45 minutes
Medium: 65 Lumens – 2.5 hours
Low: 15 Lumen – 8 hours
Ultra-Low: 1 Lumen – 60 hours

Aluminum alloy construction
HAIII hard-anodized finish
IPX Rating: IP54
Impact-resistant: 1 meter
Size: Length 25mm, Width 42.3mm, Height 12.5mm
Weight: 18.8g
Package Includes:
1 x NITECORE TINI 2 USB Rechargeable Keychain Flashlight
1 x Key Clasp
1 x User Manual
1 x Warranty Card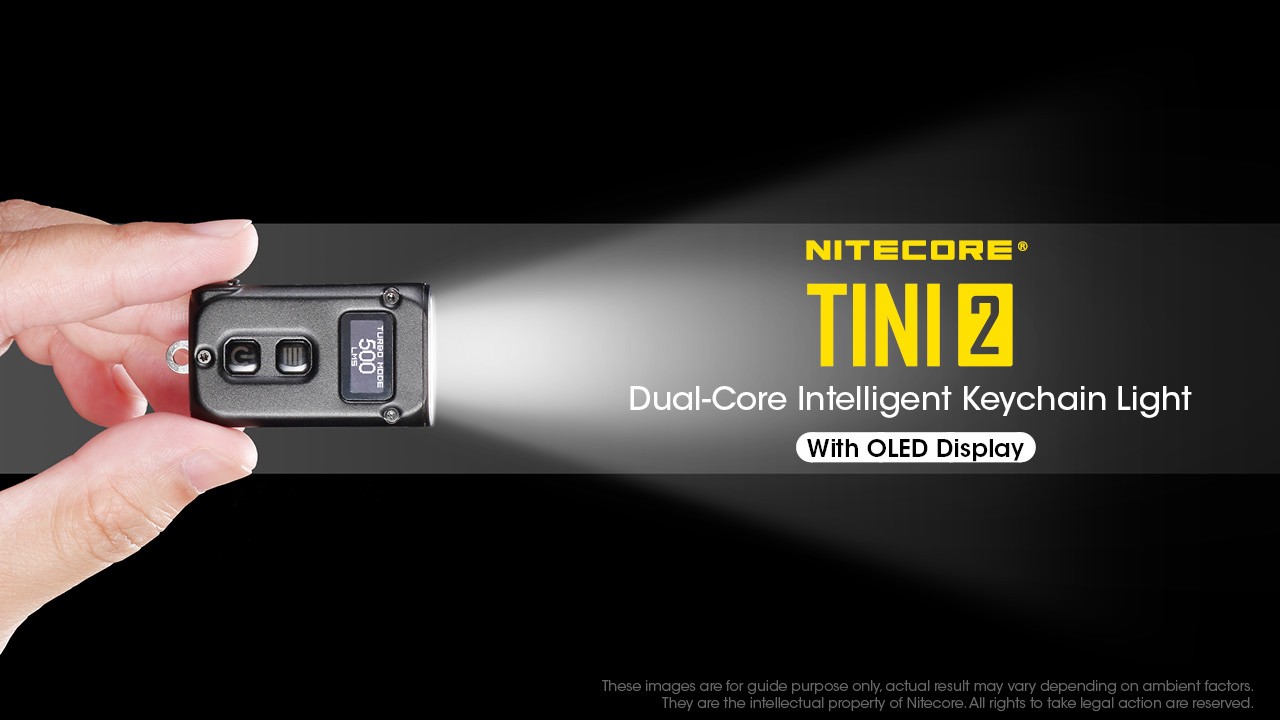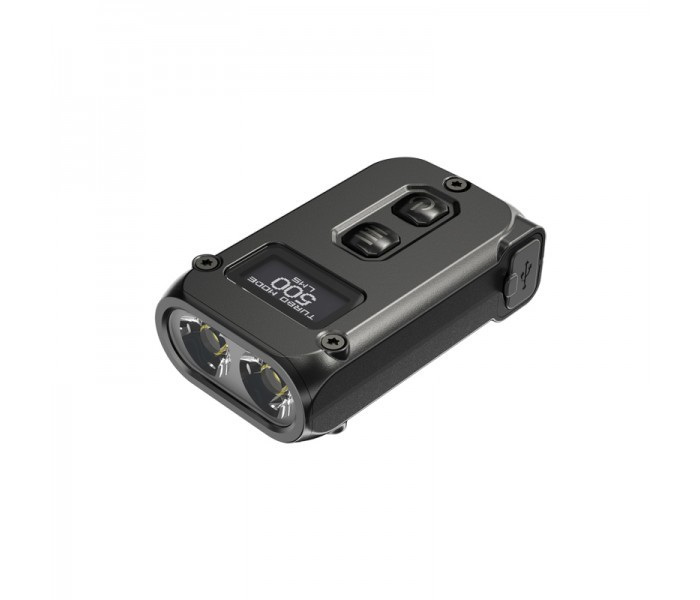 Notes:
There may be slight size deviations (1-3CM) due to manual measurement, different measuring methods, and tools
The picture may not reflect the actual color of the item because of different photographing light, angle, and display monitor
Warranty: 5 Year Warranty on the light and 1-year warranty for the rechargeable battery from the date of purchase against manufacturing defect. Accessories (such as pocket clips, lanyards, holsters, etc), normal wear and tear, drop & water damages are not covered, nor is damage resulting from abuse, neglect, battery leakage, or altering this product from its original state. Proof of purchase is needed.