LEDLENSER iLH8/iLH8R Headlamp is a hands-free lighting with added peace of mind. This will keep you worry-free as well as hands-free and it is comfortable enough to wear all day, so you can concentrate fully on your work. This intrinsically safe headlamp features the Ledlenser patented Advanced Focus System, allowing you to transition light from a broad flood beam to a sharply focused long-distance beam.
LEDLENSER iLH8/iLH8R Headlamp (iLH8) Features:
Rechargeable via charging cradle
Magnetic Switch for easy operation with gloves and protective equipment
First EX lamp for Ex-Zone 2/22 with patented Advanced Focus System
Focusable
Long battery life (up to 40 hrs)
Red rear light as a position marker
Technology : Advanced Focus System
Light Output Max [lm]  : 280
Light output Min [lm]  : 60
Beam distance Max [m]  : 160
Beam distance Min [m]  : 80
Run time Max [h]  : 38
Run Time Min [h]  : 9
Head Diameter [mm]  : 41
Weight Incl. Batteries (g)  : 345
Battery Type  : AA 1.5V, Alkaline
Waterproof Level  : IP68
Warranty : 7 Years from supplier
Light Functions
These settings are a pure, bright delight:
Power – high light output for every situation
Low Power – economical light for long battery life, glare-free reading and working
Switches
Turn, press or both – how to switch these Ledlenser on:
Magnetic Switch – with two off positions for easy operation while wearing gloves and protective equipment
Special functions
That special something about this Ledlenser:
Ex-Zone 2/22 Suitable – The first headlamp for Ex-Zone 2/22 areas with patented Advanced Focus System
Rear Light – A red backlight so that you can also be seen from behind for added safety
Adjustable, Washable Headband – With an anti-slip rubber grip
IP-Class
Safety features of this Ledlenser:
IP68 – Dust-proof and protected against powerful water jets
Ex Rating
Ex and IECEx Compliant:
Ex-Zone 2/22 – Working areas in which explosive atmospheres in the form of flammable gases, vapors or dust clouds (e.g. in case of a gas leak) usually do not prevail/prevail only for a short time.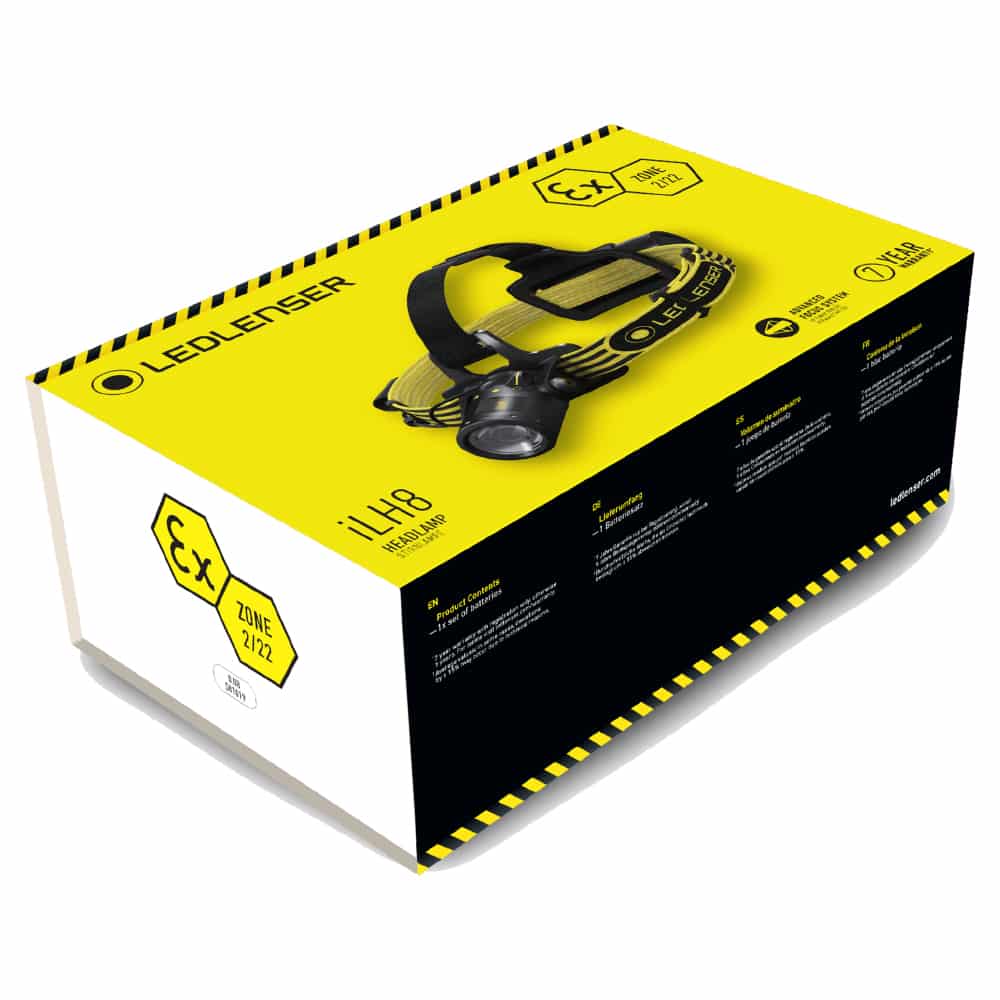 LEDLENSER iLH8/iLH8R Headlamp (iLH8/iLH8R) Features:
If you're smart you'll err on the side of caution when working in explosive areas of Ex-Zone 2/22. And if you're really smart, you'll use the rechargeable version of the iLH8. After all, it's 10 g lighter but has the same features as the battery-powered version: dustproof housing protected against powerful water jets (IP68), comfortable to carry, and features our patented Advanced Focus System.
All this at a maximum battery life of 40 hours per charge. So the iLH8R is still running at full power when you're feeling drained.
Rechargeable via charging cradle
Magnetic Switch for easy operation with gloves and protective equipment
First EX lamp for Ex-Zone 2/22 with patented Advanced Focus System
Focusable
Long battery life (up to 40 hours)
Red rear light as a position marker
Weight 1 kg
Dimensions 27 × 17 × 10 cm
Technology: Advanced Focus System
Light Output Max [lm] : 300
Light output Min [lm]  : 50
Beam distance Max [m]  : 160
Beam distance Min [m]  : 70
Run time Max [h]  : 40
Run Time Min [h]  : 7
Head Diameter [mm]  : 41
Weight Incl. Batteries (g)  : 342
Battery Type  : 18650 Li-ion
Waterproof Level : IP68
Warranty : 7 Years from supplier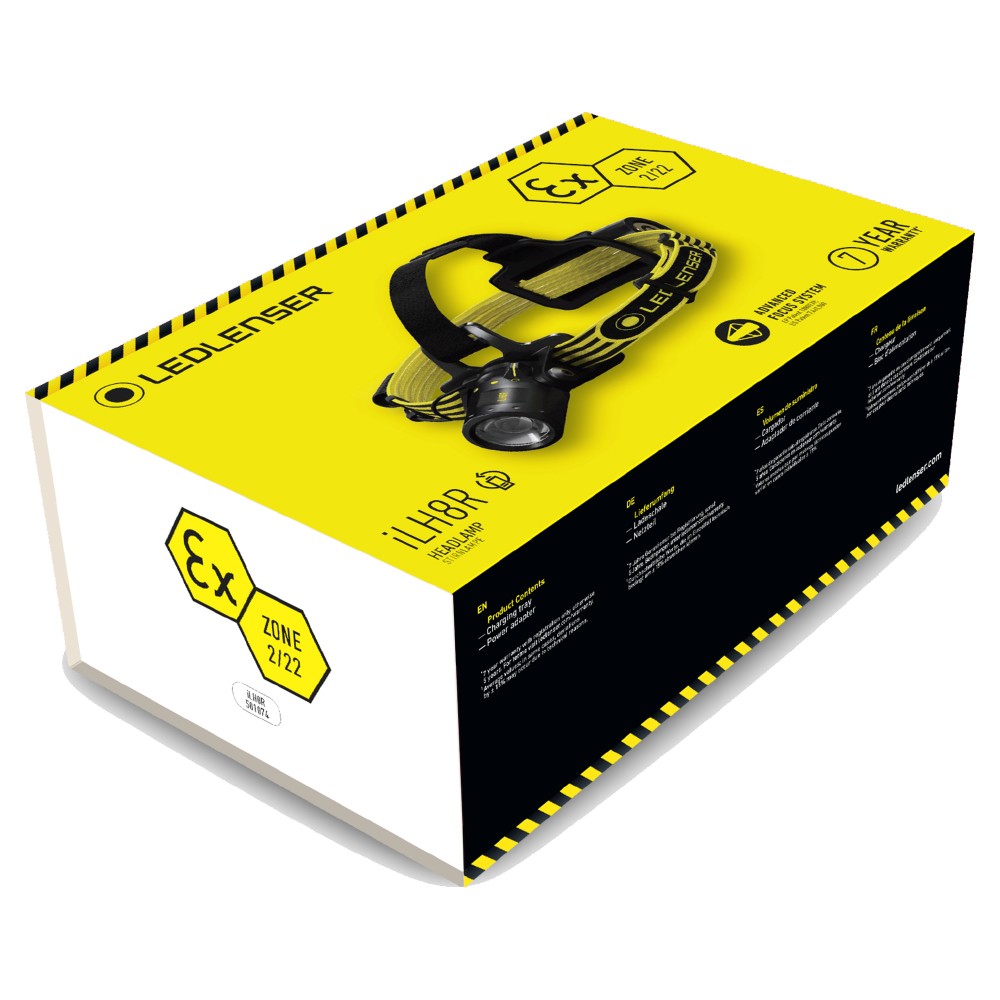 Note:
1. There may be slight size deviations (1-3CM) due to manual measurement, different measuring methods, and tools
2. The picture may not reflect the actual color of the item because of different photographing light, angle, and display monitor