KEMBARA Beef Rendang With Pilaf Rice is an instantly exclusive meal for adventurers like you! Tender caramelized beef braised in a flavorful and aromatic mix of spices and coconut milk. 100% Malaysian made with high-quality ingredients for the outdoors to taste something like home.
No more homesickness while traveling after this! For Muslims mate, you don't need to worry because it is 100% HALAL! This KEMBARA Beef Rendang With Pilaf Rice is a ready-made meal. You just need to heat it with some water and heat it up for 10 mins! But most importantly, it only used natural ingredients and very safe to consume within 2 years (without opening the package). Yes, of course, you need to heat It yourself!
Why it becomes everyone's favorite?
Because the KEMBARA beef rendang uses betel nut stem (less fat, less muscle hence not tough) and is cooked in a fragrant hundred spice mixture. It is also combined with Pilaf Rice which has a soft and long texture of rice and it tastes 'light' like oil rice, certainly very appetizing when eaten with rendang. Now, every traveler & outdoor lovers can have an On-the-Go rendang for their adventures! Pack food but tastes like home-cooked food. Grab yours now!
KEMBARA Beef Rendang With Pilaf Rice Benefits :
100% HALAL
Ready-made meals
Self-heating meal
Last up to 2 years (without tear up package)
Used natural ingredients
No preservatives
Package includes:
1 x KEMBARA Beef Rendang With Pilaf Rice (180g Pilaf Rice and 130g Beef Rendang)
1 x pack of KEMBARA Food Warmer
1 x set of Plate & Heavy Duty Spoon
Self-Heating Meal steps:
Open the KEMBARA bag and remove all contents
Tear KEMBARA food warmer plastic and insert food warmer pad into KEMBARA bag
Insert food pouch. Ensure food warmer pad stays on the bottom
Add 200ml of any liquid (to FILL LINE). Quickly seal bag. Let stand for 7-10 minutes
Carefully remove the food pouch, tear and enjoy your hot meal!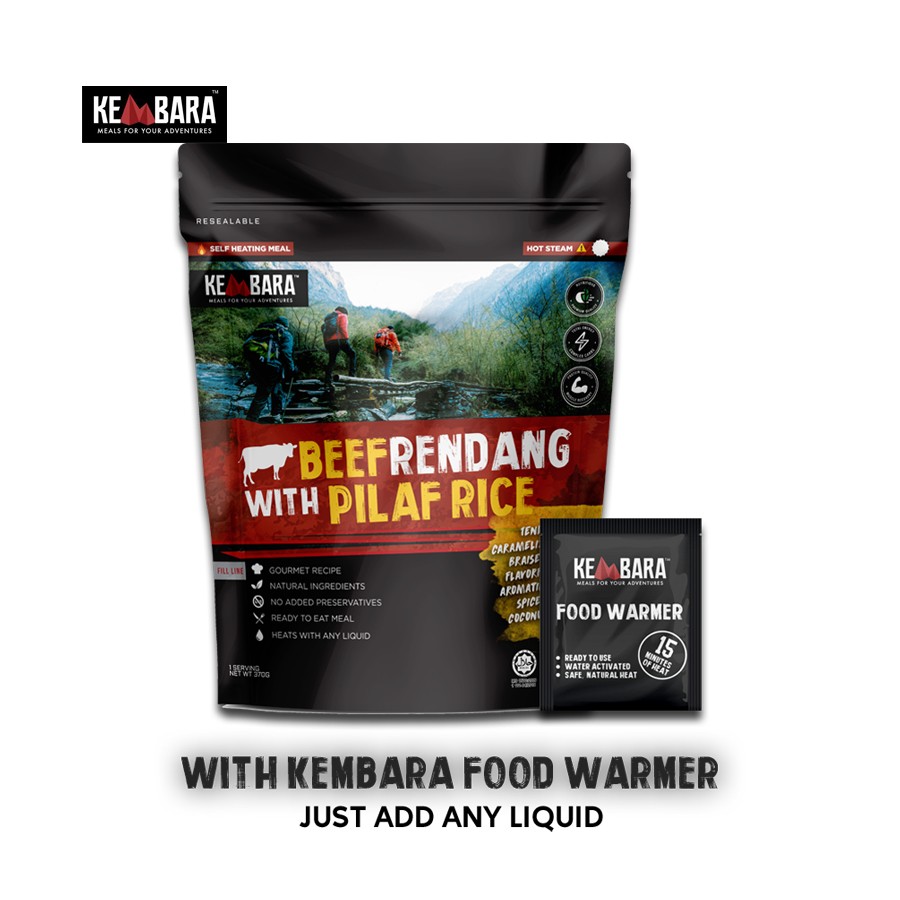 Notes:
There may be slight size deviations (1-3CM) due to manual measurement, different measuring methods, and tools
The picture may not reflect the actual color of the item because of different photographing light, angle, and display monitor
Tags: Kembara | Kembara Meal | Kembara Adventure Meal | Kembara Meal Price | Kembara Self Heating Meal | Kembara Pack Meal