Goal Zero Yeti 1400 Lithium Portable Power Station is great for all your larger size or multiple device power needs. Therefore, this power station is an Award-winning and engineered from the ground up, as a result, make it one of the most versatile as well as innovative power stations on the market. In addition, this power station is built-in surge allowances as well as multi-stage protection means together is great compatibility with more devices ranging from lights to laptops, refrigerators to power tools, giving the confidence to power anything, anywhere. In other word, you can travel the world freely!
Features :
On-demand power for use indoors and out
With no gasoline needed
Operates with zero fumes as well as zero noise for an easy-to-use
Exclusive pure-sine wave AC inverter
Ultra-safe Lithium Battery
Two ways to keep it charge
Recharge from the sun by connecting a compatible solar panel
Plug it into the wall. Fully recharges in about 25 hours
DO NOT ATTEMPT TO CHARGE YOUR YETI LITHIUM FROM A 12V SOURCE, otherwise, it may cause damage to the unit
What can it power to :
Smartphone 70+ recharges
POV Camera 230+ recharges
Headlamp 230+ recharges
Tablet 52+ recharges
Laptop 23+ recharges
Light-a-Life 465+ hours
Fridge 23+ hours
32 LCD TV 14 hours.
Charge times :
Wall Charger (5A): 25 hours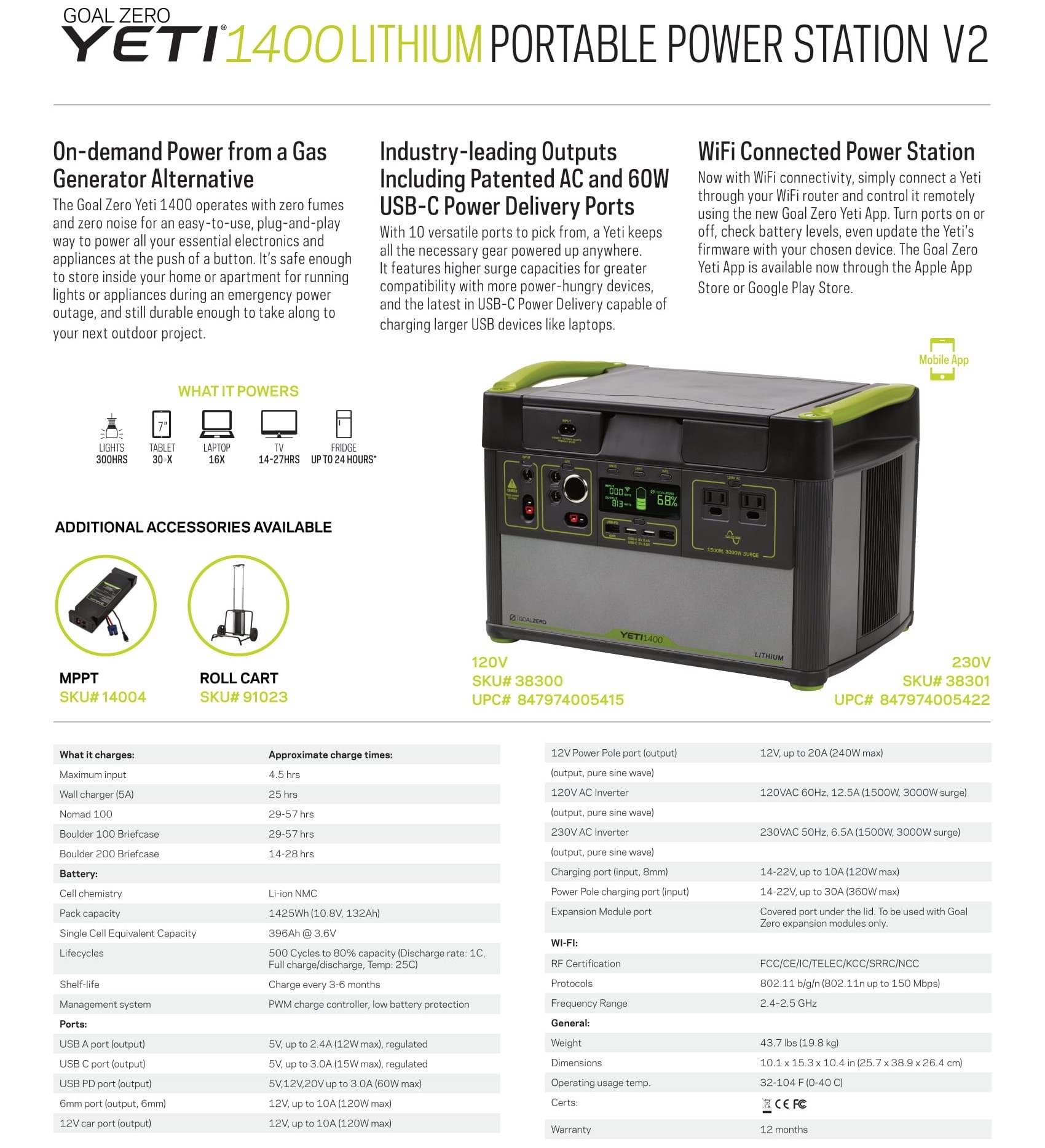 IMPORTANT NOTE : Warranty for this product is up to 12 months from the day a completed purchase has been made. An original receipt and packaging should be keep in a good condition to be able to apply for a warranty. Otherwise, your warranty will be reject and unfortunately cannot be claim.